Why does construction risk management matter?
Because one in every five worker fatalities in the United States falls in the construction sector. Because over 1,000 construction workers lost their lives on the job in 2020. Because construction firms cannot afford to underscore the importance of a collaborative and comprehensive construction risk management program.
This article is the ultimate guide to construction risk management. Read on to uncover the leading risks present on construction sites, how to conduct a construction risk assessment, types of construction risk management, and strategies/technology you can use to manage risk on your projects.
Understanding Construction Risk
Construction risk is the exposure to any potential loss throughout the course of a construction project. Most construction projects are highly complex and with that complexity comes a sea of risk across numerous subsets of the project.
Here are some of the primary risks faced by general contractors that manage construction projects:
Document, Legal, and Contract Risks
Change orders. Change orders are legal documents that outline amendments or changes to the original construction plan.
Stop work orders. Stop work orders are issued by governmental authorities when unlawful or undutiful work is being conducted on a project site.
Incomplete drawings. When architectural plans are incomplete or contain mistakes, it can lead to stoppages, rework, and delays while documents can be corrected or finalized.
Poorly defined project scope. When scope statements are not written and work boundaries are not clearly established, it can lead to confusion on projects.
Poorly written contracts. Well written contracts protect general contractors from risk and prevent disputes on projects. Poorly written contracts invite risk by exposing contractors to potential legal action.
Contract disputes. Misalignment around project cost or delivery schedules often lead to contract disputes, which can lead to costly project delays.
Financial Risks
Increased material costs. Materials generally represent over half of the total value of a construction project. When material costs fluctuate, it can be highly damaging to project margins under fixed-price contracts.
Liquidated damages. Liquidated damages are funds deducted from a general contractor's margin as a penalty for failure to complete a project by the agreed-upon date.
Regulatory fines. General contractors must ensure that every worker on their site is properly qualified to be there. Failure to do so can lead to costly fines and potential stoppages.
Damage or theft to/of equipment and tools. Lost equipment can lead to costly insurance deductibles and missing equipment can compromise project timelines.
Project delays. Project delays are generally the result of many of the other risks present on construction sites and often correspond with a failure to deliver projects on-time.
Inaccurate project estimation. Budgeting is a critical component of the construction management process. When projects are improperly budgeted for, contractors can be left covering the costs of overages. Learn how to craft stronger construction bids here.
Environmental Risks
Natural disasters. Depending on the geographical region of your project, you may be susceptible to the impacts of wildfires, earthquakes, flooding, hurricanes, tornadoes, storms, and more. The events can damage sites and put workers at extreme risk of injury.
Poor weather conditions. Cold weather, heat, wet conditions, and other weather fluctuations can increase the likelihood of incident on your project if not properly managed.
Safety Risks
Safety hazards on-site. Construction workers on your project might be navigating exposed electrical, heavy equipment, extreme heights, airborne materials, and more.
Untrained workers. When construction workers perform work that they are not trained or certified to do, they put themselves and all of those around them at risk.
Unsecure construction sites. Unsecure construction sites invite the risk of loss stemming from unwanted foot traffic. Securing your perimeter can be a great deterrent and risk reduction tactic.
Productivity Risks
Labor shortages. We are facing (arguably) the greatest labor shortage the construction sector has ever seen. Therefore, the lack of or limited availability of talent can make it difficult to properly resource projects and maintain timelines.
Trade stacking. Trade stacking is also known as overcrowding and causes construction workers to be less productive with their time than they otherwise would be under optimal working conditions.
Material availability. Like material prices, material availabilities (or lack thereof) can cause major supply chain issues and lead to cost overruns, scheduling conflicts, and numerous other issues.
Interested in finding out more? Read our comprehensive blog on the top-20 construction risks that impact general contractors on projects.
Or, download your free copy of our construction risk infographic!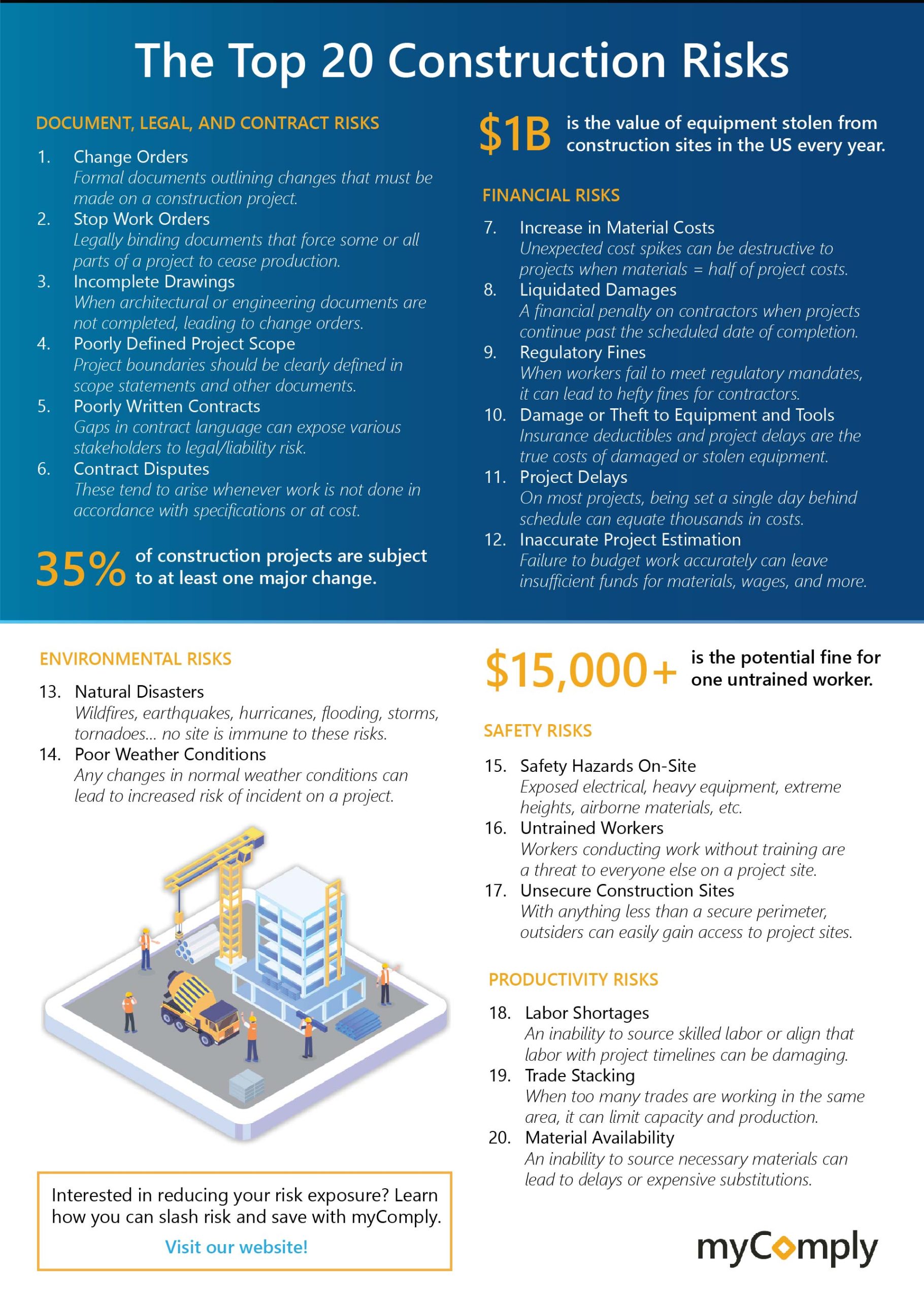 The myComply platform takes aim at risk reduction on numerous fronts, with some of the primary ones being:
What is Construction Risk Management?
Construction risk management is the process of mitigating construction risk by evaluating and implementing strategies, tactics, and procedures to reduce the impact of the various risks outlined above. Effective construction risk management involves the prediction of risk and the creation of a detailed plan based on the types of risk anticipated on the project.
Below, we provide a comprehensive construction risk management strategy that will help you to reduce the impact of risk on your projects
How to Manage Risk on Construction Projects
Managing construction risk is not a scientific process but following the right steps to anticipate risk and build pre-emptive plans can make a monumental difference when risks manifest themselves. Follow these four steps to build an effective construction risk management strategy.
1. Perform a Construction Risk Assessment
A construction risk assessment is the calculated process of analyzing project-specific risk factors so that a construction risk management strategy can be formulated and implemented.
These assessments should identify at-risk parties, create awareness around hazards, assess current measures in-place, and outline any additional controls that may need to be instituted.
Here is a step-by-step process that your team can use to structure your assessment.
Understand Your Duties as an Employer
All employers, be they general contractors or subcontractors, have certain rules and regulations by which they must comply to manage risk on projects.
The primary standards which govern contractors are:
Identify Risks On-Site
As outlined above, construction projects are home to large sums of risk across various categories. That is why contractors must be diligent in ensuring that they identify all the major risks present on their projects.
Some of the best tactics for risk identification include:
Consulting a list of risks (like the one above)
Leveraging past project data to determine trends
Outlining group-specific risks, based on the contractors that will be conducting work on the project
Evaluate Each Risk
Once identified, it is important that contractors determine the severity of each risk, based on a two-factor risk analysis.
Each risk should be weighed on two categories:
It's potential business impact (in dollars)
It's likelihood of occurring (in percentage points)
Interested in finding out more on construction risk assessments? Read our full article: How to Conduct an Effective Construction Risk Assessment
2. Assign Risk Ownership
Managing risk is the responsibility of every stakeholder on a construction project, from the workers on-site, to subtrades, to the general contractor that manages them, to the asset owner that set the entire project in motion. However, the management of specific risks should be delegated to individuals or groups that have experience or expertise in each area.
Risk owners can be as broad as large groups of people, or as focussed as a single individual. Here is how most risk is segmented across various business units and project stakeholders:
Document, legal, contract, and financial risks. These risks are managed by the general contractor's various corporate business units as they pertain to more administrative components of the business and cannot be easily monitored and managed by project teams.
Safety and environmental risks. For risks that pertain to the safety of workers on the project, the project management team typically embraces most of the responsibility for construction risk management.
Productivity risks. Productivity is tied directly to the overall success of the project. As follows, these risks can be shared by project leadership and subcontractor leadership.
For example, a Project Manager might take it upon themselves to prevent trade stacking if they are experienced with labor deployment. To mitigate this risk, they might make on-the-fly assessments of the square footage of working space available to each worker on the project to ensure that overcrowding does not occur. If it does, the PM would have the power to make changes to the project plan to increase worker productivity.
Learn more: Trade Stacking in Construction: What It Is and How to Avoid It
The responsibilities of a risk owner are as follows:
Monitoring the assigned risk
Assisting in the development of risk mitigation tactics and strategies
Executing on those plans if necessary
Educating other team members on the risk or risk category
Collaborating with other team members to ensure best risk prevention practices are upheld
3. Formulate Risk Response Plans
If a risk becomes actualized, it is critical that each risk has a pre-emptive response strategy prepared based on the four primary response categories.
The four construction risk management strategies are:
Avoid the risk. If all risks could be avoided, there would be no need for this article. Unfortunately, that is not the case, and many risks cannot be avoided. The best way that general contractors can avoid risk on their projects is by making changes to their scope of work or by using selective project bidding tactics. For example, the risk of workers falling from heights can be avoided by only bidding on single storey projects.
Transfer the risk. This tactic involves enlisting a third-party to absorb the liability associated with certain risks. For example, a wrap-up insurance program helps general contractors to transfer some of their major risk categories to a major insurance provider (worker's compensation, general liability, excess liability, employer's liability).
Mitigate the risk. Mitigation is the most proactive strategy available to contractors, as it involves the creation of plans or processes that essentially eliminate the risk from your construction risk management equation. For example, the risk of fines pertaining to untrained workers can be mitigated by leveraging a certification-based access control program on your projects.
Accept the risk. When all else fails, contracts may have to accept certain risk as operational requirements on projects. For example, poor weather conditions are a risk that every project faces and there is little contractors can do to combat this risk, other than allocating time to the project schedule to accommodate for potential delays.
The next step in crafting risk response plans is to set risk triggers. Risk triggers are the events which set risk response plans into motion.
Here is an example of a risk, an associated risk trigger, and a response strategy:
Risk: Untrained workers conducting work on a project site
Risk trigger: Worker is onboarded on a project and is missing necessary certifications to complete work on the project.
Risk response: Mitigate the risk by using a construction onboarding software to identify missing training early, so that untrained or unqualified workers are not allowed on-site.
All risk response plans should be formally documented in a risk register along with risk-specific evaluations.
As you craft your risk response plans, your aim should be to ensure that each response is:
Cost effective
Aligned with the magnitude of each risk
Agreed upon by all relevant stakeholders
Achievable
4. Monitor Risks Through the Duration of the Project
The final step in a strong construction risk management strategy is to continuously monitor risks throughout the duration of the project. Risk monitoring must occur at all levels of operations and should be directed by risk owners.
The three critical components in effective risk monitoring are as follows:
Risk identification. It is the role of every project stakeholder to identify risks early so that they can be dealt with in a quick and timely manner. For example, early identification of exposed electrical on a high-rise build ensures that the hazard is remedied before too many workers become exposed to the safety threat.
Risk anticipation. Some risks can (and should) be forecast in advance. For example, many fluctuations in material prices can be anticipated, and it is the duty of a general contractor's procurement arm to recognize rising rates and ensure that materials are procured as early as possible to reduce the impact of cost spikes.
Documentation of new risks. Though is it essential to take proactive aim at risk management, not all risks can be forecast in advance. That is why it is imperative that, whenever a new risk arises, it is documented, added to the risk register, assigned ownership for future occurrences, and a risk response plan is formulated.
One of the most effective strategies for monitoring and managing risk on a construction project is to leverage leading construction technology tools. Let us explore how leading solutions take direct aim at reducing or mitigating risks on projects.
Construction Risk Management Tools
If this article has made one thing clear, it should be that construction is the highest-risk sector in the global economy. Fortunately for Asset Owners, General Contractors, Construction Managers, and anyone else looking to implement construction risk management tactics, there are new era technologies that make it easier than ever to enhance site safety and reduce numerous risk factors in the field.
Here are some of the leading construction risk management tools available today.
myComply
myComply is the leading solution for General Contractors that want to take proactive aim at reducing a variety of risks on their projects. Projects Pro is myComply's integrated workforce management platform that integrates with in-field hardware to mine deep project data, meet various regulatory demands, and improve site safety.
Here are the risks that Projects Pro helps contractors mitigate:
Regulatory fines. When construction sites fail to comply with governmental safety standards, they become susceptible to fines from various regulatory bodies, such as OSHA authorities and State officers. By using myComply to digitize certifications and qualify your workforce, your risk exposure to fines can be dramatically reduced.
Stop work orders. Stop work orders are issued in response to a failure to comply with state, municipal, or federal regulation. By implementing myComply, contractors can eliminate the risk of certification-related penalties, untrained workers, and better comply with State sanctioned programs, like Local Law 196 in New York.
Contract disputes. Most contract disputes arise in response to work not being completed on time or potential changes to the initial scope of work. In these situations, the winner is generally the party that can present the most compelling data to prove their case. With myComply's time and attendance functionality, hours on-site are logged at the worker level, the Subcontractor level, and the project level; giving General Contractors ample data to confirm, refute, or deny any claims being made.
Vandalism and equipment damage. In use cases where myComply is combined with turnstile gates and secure site perimeters, it becomes almost impossible for unwanted visitors to gain access to construction sites outside of work hours.
Untrained workers. myComply's certification management platform allows General Contractors to set certification requirements for Subcontractors and their workers. This makes it possible to actively or passively screen workers to ensure that every person onsite is trained and qualified to be conducting safe work on your project.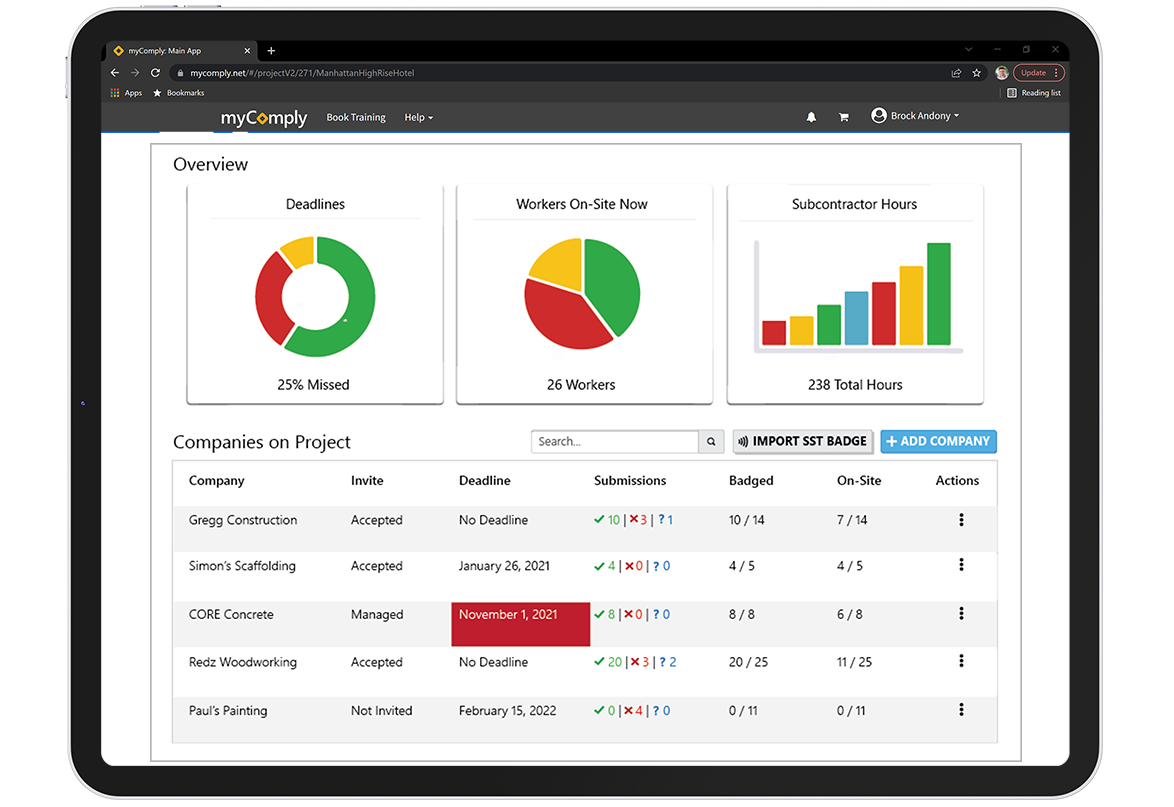 Source: Projects Pro
Procore
Procore is a best-in-class construction management platform that gives General Contractors the ability to meet several needs and automate several workflows to enhance their operational efficiency, from preconstruction all the way through to closeout.
Here are some of the primary risks that can be reduced with Procore, and the corresponding solutions:
Trade stacking. Procore's productivity management software helps general contractors to carefully monitor and manage their labor schedules so that they can ensure that the optimal amount of labor is being deployed to site at any given time.
Liquidated damages. Procore's project financials functionality helps in-office teams to accurately track the overall progress of a project against plan in-order to ensure that timelines are upheld, and the risk of delays can be avoided or so that mitigation plans can be put in place early.
Incomplete drawings. Procore's building information modeling (BIM) technology helps general contractors to convert architectural renderings into
Cost overruns. Procore's budgeting functionality helps general contractors to monitor various costs in real-time. This helps to identify areas of work that are at-risk of exceeding budget and empowers project management teams to act quickly to prevent cost overruns that can be damaging to the profitability of projects.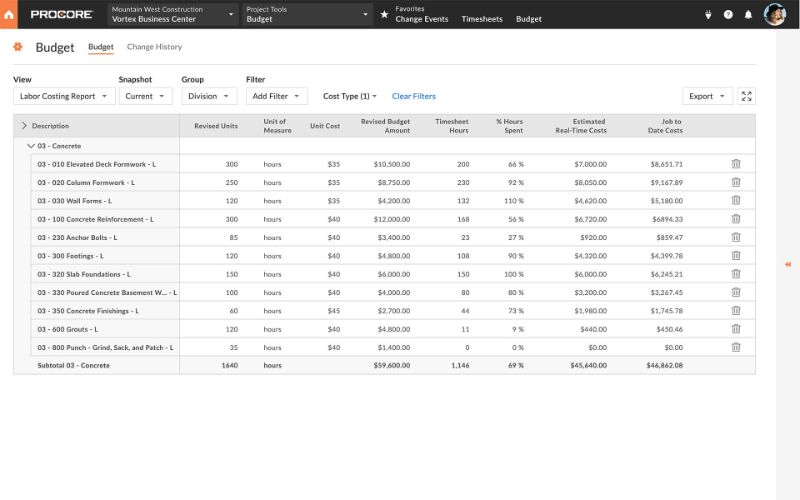 Source: Procore
Discover how you can use myComply and Procore together to automate the collection of data and the completion of critical documentation, like daily logs.
Conclusion
Construction projects are rich in risk, and managing that risk is everyone's responsibility.
Having a construction risk management program in-place helps general contractors to ensure that everyone is doing their part to reduce the impact of risk, keep project sites safe, and keep projects on-track.
Remember the four-step construction risk management strategy:
Perform a construction risk assessment
Assign risk ownership
Formulate risk response plans
Monitor risks through the duration of the project
myComply is the leading construction workforce management solution for general contractors that are looking to reduce their risk exposure by taking a proactive approach to workforce management and incident prevention.
Interested in finding out how you can automate remedial task work and eliminate costly construction risk on your next project? Book some time with a myComply product expert today.