myComply's Bluetooth-powered Smart Badges are the ultimate worker monitoring tool for large construction sites without secure access points. Automate time and attendance tracking, view worker certifications, and more with the Smart Badge.
Bluetooth badges unlock deep project data with passive worker interaction.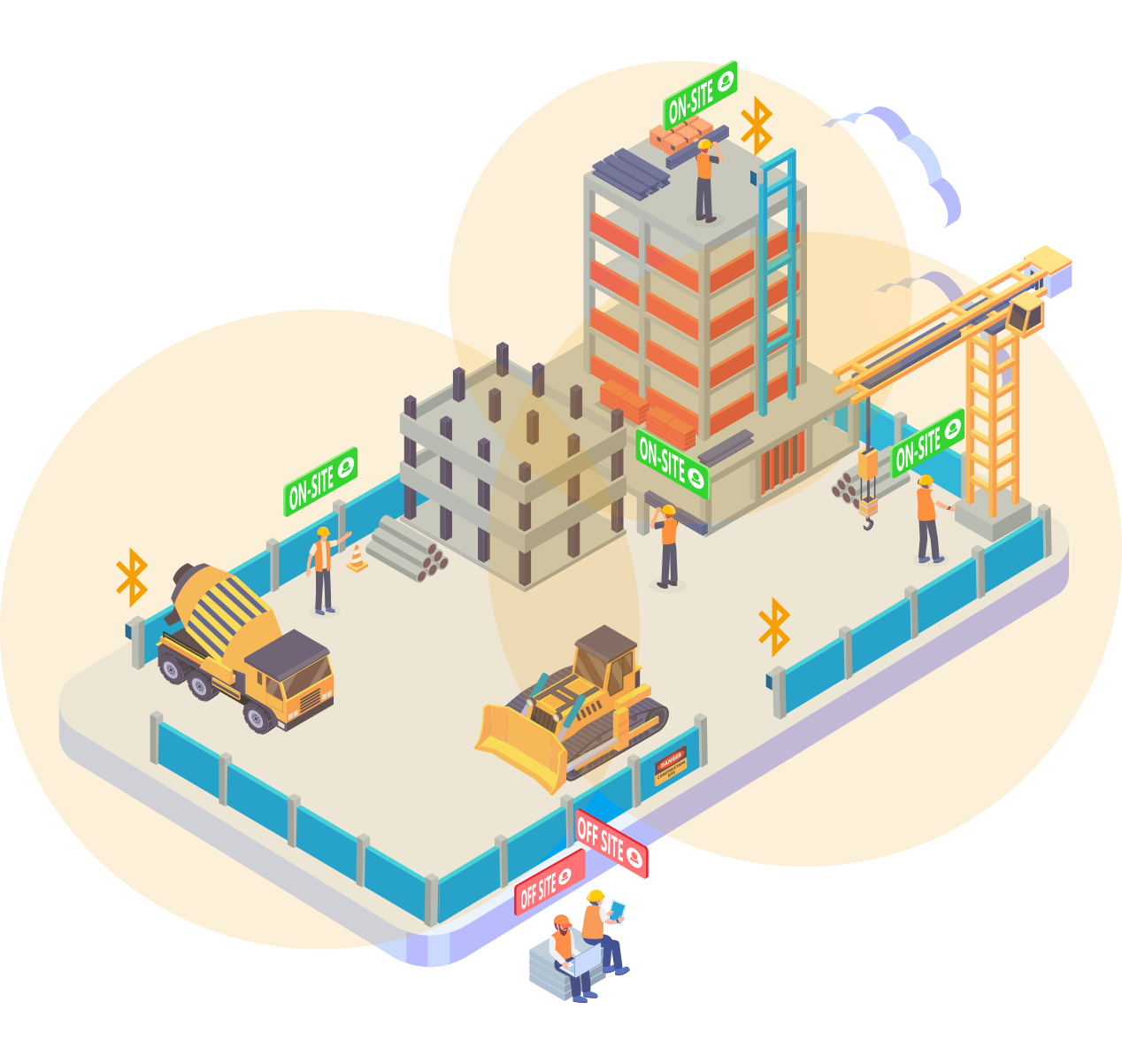 1. Create Worker Profiles
Upload worker details and qualifications to myComply's Certification Manager.
2. Issue Bluetooth Badges
Issue Bluetooth badges to workers that are paired to their worker profiles.
3. Install Smart Bricks
Place Smart Bricks near site entry/exit points to act as Bluetooth beacons.
4. Bluetooth Collaboration
Smart Bricks detect badges and create data points when workers enter/exit the site.
5. Monitor Data in Projects Pro
Manpower data, demographics, and other information is logged on Projects Pro.
When to Use Bluetooth Badges
Campus-Style Jobsites
Project sites with unsecure or unmonitored perimeters are the optimal use case for Bluetooth badges. Smart Bricks around the perimeter create a virtual fence around the site and facilitate the tracking of worker movements as they arrive on site and leave the site.
Mega Projects
Construction with more than 100 workers on-site at any given time can be very difficult to manage. myComply's Bluetooth badges reduce administrative strain by automating time and attendance information for every worker on-site.
Highly Regulated Environments
If you are operating under tight regulatory parameters, implementing a Bluetooth badge program can be an effective way to verify worker training. Worker qualifications can be stored on the Bluetooth badge and verified by any smart device on-site.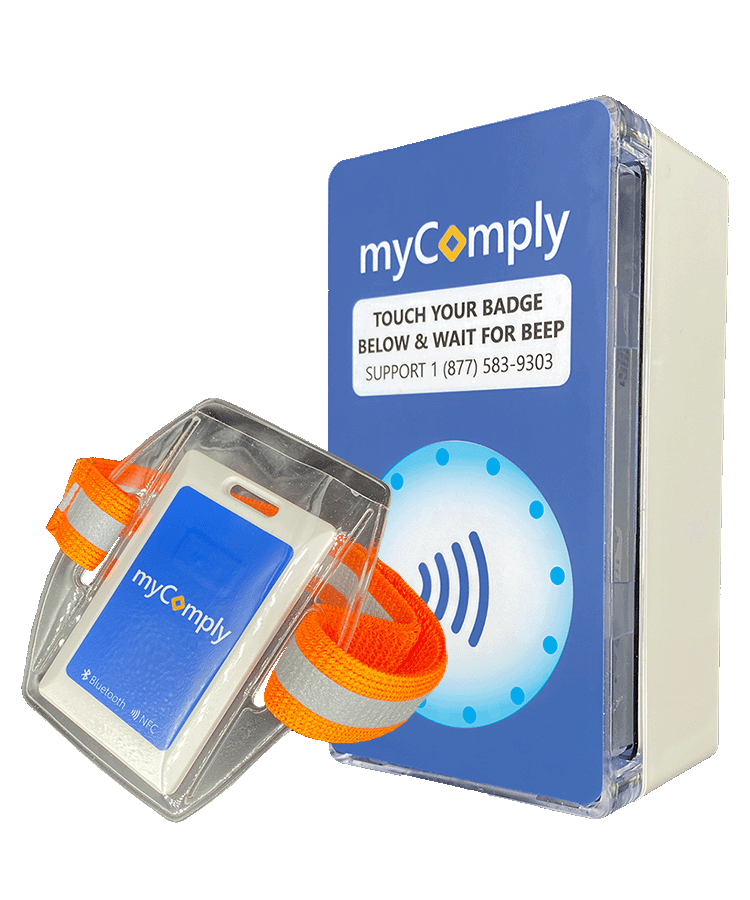 Smart Brick Collaboration
The Smart Brick is the second half of myComply's hardware stack. Smart Bricks act as Bluetooth beacons, and can be positioned near site entry/exit points. When workers pass by a brick, they will either be checked in or out of the jobsite and that information is relayed to your project dashboard.
» Automate the collection of time and attendance data
» Minimize worker interaction while collecting critical data
» Smart Bricks can read badges that are up to 100 feet away
» Collect real-time site data through connected LTE networks
» FCC-certified hardware is durable in the face of harsh conditions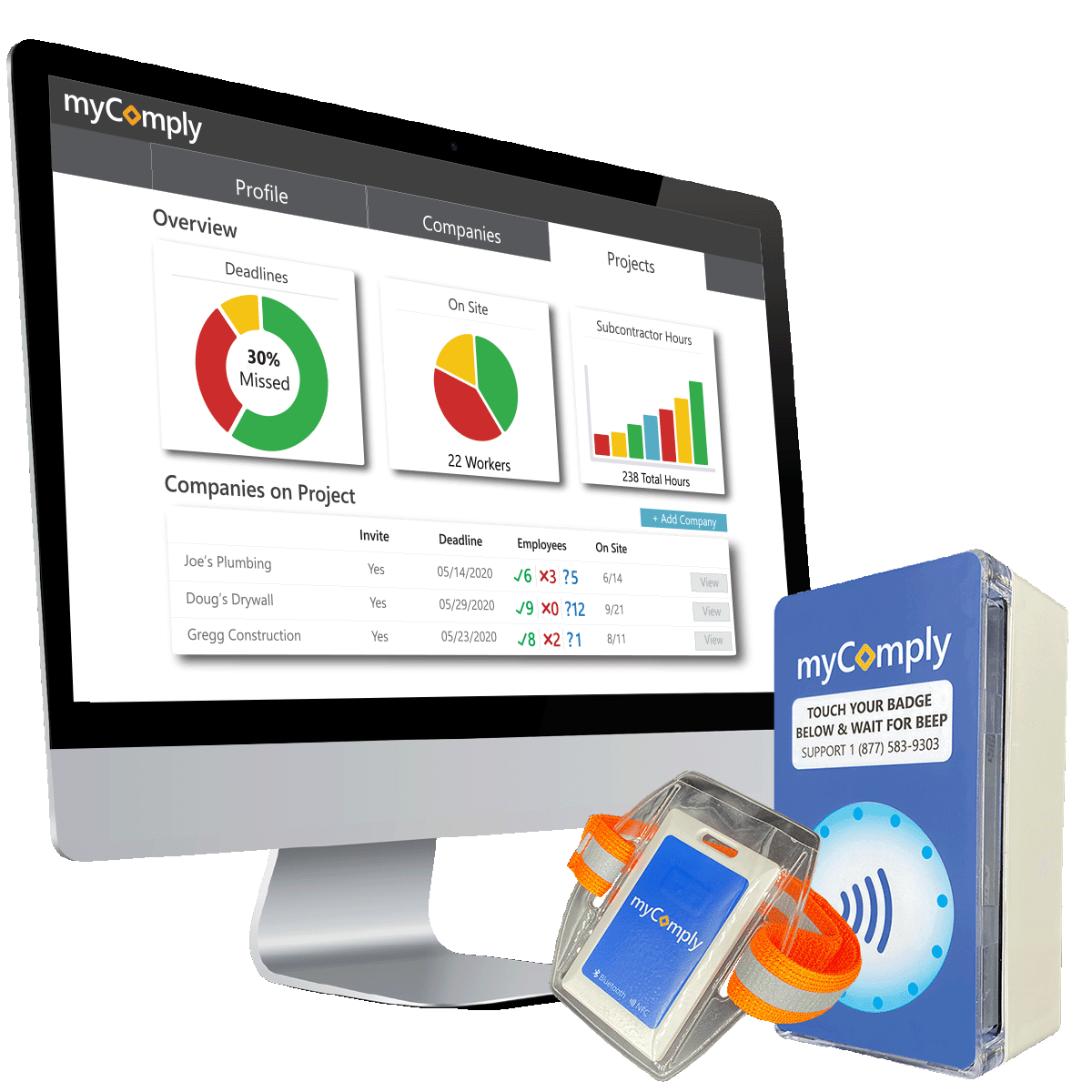 Your Smart Bricks and Smart Badges connect to myComply's cloud-based software in real-time. Whenever a badge interacts with a Smart Brick, attendance data is created and demographic details fuel powerful reports in Projects Pro. But, you can do much more than that with Projects Pro:
» Onboard workers with digital orientations
» Monitor worker qualifications to ensure compliance
» Generate manpower logs to verify time and attendance
» Create powerful reports for stakeholders in one click
» Monitor real-time data at the project level
Unlock the Power of the Bluetooth Badge