Imagine that your company has a new marketing manager starting work today, but there is not a desk, nor space for them to get set-up. As a stopgap, leadership decides that this marketing hire should share a desk with your Head of HR… Seems like a risky managerial decision, right? That is trade stacking.
When construction workers are forced to work in overly crowded spaces:
Safety is impacted
Productivity is reduced
Disruptions occur
Schedule may be delayed
Defective work may occur
And more
This article defines trade stacking, explores the risk in stacking trades, and provides a strategy to help general contractors in stacking their trades more effectively on projects.
What is Trade Stacking in Construction?
Trade stacking is the phenomenon that occurs when too many subcontractors (or subtrades) have been scheduled to work on a given area of a construction project, simultaneously. Though it can be enticing to schedule as many trades as possible as fast as possible to comply with tight project timelines, overscheduling can lead to crowding, leading to diminished returns in terms of profitability and speed to production.
When general contractors schedule subcontractors on projects, they need to carefully coordinate and provide oversight so that they can ensure they are striking a balance and scheduling the optimal volume of trades in each area of the project.
The Cost of Stacking Trades
Ineffective trade stacking can lead to several direct or indirect project costs for general contractors. From cost overruns to productivity hindering disputes, failure to manage subcontractors and stack labor effectively can lead to major financial burden. Here are the leading risks of trade stacking.
Lost Efficiency
Research was conducted by the University of Wisconsin-Madison to explore the topic of trade stacking and the optimal space required for a construction worker to maximize their productivity on a project.
The findings of the study were as follows:
A minimum of 200 to 250 square feet of space are needed per construction worker for full productivity to be achieved (depending on the complexity of the work).
There is no lost efficiency at 191 square feet per worker.
At every point below 191 square feet, efficiency is lost, with 50% of total efficiency lost at 90 square feet per worker (on projects that range in size from 2,000 person-hours to 150,000 person-hours).
Source: Minds at University of Wisconsin
Disruption Claims
Disruption claims are a basis by which subcontractors can file a claim in relation to any work that was completed in a less efficient manner than the contractor was otherwise capable. This type of disruption presents itself in the form of additional costs from labor, equipment, or delays that are outside of the subcontractor's control.
Here is what construction disruptions look like when mapped on a trendline: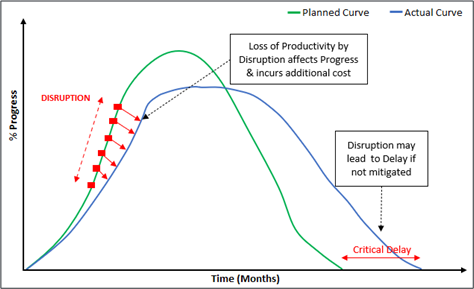 Source: HKA
As you can see on the chart above, the primary risk in construction disruptions are project delays. When disruptions occur, subtrades are unable to complete work within the timeframes that they would have otherwise been able to, which often leads to scheduling conflicts and delays for all subsequent work on the project.
Delay Claims
A delay claim is like a disruption claim in the sense that it claims that a project has been delayed by reason outside of the control of the subcontractor. However, this claim is more pointed as it asserts that the delay was directly caused by an activity (or inactivity) of the general contractor, site owner, or developer.
If enforced, these claims provide subcontractors with additional time and/or compensation to complete the project to account for the delays that were outside of their control.
The most frequent delays that lead to the filing of delay claims are as follows:
Change orders
Defective designs or architectural renderings
Differing or changing site conditions
Restricted access or limited access to a site
Time spent waiting for permits or approvals
As you can see, restricted or limited site access is one of the leading causes of delay claims. By carefully managing and deploying labor resources, general contractors can prevent the risk of trade stacking, and further, claims such as this that can cause additional damage to project productivity and profitability.
Defective Work
Common construction defects include faulty materials, incorrect designs, poor workmanship, and failure to follow construction codes. Though trade stacking does not cause all these issues, it can increase the likelihood of poor workmanship on a project.
Here is how this occurs:
Too many trades are assigned task work in a certain physical region
Limited space, restricted access to resources, stress, and distractions leads to trade stacking
Workers attempt to speed up their work to compensate for these limitations
Quality of workmanship decreases, and defective work occurs
Disputes arise
When defects occur and disputes arise, the response is typically rework activities. Rework activities are one of the top causes of inefficiency in the global construction sector. In fact, a study by PlanGrid and FMI found that construction companies around the world spend approximately $178 billion a year on rework activities.
Do not let trade stacking lead to defects, disputes, and unanticipated costs on your projects.
How to Stack Trades and Enhance Productivity
Although trade stacking carries a predominantly negative connotation, it does not have to be that way. In fact, if done well, trade stacking can improve productivity on your projects and boost your bottom line.
How exactly? Like a compelling magic trick, stacking trades is part art, part science.
Here is how to stack trades more effectively, in four steps.
1. Optimize Your Schedule of Work
As you aim to reduce the effects of trade stacking on your projects, it is important to isolate the primary variable within your control: the schedule of work. There are a few schedule types that are frequently used by general contractors to manage labor and materials deployment, such as: line of balance schedules, quantitative schedules, resource schedules, Gantt charts, last planner systems, critical path schedules, and more.
Now, regardless of the work schedule(s) being utilized by your firm, the key to success is using the worker efficiency calculations contained in this article to optimize your labor deployment and prevent trade stacking.
As you project compounds, ensure that at every stage, you never exceed one worker per every 200 square feet of workable ground on the site. Achieving this may involve extending project timelines to prevent stacking; however, the productivity gains could correspond with delivery ahead of schedule.
2. Build an Adaptable Project Plan
Construction projects never go according to plan. One of the most proactive steps that general contractors (GCs) can take is using project management software to build flexibility into their project plans. This allows GCs to adapt quickly in the face of delays, change orders, and other unforeseen events, while still preventing the risk of trade stacking.
Procore is one of the leading project management solutions for general contractors. Here is how it can help GCs to prevent the stacking of trades:
Documented communication. All communications between everyone involved in a project are centralized and documented on Procore, making it easy for project stakeholders to access the information they need and keep projects on schedule.
Real-time updates. Changes made to project plans in the office or in the field are updated in real-time, ensuring that all Procore users have access to the latest information. This allows on-site teams to adapt quickly and make changes to labor deployment when needed.
Project visibility. Procore enables users to digitally map the schedule of work, document any conflicts, and identify potential issues down-the-line.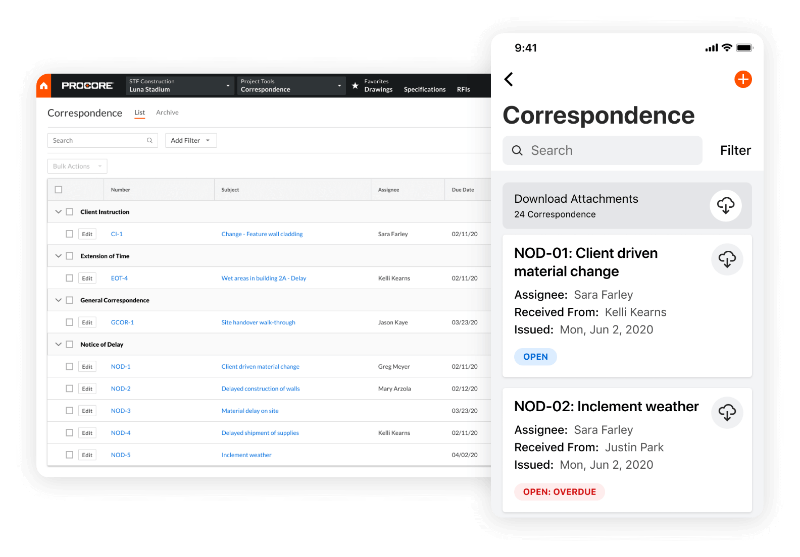 Source: Procore
Want to make the most out of your Procore usage? Explore myComply' Procore integration to discover how you can automate the completion of your daily logs using myComply's integrated hardware and software solution.
3. Install a Strong Project Management Team
Your project can only be as successful as the team that you have managing it. One of the keys to preventing trade stacking and ensuring optimal productivity on your project is assigning the right project management talent to the task.
Here is how to build a strong project management team:
Build a broad-based team. Build a team with a broad base of experience and a proven track record of managing similar caliber projects.
Assign a formal manager. There needs to be a chain of command on your project site, so identify who will be the leader on-the-ground.
Involve team members in decisions. Your project team will have valuable knowledge and experience to share. Leverage that intellectual property when making tough decisions.
Keep team members informed. Providing your project teams with access to your construction technology stack and project plans is paramount.
4. Use Workforce Management Software
One of the most effective tactics for general contractors that want to better manage and track the movement of workers on their projects is the use of a workforce management solution. myComply is the leading workforce management solution for construction firms that want to unlock deep workforce data and slash the costs associated with workforce management.
Here's how myComply can help firms prevent trade stacking on projects:
Automated attendance tracking. Bluetooth and NFC-enabled smart technology allows general contractors to monitor the workforce on a project in real-time. GCs can then use this data to determine whether they are over-allocating manpower to a project and prevent the risk of trade stacking.
On-demand reporting. All data created and stored in the myComply platform can be exported into compelling project reports in one click. This enables project leaders to easily map their labor and manage the stacking of trades.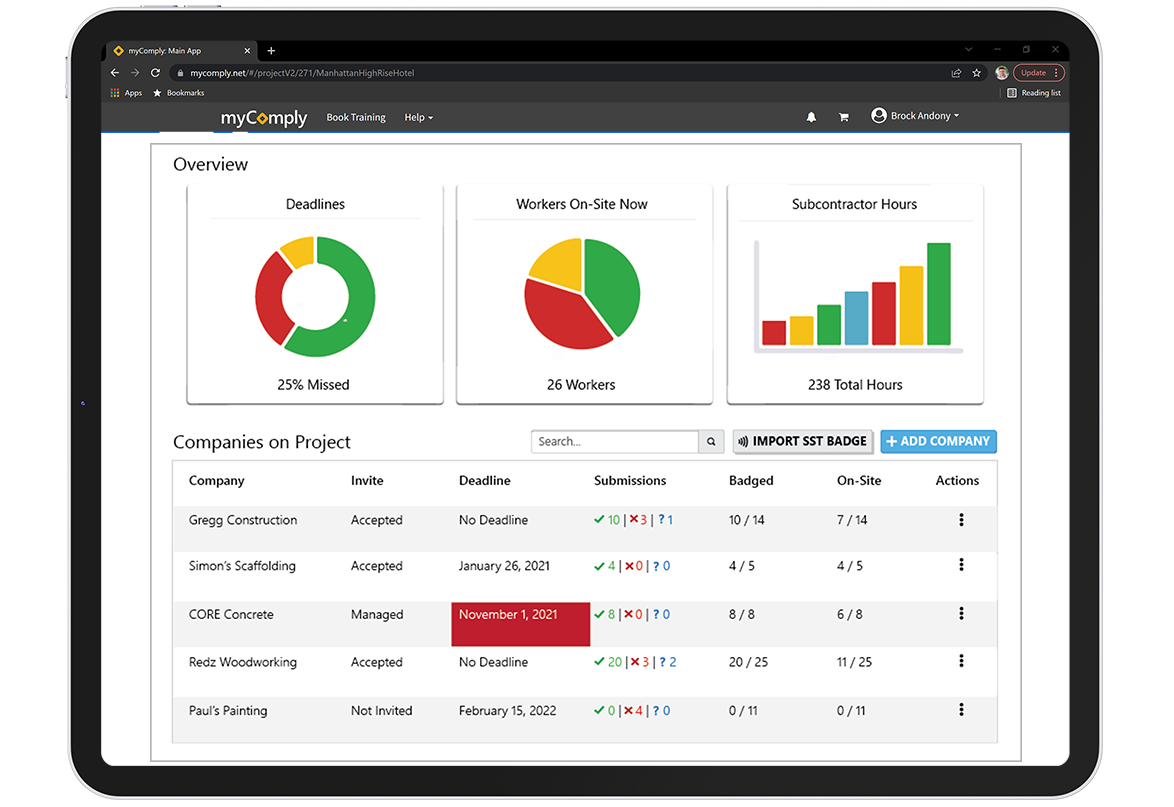 Source: myComply
Conclusion
Trade stacking is a frequent and costly outcome of inefficient resource allocation on construction projects. General contractors that closely monitor their labor deployment can prevent lost efficiency, disruption claims, delay claims, and defective work.
Here is the secret recipe:
Optimize your schedule of work to account for at least 200 square feet of workable space per worker.
Use technology to help you build an adaptable and flexible project plan, to account for the unforeseen.
Build a strong project management team that you can trust to steer projects from the ground.
Use workforce management software to mine deep workforce data and track the movements of workers and subcontractors in real-time.
myComply is the leading workforce management solution for general contractors that want to unlock massive savings by increasing their project efficiency. From digital orientations, to integrated access control technologies, to automated attendance and workforce management, myComply makes it easy for GCs to improve their operational efficiencies.
Book some time with a product expert today to find out more.