Why compile a list of the top construction risks that workers, contractors, and project owners are susceptible to? Because 1 in every 10 construction workers are injured, in some capacity, on the job each year. According to the Bureau of Labor Statistics, that constitutes around
150,000
incidents per year in the United States.
Construction work is high risk.
However, not all that risk needs to be accepted.
In fact, it should not be.
This article will define construction risk, provide the top 20 construction risks that contractors need to be aware of, and offer risk management tactics that can help contractors to reduce their overall risk exposure.
What is Construction Risk?
Construction risk can very simply be defined as any loss exposure encountered throughout the course of a construction project. Construction risk can present itself through environmental factors, project delays, safety concerns, and more. Risk is an unavoidable component in the construction process and can be found from preconstruction through to closeout.
Below, we explore the top 20 construction risks that all contractors need to consider when managing projects and building safety programs.
The Top 20 Construction Risks
The construction sector is often characterized by a high degree of volatility, uncertainty, and risk. That is because construction projects tend to be incredibly intricate, resource intensive, and dependent on a large volume of inputs. Though risk can fluctuate based on the size and scope of the project, these are the most prominent construction risks that contractors need to be aware of.
Click here to download your free copy of our top 20 construction risks infographic!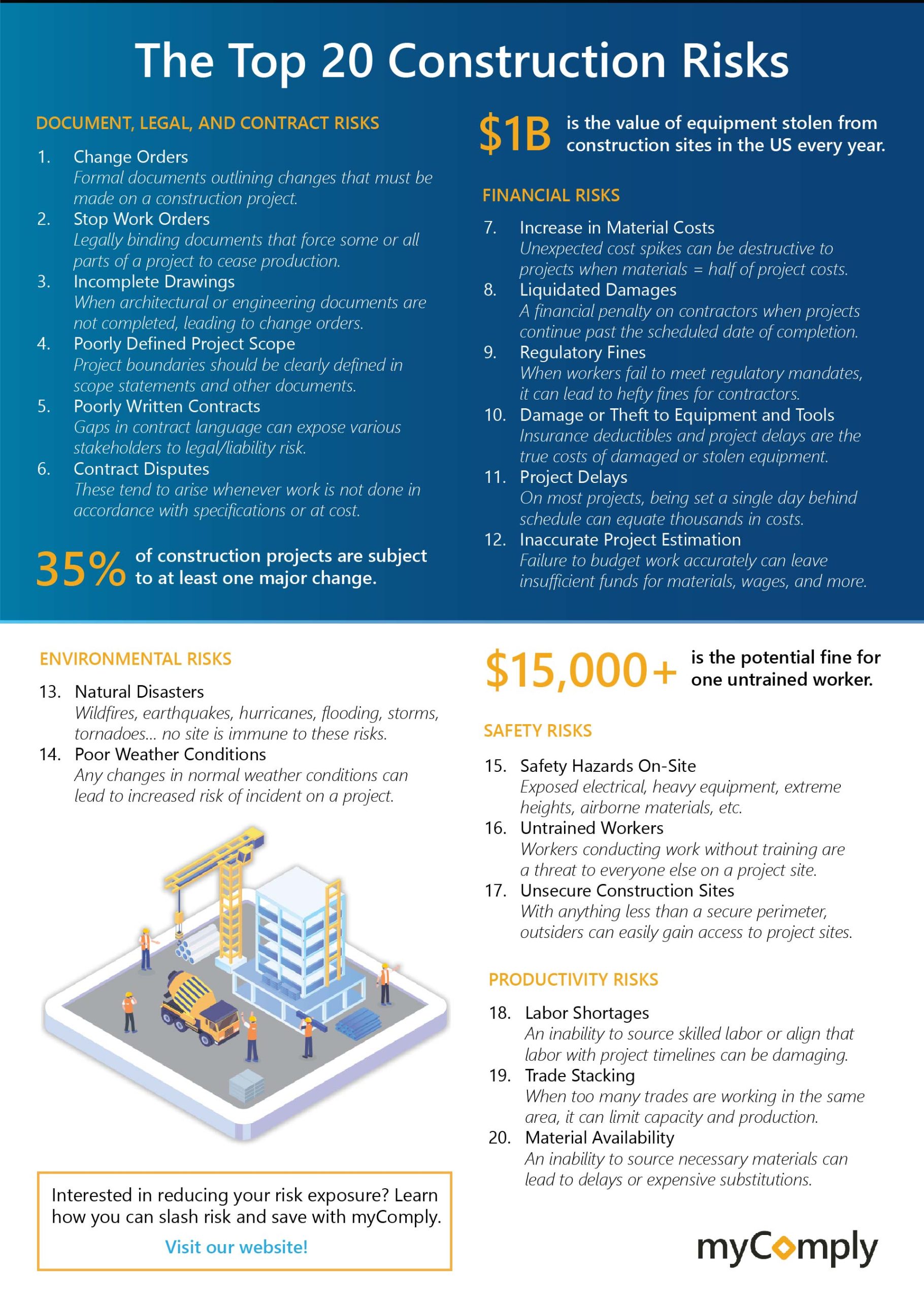 Document, Legal, and Contract Risks
Change orders. Change orders are formal documents that outline adjustments or amendments that must be made to work at either the General Contractor or Subcontractor level. These are a prominent construction risk as 35% of construction projects are subject to at least one major change throughout their lifetime. Change orders also feed into project delays, trade stacking, and other negative project ramifications.
Stop work orders. Stop work orders are legally binding documents issued by federal or state entities that have the power to halt some or all work on a construction project until remediation can be completed. Stop work orders are generally issued by inspectors in response to payment disputes, contract breaches, regulatory noncompliance, safety concerns, or unqualified workers on-site. Like change orders, these documents can be incredibly damaging to project scheduling and effective supply chain management.
Incomplete drawings. This construction risk is often a problem on complex projects, such as a high-rise office building, where complete plans should consist of architectural drawings, mechanical engineering drawings, electrical engineering documents, civil engineering plans, structural engineering documents, and more. If plans are missing or incomplete, it will lead to change orders when contractors prepare to conduct work that is not properly defined.
Poorly defined project scope. Excellent project planning is critical to the success of construction projects. Defining scope includes the formulation of scope statements, to define project boundaries, and scope management, which is the active monitoring of cost, schedule, quality, change, and more. If scope is not clearly defined and accurately managed, it can introduce uncertainty to the project and open the door to legal action from other stakeholders.
Poorly written contracts. Well written contracts should protect stakeholders from lots of risk and provide provisions for certain things, such as allowable non-compensable delays for events outside of the General Contractors control (ex fires, lockouts, labor disputes). When clauses like this are not included in contracts, it invites opportunity for contract disputes, legal action against perceived damages or loss, and more.
Contract disputes. Contract disputes typically arise whenever there is a misalignment around cost. The most common disputes between contractors pertain to a failure to complete work on-time, a failure to adhere to plans/specifications, unsupported changes to plans/specifications, or a failure to make payment according to schedule.
Financial Risks
An unexpected increase in material costs. Materials often represent at least half of the cost of a fixed-price construction contract. Material prices are never fixed, and some market factors cannot be easily anticipated, such as workforce stoppages where materials are being produced, shipping complications/bottlenecks, trade tariffs, and more.
Liquidated damages. Liquidated damages in construction are funds that are deducted from the balance an Asset Owner owes a contractor as penalty for every day a construction project continues past the agreed-upon date of completion. This is a major construction risk as most projects operate on razor-thin margins in the first place.
Regulatory fines. General Contractors are responsible for ensuring that every worker present on their project site is abiding by both state and federal regulation and is trained and certified to be conducting their work. If not, this can lead to massive fines for the General Contractor. For example, the New York City Department of Buildings (DOB) charges the workers employer, the permit holder, and the Asset Owner each $5,000 per infraction. This can mean up to $15,000 in fines stemming from a single unqualified worker.
Damage or theft to equipment and tools. The average value of equipment stolen from construction sites in the United States is between $300 million and $1 billion, and less than 20% of this equipment is recovered. Though most of this equipment will be insured to cover theft, paying deductibles can eat into margins, and lost equipment can compromise project timelines, feeding into a host of other construction risks.
Project delays. As a construction risk, project delays are one of the most prominent in the sector. However, this risk is typically the product of other risks in this list compromising a General Contractors ability to complete the construction phase on-schedule. That being said, the cost of delayed completions for contractors can be immense. In fact, depending on contract provisions, contractors could be charged liquidation damages for each day over schedule (see above).
Inaccurate project estimation. Budgeting is a critical component of the construction management process. Budget inaccuracies or estimation shortfalls can leave insufficient funds on the table for materials, subtrades, wages, and more. Proven estimating procedures and construction technology can be powerful in reducing this construction risk. Learn how to craft stronger construction bids here.
Environmental Risks
Natural disasters. Wildfires, earthquakes, hurricanes, flooding, tornadoes, hailstorms… Natural disasters can take many forms depending on your location. If your site is struck by any of these extreme weather incidents, it can lead to increased risk of injury to workers on-site, severe damage and subsequent project delays, insurance disputes, and more.
Poor weather conditions. No construction site is immune to the risk of poor weather conditions. Anything less than sunny, moderate weather can lead to increased construction risk. Cold weather can affect how materials are used, wet weather can damage foundations, and extreme heat can put workers at risk and cause equipment malfunction. Monitoring weather conditions to reduce risk is imperative to the safety and productivity of every construction site.
Safety Risks
Safety hazards on-site. Construction sites are dangerous. On a day-to-day basis, construction workers may encounter things like exposed electrical, heavy equipment, extreme heights, airborne materials, and so much more.
Untrained workers. Few things are more dangerous than a construction worker conducting work that they are not trained or certified to be conducting. For example, an unlicensed laborer operating an excavator would be putting everyone on a project site at increased risk of injury or incident.
Unsecure construction sites. If construction sites are not properly secured, it is possible for unwanted foot traffic to gain site access and put themselves at risk of injury, accident, or death. This can also lead to financial consequences if materials or equipment are tampered with or stolen.
Productivity Risks
Labor shortages. It's no secret, skilled construction labor is in short supply. Cyclical construction cycles have driven workers out of the space, skilled workers may be in high demand in certain regions, creating unavailability, and more. Regardless of the cause, the construction risk is that subtrades may have difficulty resourcing projects to meet project timelines, and General Contractors may pay the price.
Trade stacking. Trade stacking is also known as overcrowding and is the product of having or scheduling too many trades to a single area of a jobsite. In theory, the more workers on-site, the more productive the project will be. However, this is not true if some Subcontractors are unable to complete their work or are forced to operate at a reduced or limited capacity in-order to accommodate other workers in the area.
Material availability. Material shortages (or availabilities) can halt construction projects in their tracks. With the global economy still recovering from COVID-initiated supply chain issues, some materials can prevent certain stages of project development from being completed. This construction risk can lead to major cost overruns, scheduling conflicts, and a host of other issues.
How to Reduce the Impact of Construction Risks
Though it is not possible to eliminate many of the risks faced by the owners, contractors, and workers that contribute to construction projects; many construction risks can be dramatically reduced with dedicated effort and the right set of tools.
1. Conduct a Construction Risk Assessment
Though the obvious goal of a risk assessment is the prevention of injuries and incident on-site, there are a few additional reasons to conduct one, such as:
Determining who is at risk, and which of the risks above pertain to them
Creating awareness around the risk through orientations and other training materials,
Fulfilling any legal or state/federal regulatory duties surrounding risk,
Meeting insurance requirements regarding loss prevention,
And much more.
Once you have determined your goals with a risk assessment, it is important to time your assessment appropriately. Though it is optimal to perform your assessment before the project begins, the assessment can still be done mid-project to help identify hazards or to introduce new safety strategies.
Now, if you are ready to initiate the process, here are the steps you should be following:
Use the list of construction risks above to help you identify the hazards present on your project
Determine the associated risk with each of the hazards by mapping both the severity and probability of each risk.
Identify actions you can take to minimize each risk, which leads us into sour next section, risk management strategies.
Read How to Conduct an Effective Construction Risk Assessment to find out more!
2. Build a Risk Management Strategy
Once you have assessed and graded the construction risks present on your project, the next step is to construct a management strategy to minimize exposure and reduce the frequency that these risks manifest themselves in the form of an incident, fine, delay, or otherwise.
Here are the steps you should take in-order to create a risk management strategy:
Use the data from your analyses to prioritize risks in order of importance, based on potential business impact.
Build a risk response strategy for each of the construction risks identified, using the four risk response techniques:

Avoid the risk through scope changes.
Transfer the risk to other entities (ex. insurance).
Mitigate the risk with loss prevention tactics.
Accept the risk if no better option exists.

Create your risk management plan by compiling risk response information, team members responsible for administrating/managing the plan, and resources for each risk into a formalized document.
Involve your team. Determine which team members are responsible for promoting safety, educating workers, negotiating insurance policies, monitoring safety data on the project, and more.
3. Implement Proven Construction Technology
Construction technology can help General Contractors to collect better data, make more informed decisions, improve productivity, and reduce various construction risks on their sites.
A few of the top solutions for modern construction sites are as follows:
Procore. Procore is the essential project management platform for contractors that want to enhance their estimating/budgeting, streamline office and field communications, intelligently identify risks, and more.
OpenSpace. Take jobsite transparency to a new level by using OpenSpace to create completely digital, 360 photo documentation of your projects. This helps contractors with the issue identification process, reduces liability exposure, and prevents project delays.
myComply. myComply is a workforce management platform that mines deep worker data, such as demographic information, regulatory information, worker certifications, attendance data, and more. This data and software helps contractors to eliminate regulatory fines, prevent stop work orders, win contract disputes, prevent site access by untrained workers, and reduce the risk of vandalism and theft.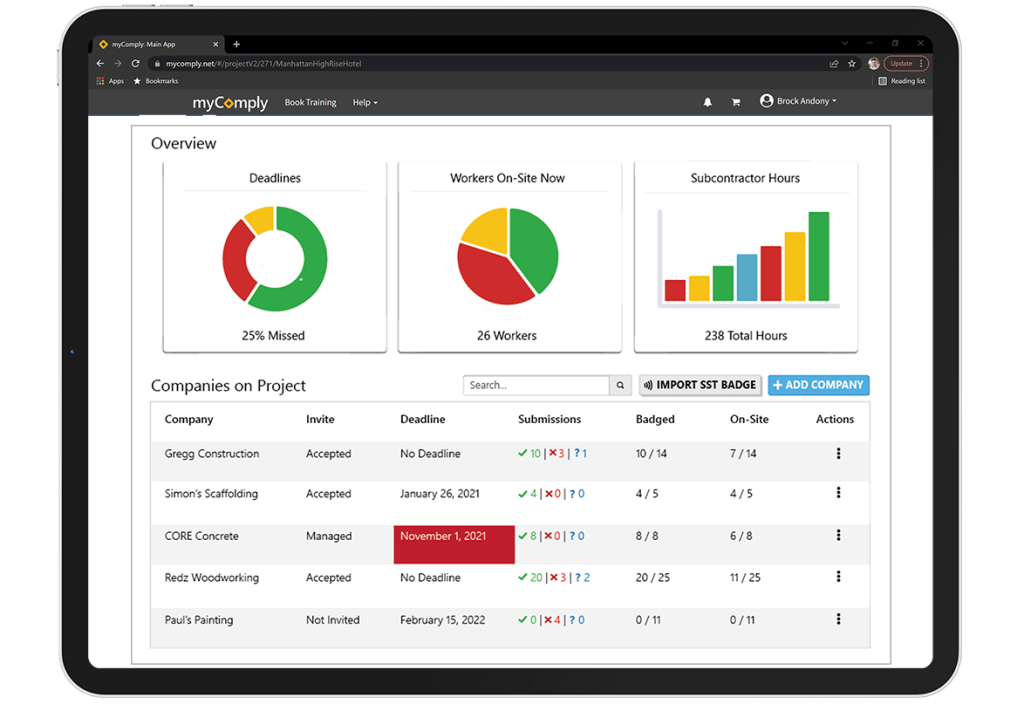 Source: Projects Pro
Conclusion
Where other industries need only occupy themselves with a small number of risks on a day-to-day basis; it could be said that everything on a construction site is out to harm someone. That is why General Contractors have a difficult job in promoting safety and minimizing risk on their projects.
Download your copy of the top 20 construction risks if you haven't already!
Remember the keys to reducing risk on your jobsites:
Conduct a risk assessment
Prepare a risk management strategy
Implement construction technology to mitigate risks
myComply is one of the leading solutions for contractors that are looking to reduce risk and increase profitability. Book a demo with one of our product experts to see how you could benefit from deeper workforce visibility.