myComply for General Contractors
myComply gives General Contractors the power of a fully connected jobsite. Monitor all worker credentials, track time and attendance, create and administer site orientations, and eliminate administrative strain by generating on-demand site reports.
Here's how it works.
"On this particular job, we have over 50 contractors, so on any given day we have 40-80 people on the site. Tracking every certification at orientation is easy… but tracking when they expire can be a very…daunting task, at times. With myComply, both systems are just automated. When someone's certificate or license expires, they're just not allowed onto the site."
– Steve D'Amaro, Assistant Project Manager, Ryder Construction
Leverage project data to unlock intelligent insights with myComply's integrated platform.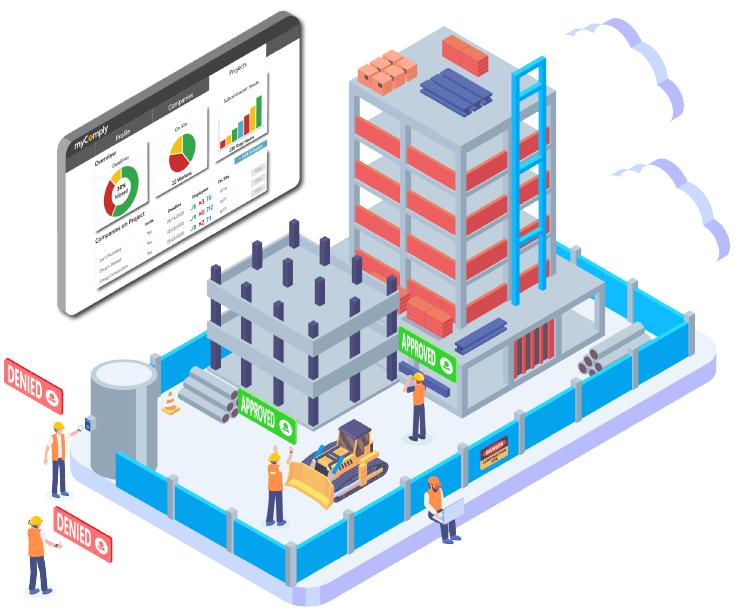 Worker Onboarding
Build and track digital orientations to ensure all new workers are trained.
Time Tracking
Verify Subcontractor timesheets by automatically monitoring worker hours.
Qualification Verification
Ensure a 100% qualified workforce with certification-based access control.
Automated Project Dashboard
Monitor projects that you own in real-time with myComply's Projects Pro.
On-Demand Reporting
Create powerful project reports for stakeholders in one-click.
The General Contractor journey begins with the creation of a Company Manager profile where General Contractors can upload and manage the documentation of all their own employees.
» Create employee profiles
» Upload worker certifications/qualifications
» Setup expiration alerts for certifications
» Create training matrices with smart filters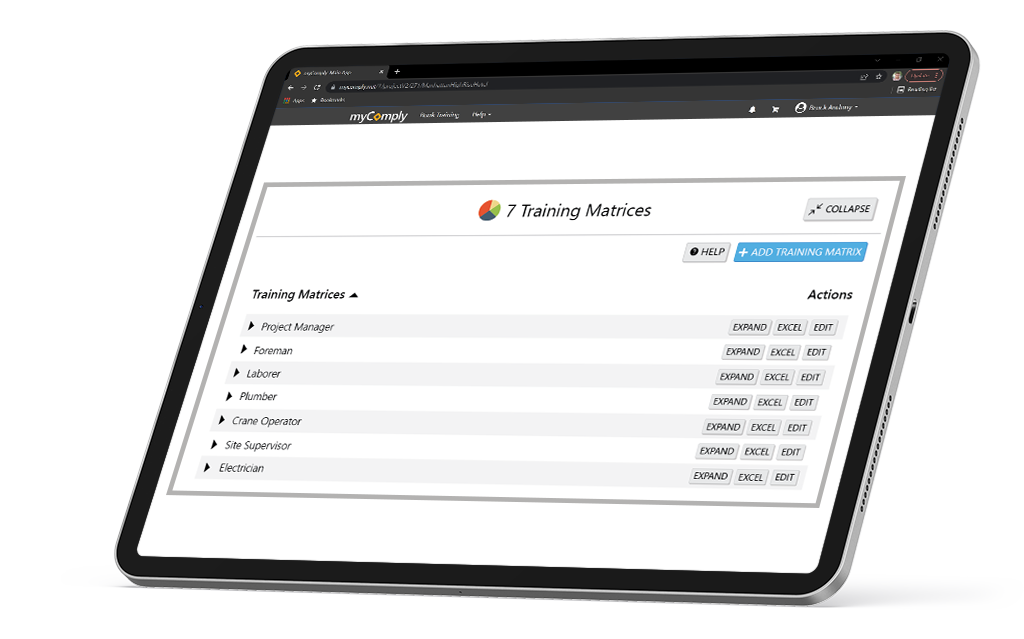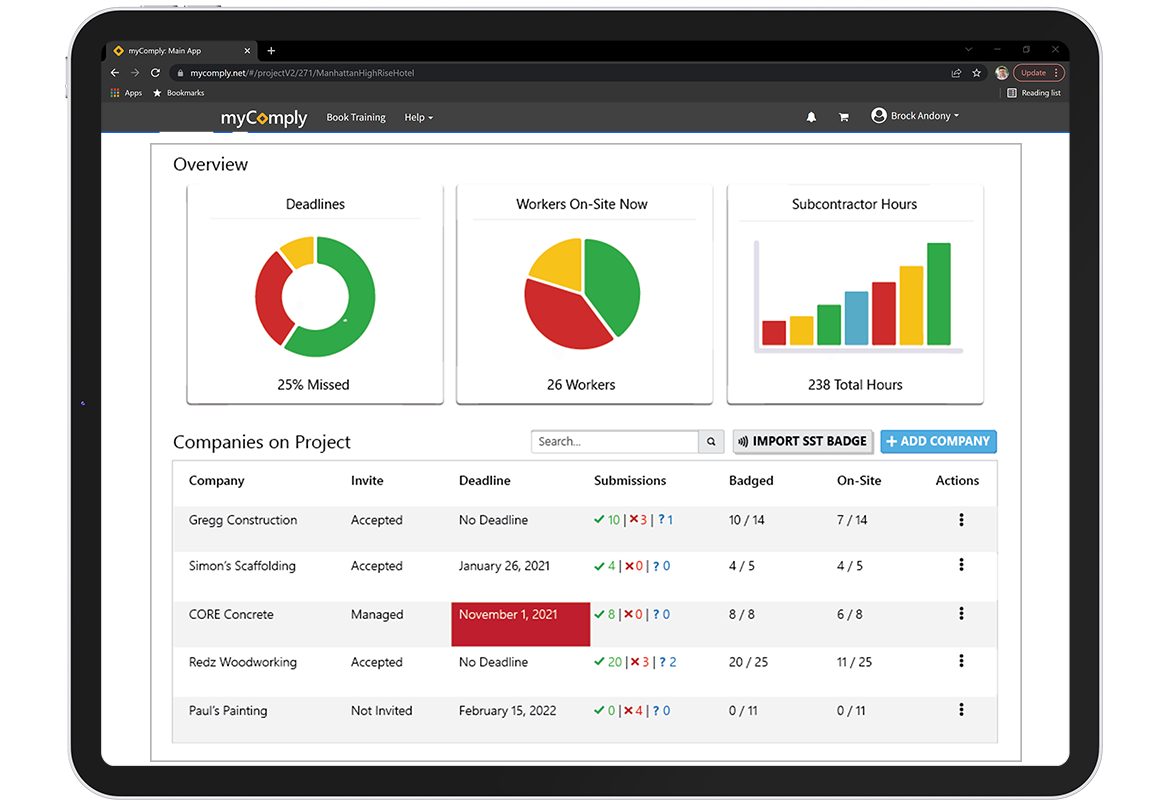 Then, General Contractors can use Projects Pro to create project dashboards so that they can get a bird's-eye view of their jobsites.
» Invite Subcontractors to join projects
» Set document requirements for Subs
» Launch certification-based access control
» Monitor time and attendance data
» Create on-demand reports
Easily standardize your Subcontractor training by creating online orientations that can be administered digitally, in-person, or through a combination of the two.
» Build custom course modules
» Distribute to Subs through myComply
» Track completion of orientations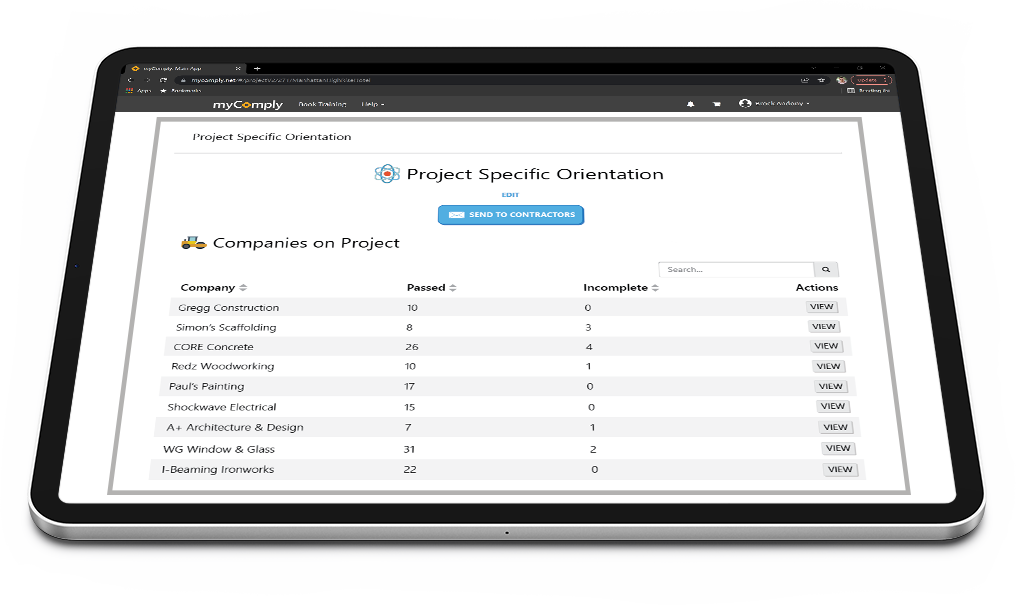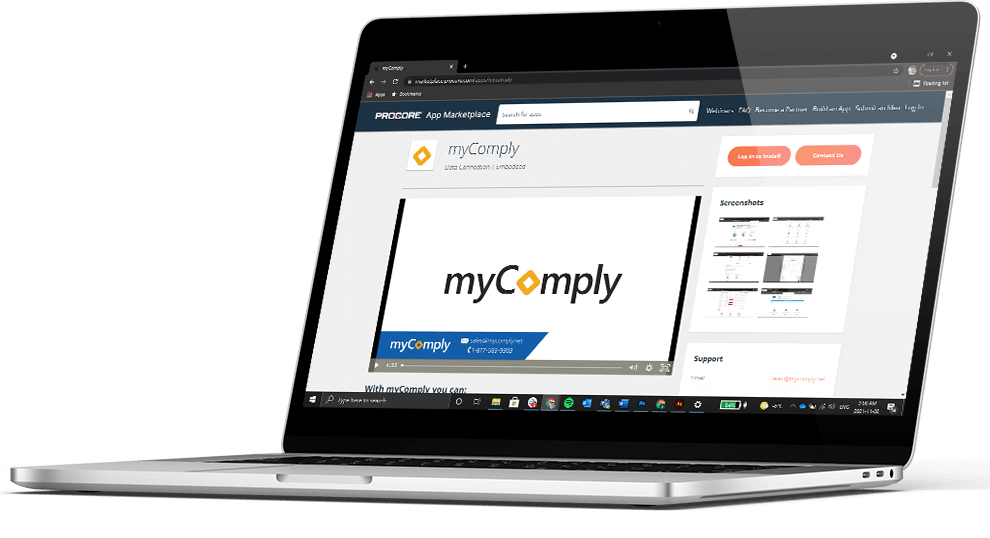 Procore
Use single sign-on capabilities to access myComply directly through your Procore dashboard. Vital workforce data from myComply's in-field hardware, such as time and attendance, then populates Procore's daily log.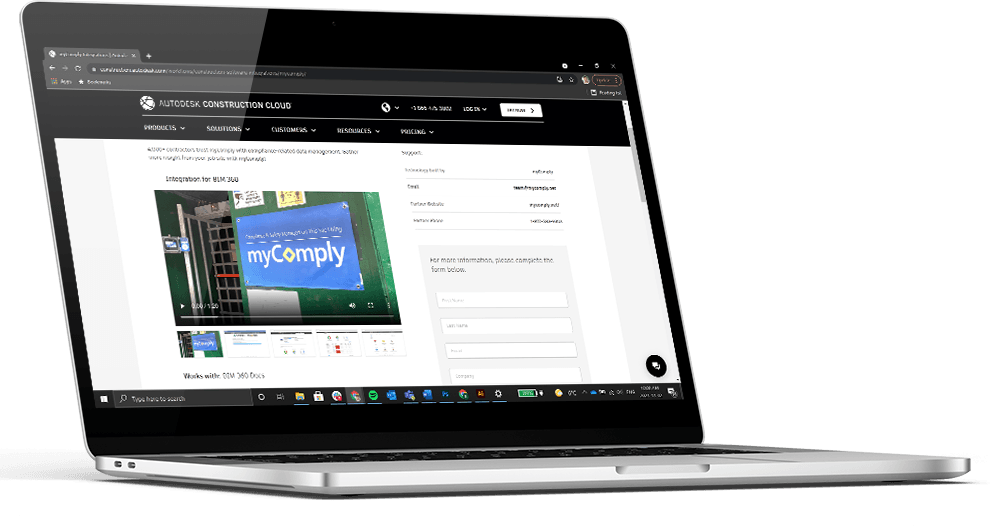 Autodesk
Leverage single sign-on for an integrated Autodesk experience. Then, import BIM 360 projects, companies, and members into myComply to seamlessly track worker credentials across all of your active projects.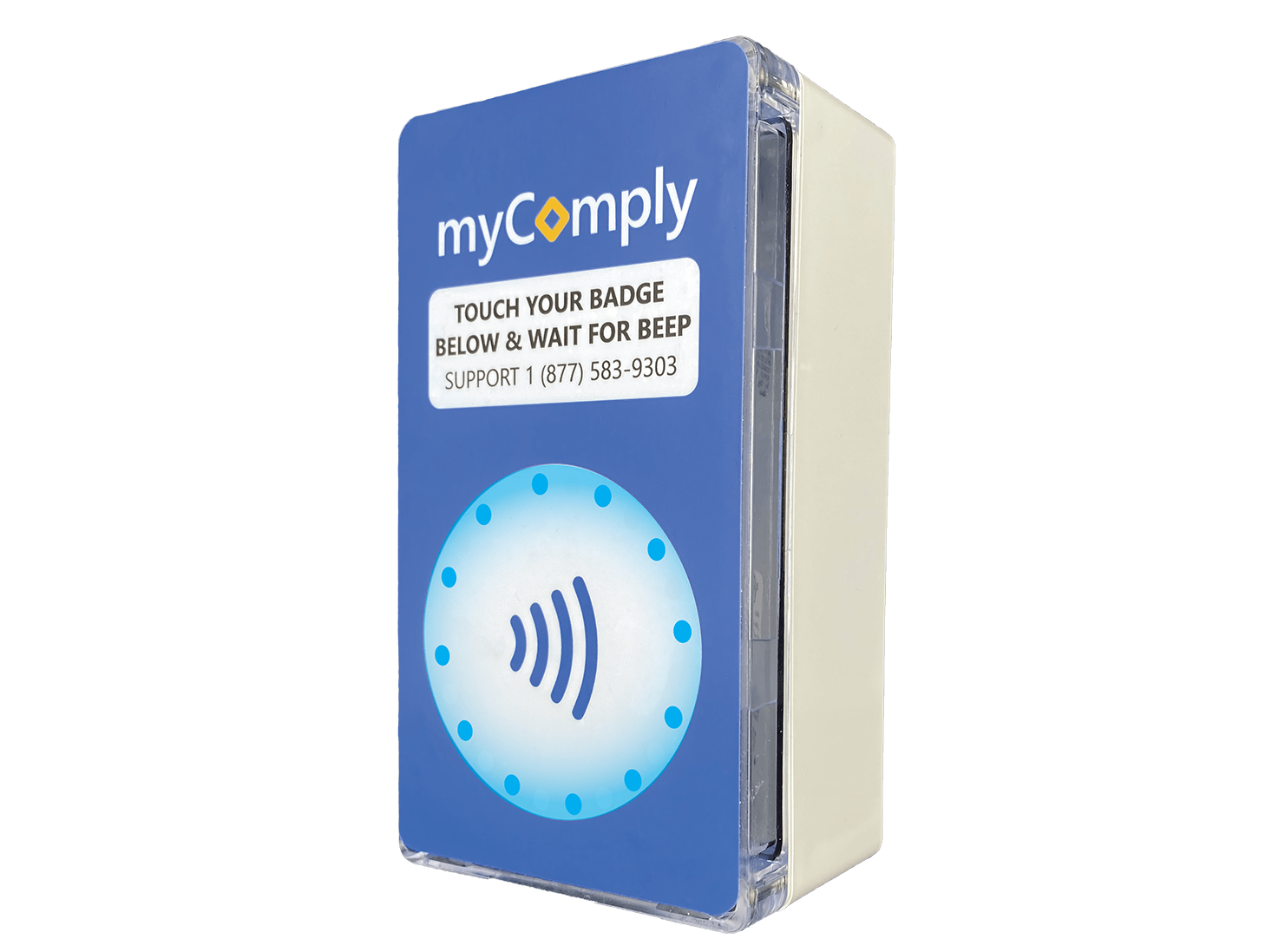 These LTE-enabled smart devices interact with Smart Badges to accept/deny worker access and create key data points in Projects Pro.
» Interact with NFC and Bluetooth badges
» Can be connected to turnstiles and doors
» Provide project data in real-time
» FCC-certified hardware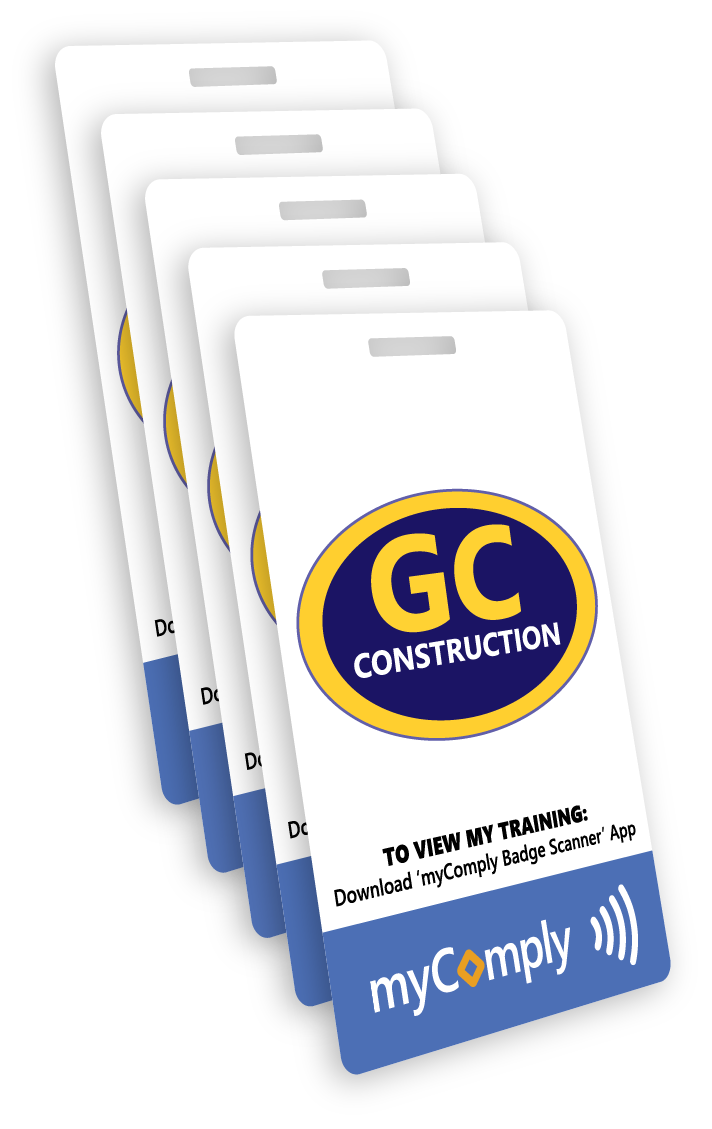 These badges act as smart IDs for every worker on your projects, tracking attendance and ensuring that all entrance requirements are being met.
» NFC and Bluetooth capable badges
» Badges are paired with worker profiles
» Badges can be read by any smart device
» Use for access control and manpower logs
» Ensure every worker on-site is qualified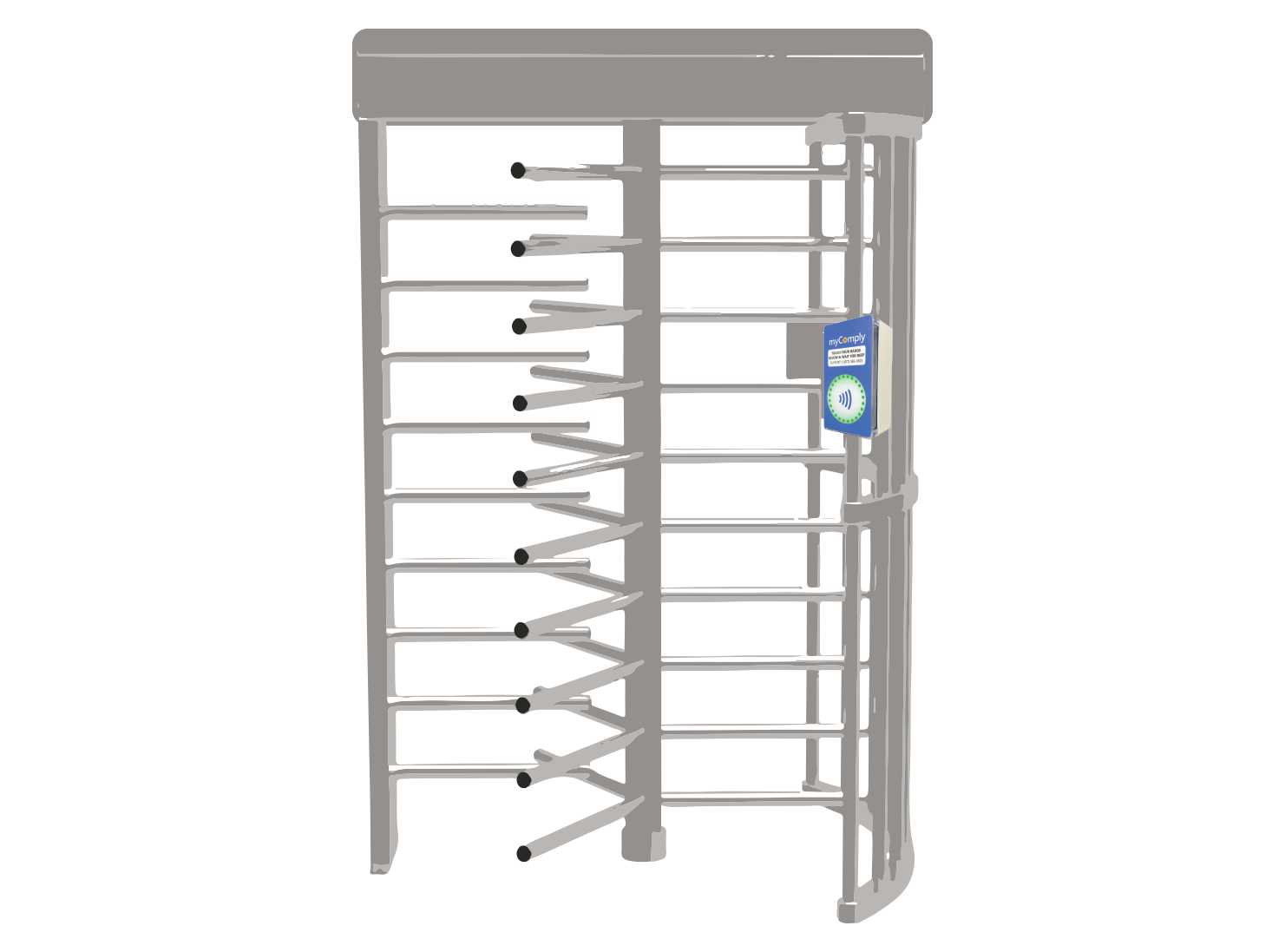 PREVENT UNQUALIFIED SITE ACCESS
Have a secure perimeter in a busy urban setting? myComply Smart Bricks integrate with door strikes, turnstiles, and more, to enable complete access control on your site.
» Install Smart Bricks on access points
» Assign Smart Badges to workers
» Set certification requirements for entry
» Accept/deny worker access automatically
Elevate Your Next Project by Piloting myComply