Compliance Technology Built for Boston
New Construction Safety Ordinance in effect beginning December 2 following a number of accidents on Boston construction sites.
What is the new Construction Safety Ordinance?
Boston Mayor Michelle Wu signed a new Construction Safety Ordinance on June 1 in an attempt to limit accidents on Construction sites in the city.
There are 3 key components of this new law:
1. Contractors and builders are required to submit safety plans as part of the application for a construction permit for any buildings over 50,000 sq. ft., and for demolition projects in buildings with four or more stories.
2. There must be an OSHA-trained safety coordinator present on construction sites.
3. Safety orientations must be provided by builders to new workers, and pre-shift meetings are to be held to explain any potential risks that may arise during work.
This new law comes in addition to existing policies that center around workforce demographic participation goals for private projects with a focus on minority workers. With this intitiative, demographic tracking is required for projects over 20,000 sq. ft. that include economic participation, certain roles for people of color, gender equity, and certified minority and women owned businesses within the project scope.
Ensure Compliance with myComply
Make sure that your sites comply with Boston Construction Safety Ordinances.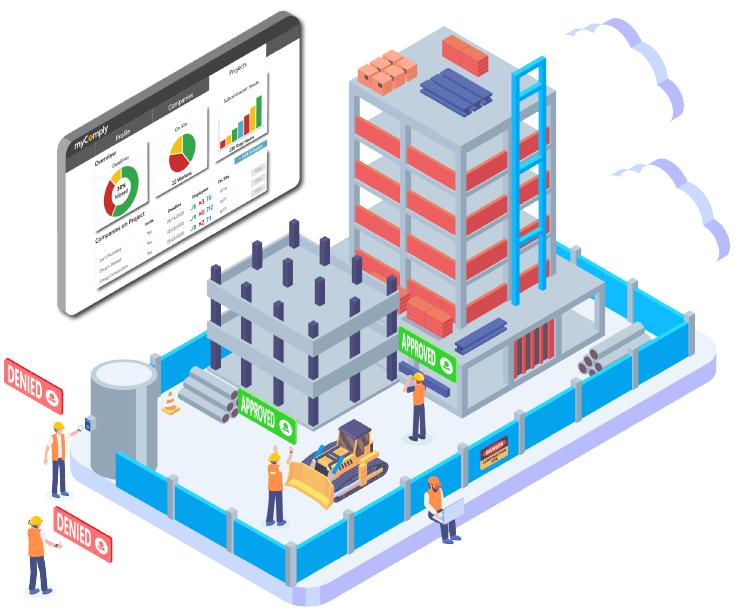 Digital Orientations
Create fully customizable digital orientations and administer them to workers virtually, in-person, or both.
Document Requirements
Set custom document requirements for your subcontractors such as certificate of insurance, site safety plans, or any other document requirement you may have.
Demographic Reporting
Capture demographic criteria during the worker orientation and be able to run reports that analyze diversity metrics such as age, sex, ethnicity, zip code.
Competent Person
Invite them to assign and share details with their team.
Pre-Shift Safety Meetings & Forms
Coming soon.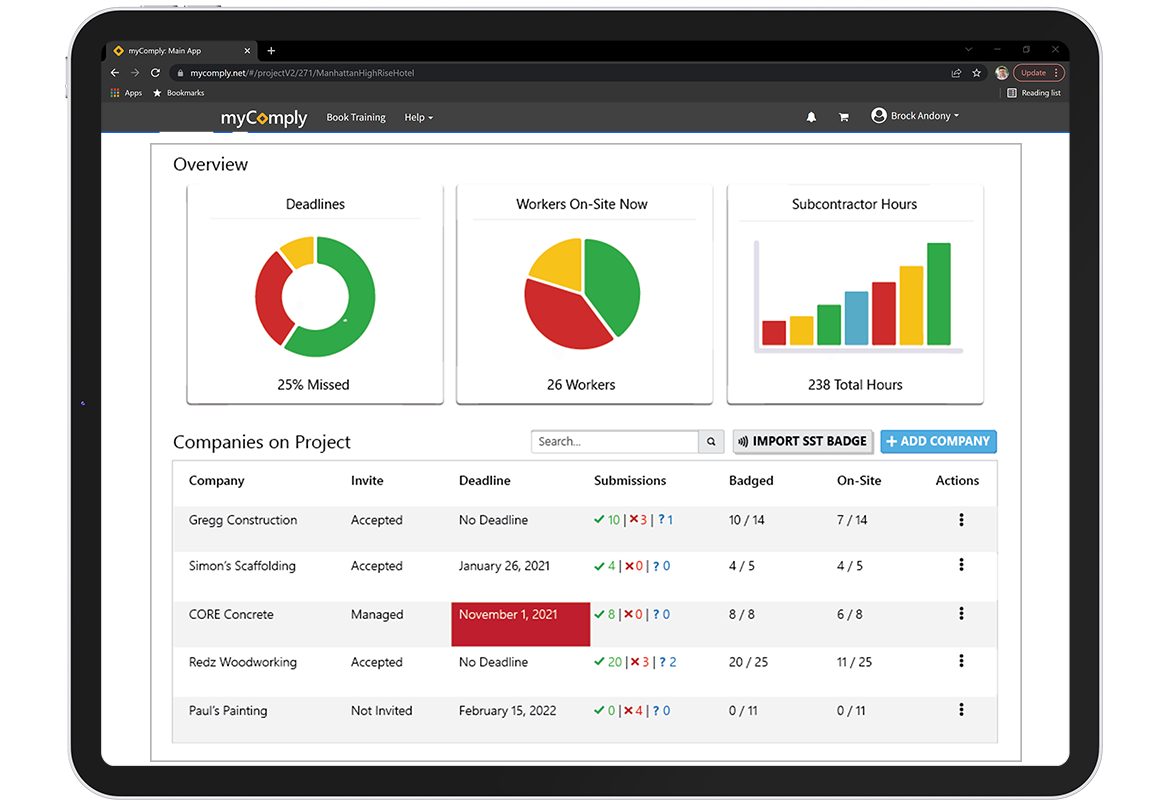 WORKFORCE MANAGEMENT SOFTWARE
Intelligent hardware and connected software offering jobsite transparency for users. With Projects Pro, General Contractors, Asset Owners, Construction Managers, and permit holders can ensure a qualified workforce at all times.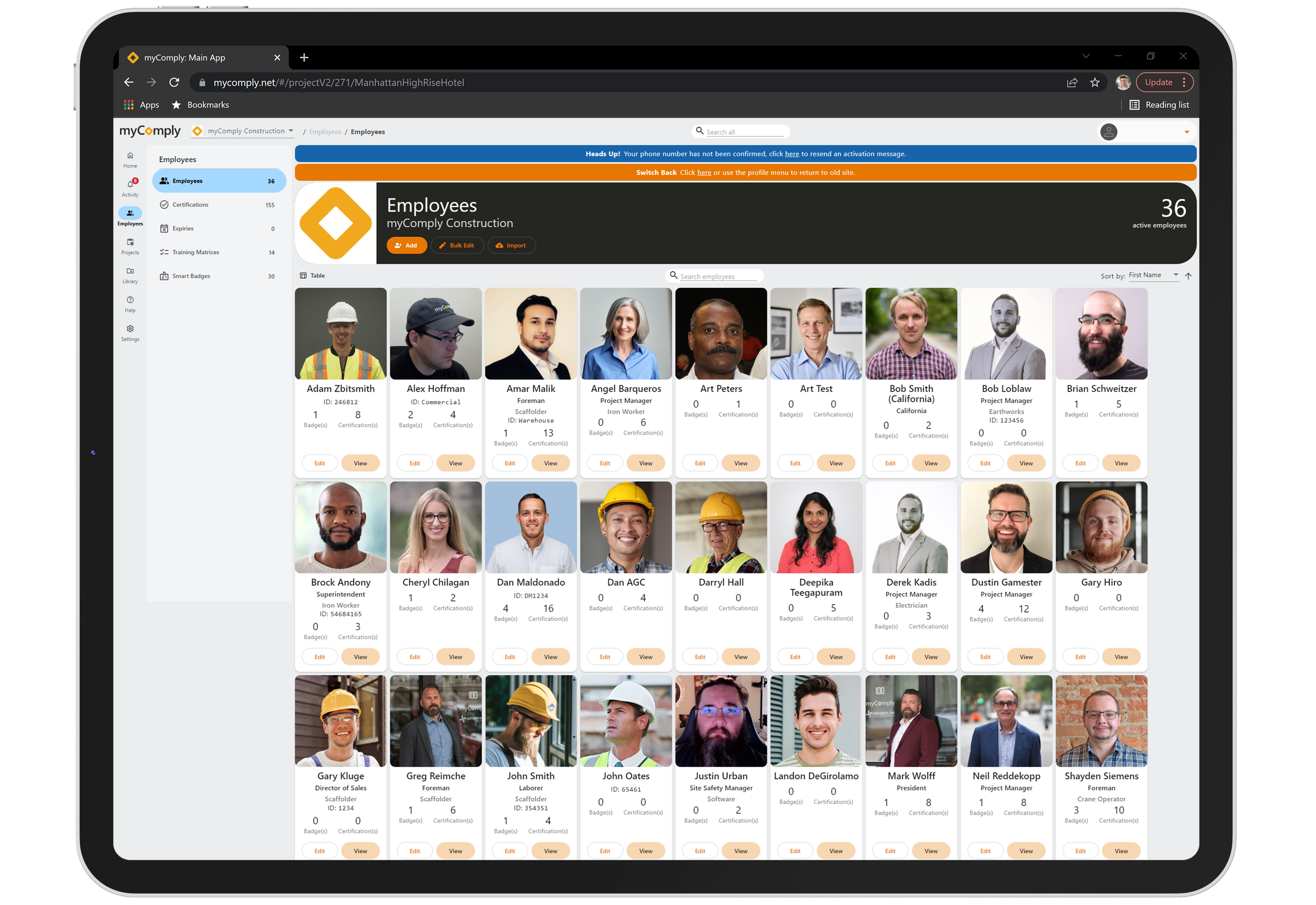 CERTIFICATION MANAGEMENT SOFTWARE
Certification management software, built for construction. Ensure your team's certifications are always up-to-date by proactively managing compliance documentation/safety certifications, and receiving expiry alerts when certifications are due to expire.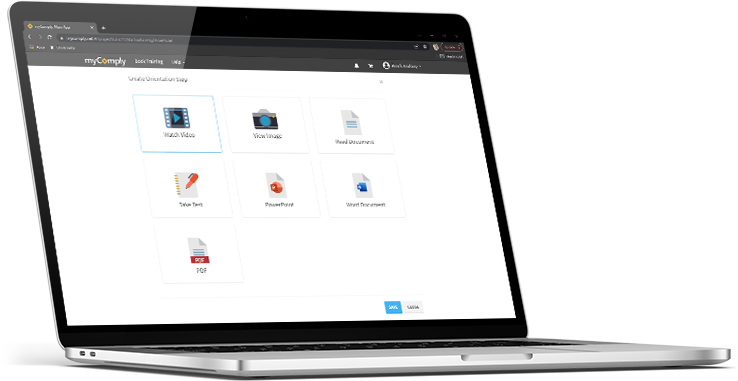 STREAMLINE YOUR ONBOARDING PROCESS
Onboard workers faster than ever before with myComply's Orientations tool. An integrated onboarding platform, built for contractors in the construction space. Create fully customizable digital orientation programs for your company and your projects, and administer them to workers virtually, in-person, or a combination of both.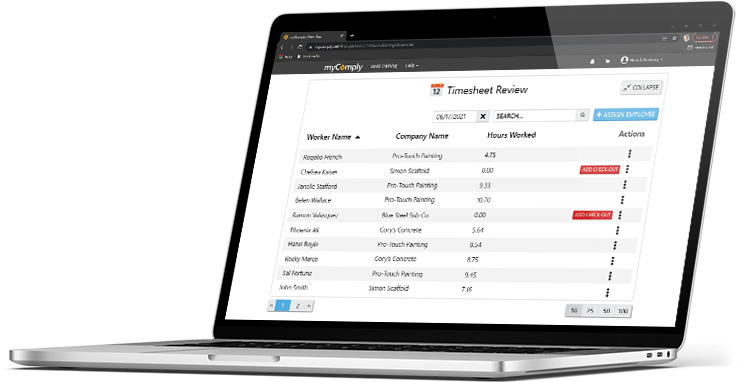 AUTOMATICALLY GENERATE TIMESHEETS
Implement myComply hardware on-site to collect detailed worker time and attendance data. Simplify payroll, verify Subcontractor billing, and more.

Ensure Boston Construction Safety
Ordinance Compliance with myComply