Simple Certification Management Software.
Ensure your team's certifications are always up-to-date. Proactively manage compliance documentation, safety certifications, and get expiry alerts when certifications are due to expire.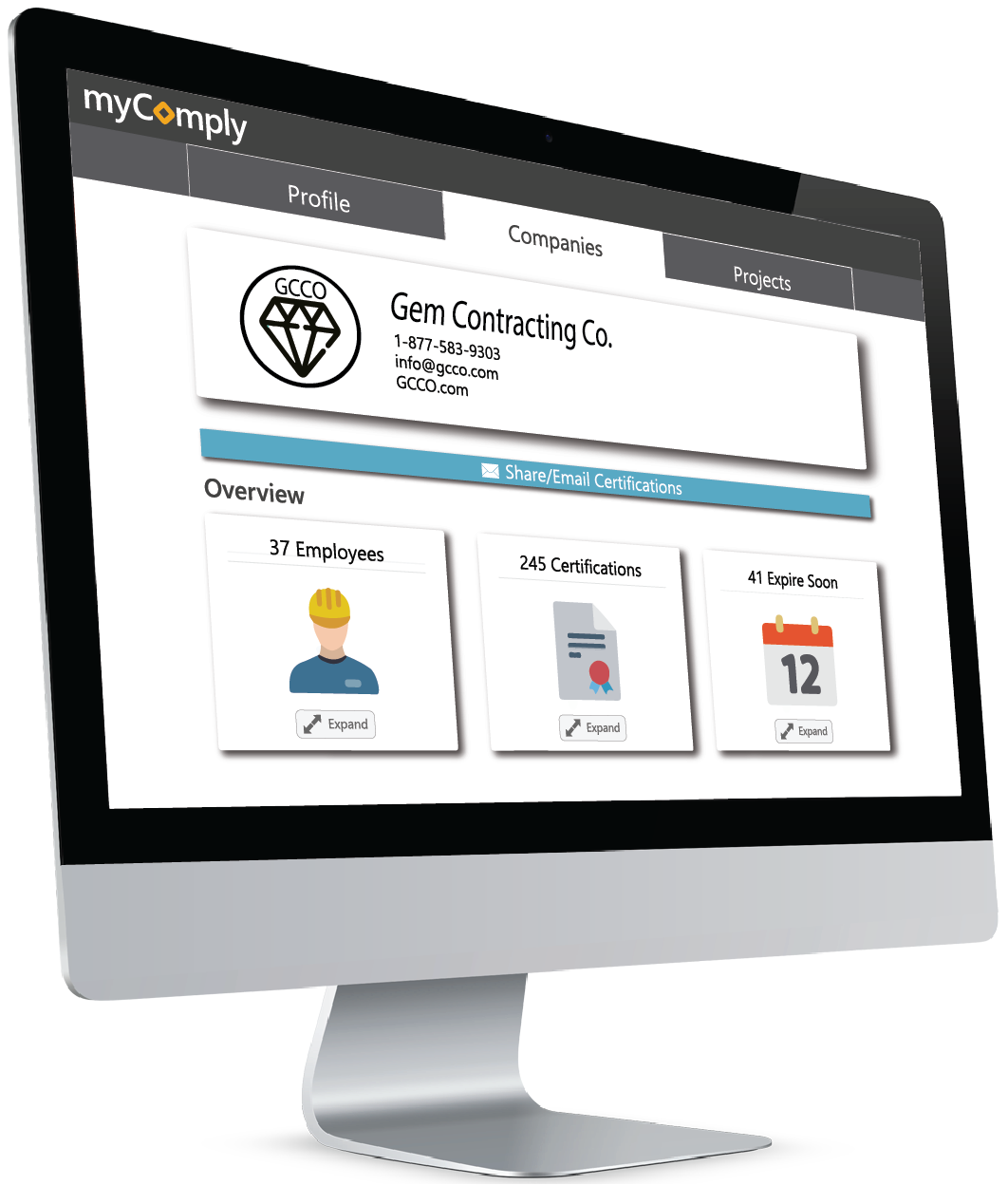 UPLOAD Proof
Store proof of certifications and documentation to the worker profile.

dITCH tHE sPREADSHEETS
Upload spreadsheets and eliminate manual tracking efforts.

sEAMLESS sHARING
Email worker training information or send live URL links to a worker's profile.

EXPIRY NOTIFICATIONS
Get alerted when training is about to expire and has expired.

tRAINING mATRICES
Filter specific training details to specific groups like foreman, laborer, etc.

SMART ID BADGES
Filter specific training details to specific groups like foreman, laborer, etc.
"I was working with spreadsheets or other software that wasn't exactly accomplishing what I needed in terms of expiration alerts and detailed certification tracking. I was trying to come up with a better way to manage employee training information and documentation, than the processes that had previously been in place for the past 96 years… and then I found myComply, the easiest certification management software I have ever used."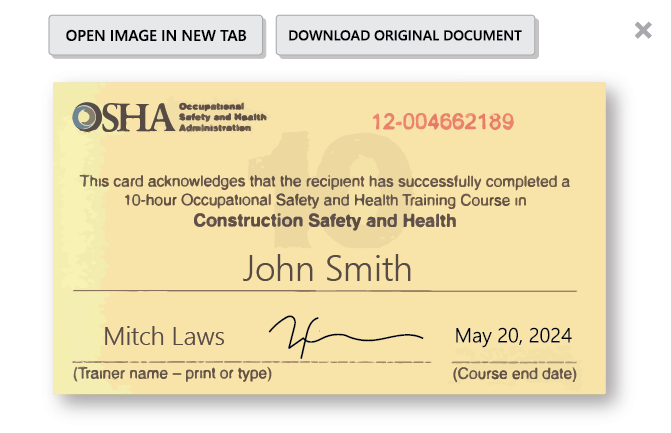 Instant proof of certifications in the myComply's certification management software.
Instant Proof of Certifications
In many industries, workers are required to carry all valid licenses and certifications on them at all times. When information is requested by a client or a regulatory body, workers need to be prepared to instantly present their qualifications.
myComply's certification management software allows workers, supervisors, and anyone else with access to the system to instantaneously retrieve proof of qualifications and certifications.
Manual processes, endless spreadsheets, and personnel files are an inefficient way to manage your team.
Develop an automated, proactive certification management strategy with intelligent software. The import process takes only a few minutes, and you'll say goodbye to spreadsheets.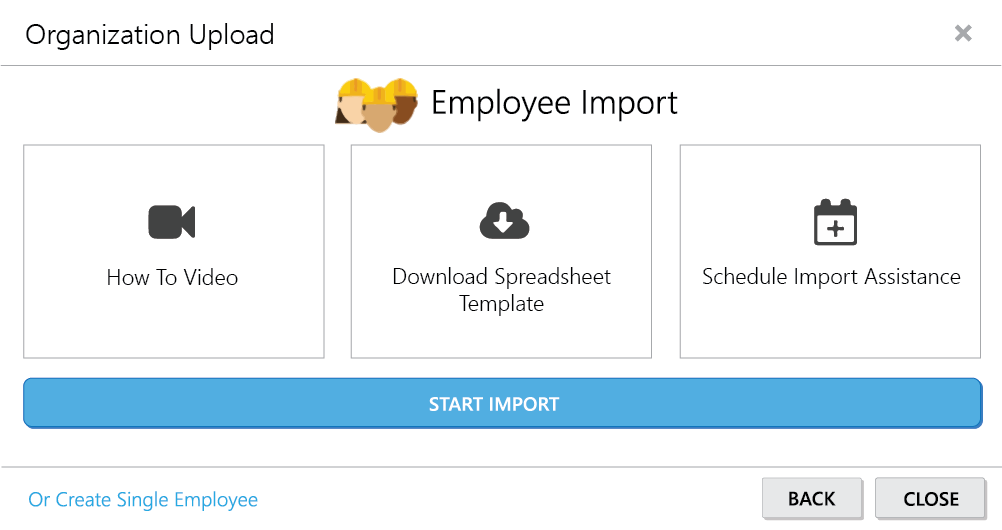 Upload hundreds or thousands of employees and their certification information into myComply's software.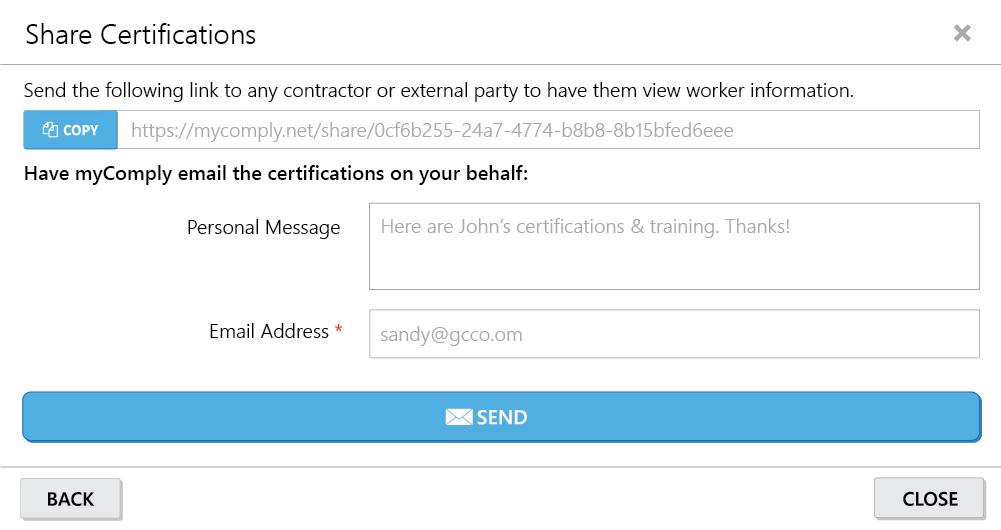 Instantly share worker profile information via email or copy/paste to share a secure web address with worker information.
Whether it is a general contractor or another external party requesting worker information, with myComply it is easy to collaborate and share certifications, training, and other worker qualifications.
You can email worker information directly from the software or copy and send a link – like this one.
Never miss an expired certification again. With myComply's certification management software you will be alerted when training is due to expire, and again once training has expired.
Sending untrained and unqualified employees to a site can be costly, unsafe, and poses a great risk to your business. Ensure your team is always qualified, and training is always valid/up-to-date.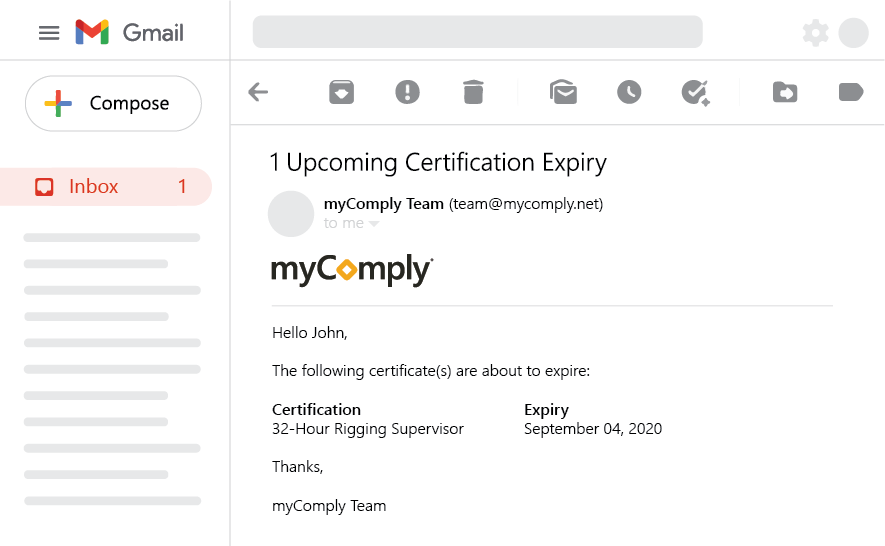 myComply automatically sends you email notifications when training is due to expire and when training has expired.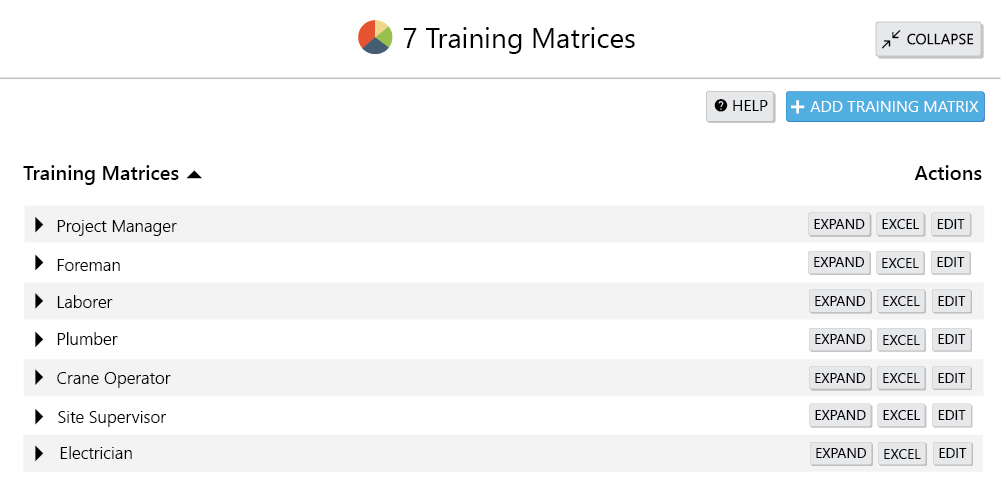 The training matrices allow you to quickly identify workers/employees with certain skills, training, certifications, and qualifications.
Simple filters to segment your workforce seamlessly. Quickly identify which workers fall under each category, and of those workers, which need to renew their certifications.
A training matrix allows for easy identification of qualified workers with specific skills and training.
Smart Badges give you instant access to worker information at any time. Supervisors, regulatory inspectors, and those requesting worker information can access all of the relevant details with their smartphone.
Near-field communication (NFC) enabled badges to quickly connect to a mobile phone. This allows workers to carry one ID badge, while having access to all of their information. No more wallets full of paper certifications.
The Smart Badge allows workers/employees to carry their myComply worker profile with them at all times, and access that information immediately.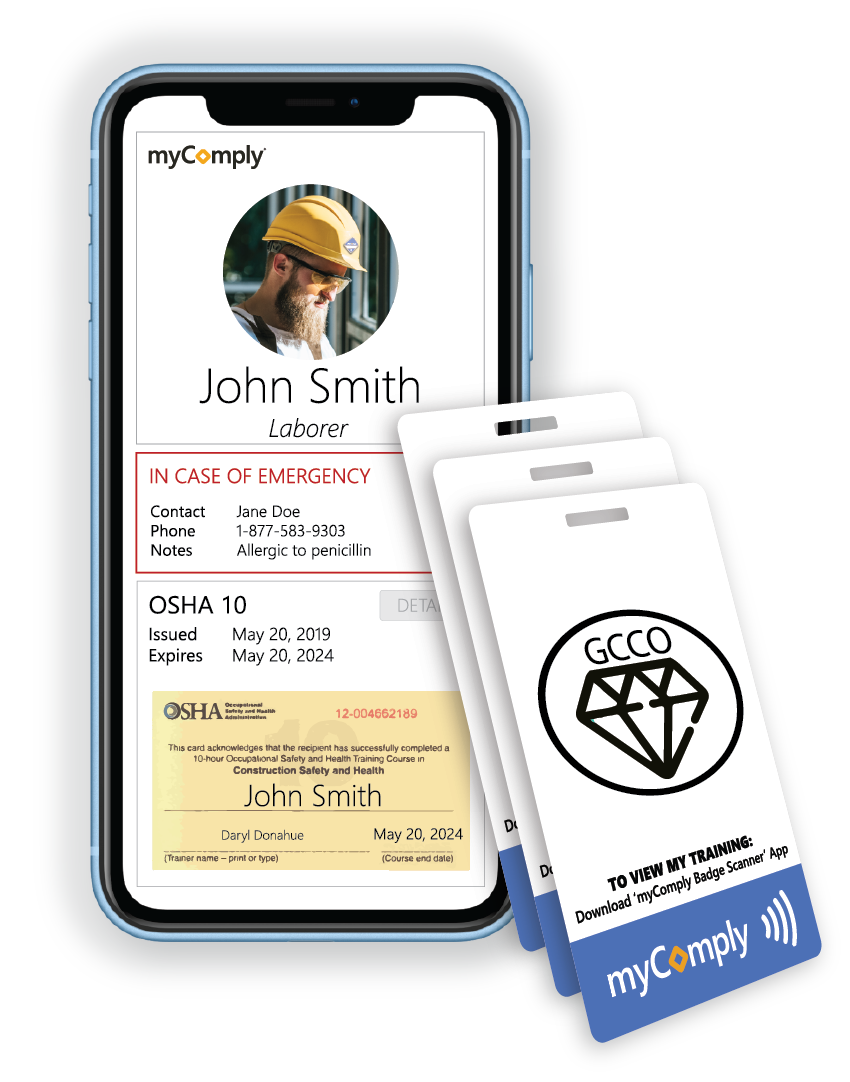 Use a smartphone to retrieve worker information instantly from NFC-connected Smart Badges.
All of the information stored and managed in myComply's certification management software can easily be sent for review to any external organization. Subcontractors and General Contractors using myComply can seamlessly collaborate and share information with each other on projects, saving time & money during the project onboarding process.
myComply's project view when sending worker certifications and details to a General Contractor. Easily submit worker information and see which documents are required from the GC on the project.