myComply's NFC-powered Smart Badges are the ultimate worker monitoring tool for construction sites in busy urban centers that require secure access points. Automate time and attendance tracking, view worker certifications, and more with the Smart Badge.
NFC badges deliver deep project data through active worker interaction.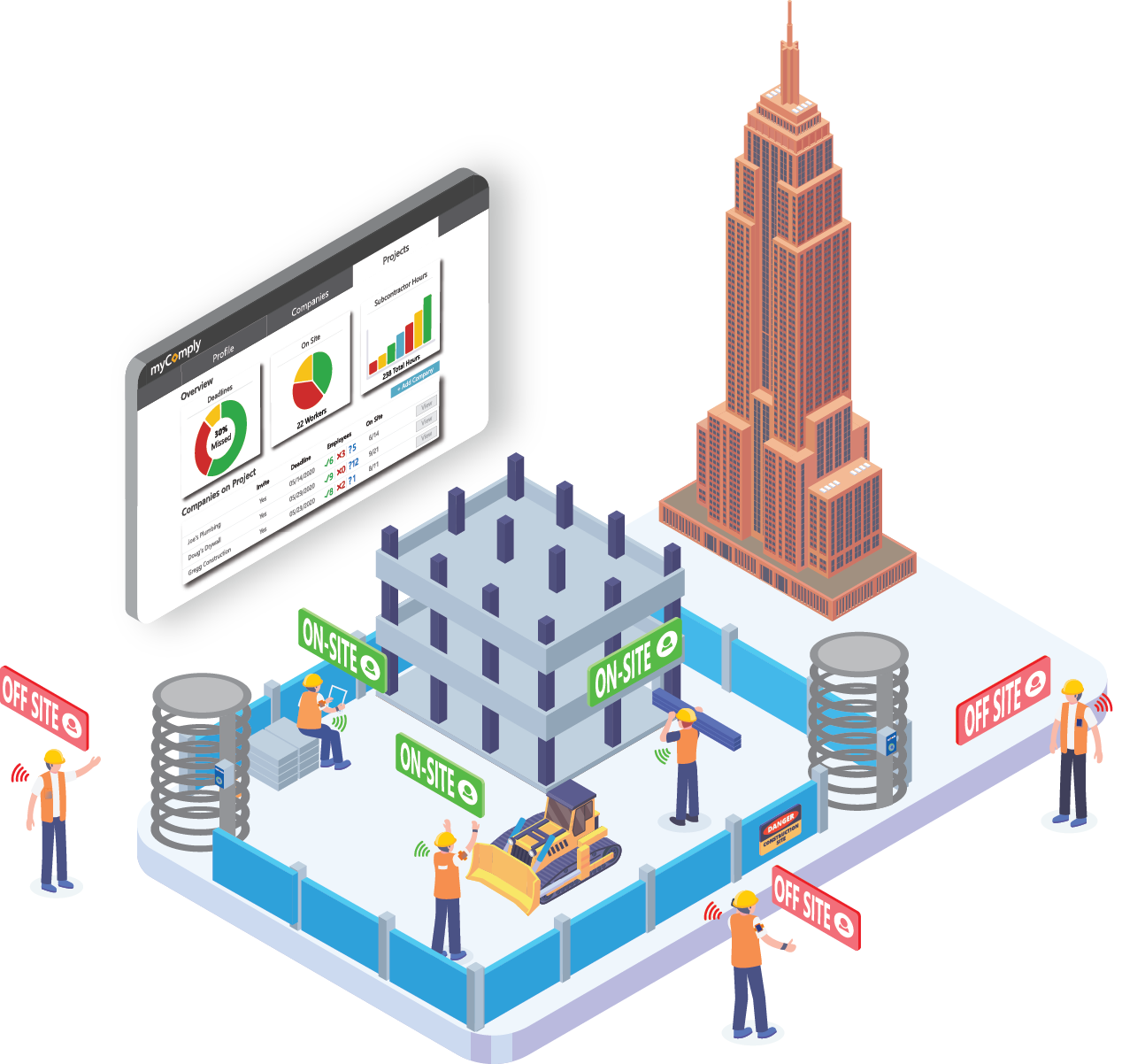 1. Create Worker Profiles
Upload worker details and qualifications to myComply's Certification Manager.
2. Issue NFC Badges
Issue NFC badges to workers that are paired to their worker profiles.
3. Install Smart Bricks
Integrate Smart Bricks with turnstiles or other on-site access points.
4. Implement Access Control
Workers that do not meet on-site requirements will be denied site access.
5. Monitor Data in Projects Pro
Manpower data, certifications, and other information is logged on Projects Pro.
High-Rise Projects
High-rise construction projects in busy urban centers are the ideal use case for myComply's NFC badges. Workers tap their assigned Smart Badges against on-site Smart Bricks, the Smart Brick then references worker qualifications to approve or deny site access.
Projects with Secure Perimeters
If your project has high security needs or requires a secure perimeter, an NFC badging system is the perfect solution for you. NFC badges will not only verify worker qualifications, but also create detailed demographic reports as well as auto-generated time and attendance logs.
Projects with Access Control
myComply's NFC badges and Smart Bricks are designed to be used with access control hardware. If you are implementing access control on your next project, you need to explore the opportunity in using myComply to unlock deep project data.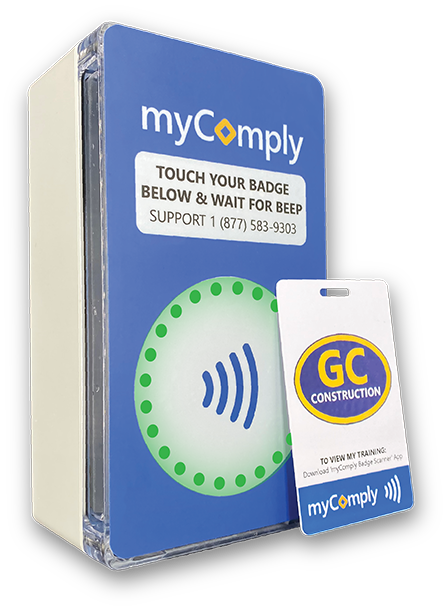 Smart Brick Collaboration
The Smart Brick is the second half of myComply's hardware stack. When paired with an access point, like a turnstile or door strike, the Smart Brick verifies certifications stored on the Smart Badge and grants/denies site access accordingly.
» Ensure a qualified workforce on all projects
» Integrate with turnstiles/door strikes or install independently
» Collect real-time site data through connected LTE networks
» FCC-certified hardware is durable in the face of harsh conditions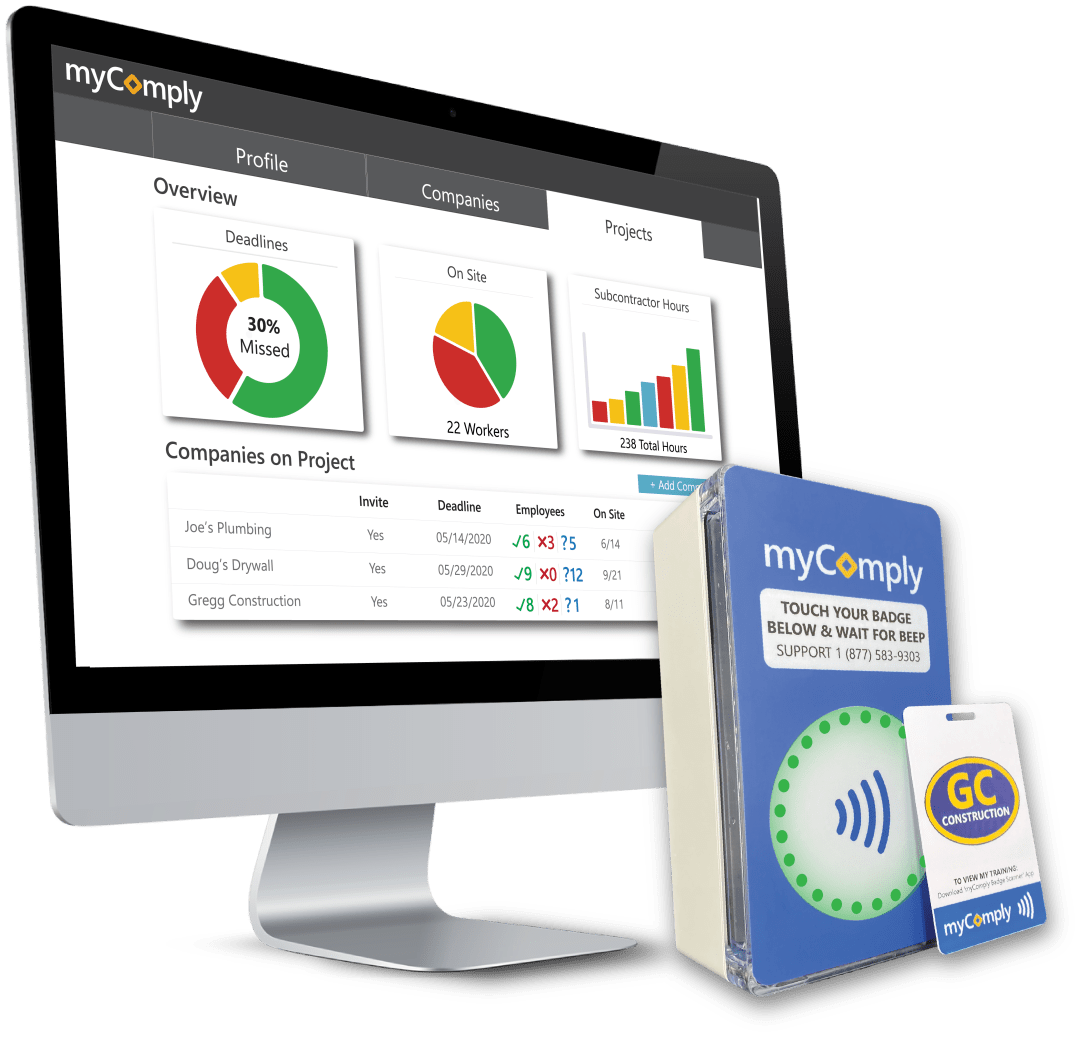 Your Smart Bricks and Smart Badges connect to myComply's cloud-based software in real-time. This gives you unparalleled jobsite transparency, alleviates administrative strain, improves safety, and enables you to make more informed decisions regarding your workforce.
» Onboard workers with online orientations
» Track worker qualifications to ensure compliance
» Generate manpower logs to verify time and attendance
» Create powerful reports for stakeholders in one click
» Monitor real-time data at the project level
» Facilitate access control with Smart Brick and Badges
Unlock the Power of the NFC Badge