Coordinating labor, equipment, and materials to achieve project outcomes in a timely and cost-efficient manner can be a lot like winning a game of three-dimensional chess. There might be dozens of variables at play at any given time, and one wrong move can dismantle your entire strategy. That's why a comprehensive construction resource management strategy is paramount to the success of your project.
This article defines construction resource management, compares it to construction workforce management, provides a model for effective resource allocation, and explores a leading solution for resource management in construction. Read on to find out more.
What is Construction Resource Management?
Construction resource management is the process of planning and deploying resources throughout the course of a construction project. When done well, all construction resources (materials, labor, equipment, technology, etc) should be utilized in a highly efficient manner and deliver on project objectives.
Construction resource management helps general contractors to do the following:
Monitor resource availability and prices,
Ensure project teams are properly trained to be conducting safe work on the project,
Time resources to prevent delays resulting from late deliveries,
Track labor utilization and deployment to prevent trade stacking or idle time,
Adapt quickly in the face of change orders,
Reduce costs and drive operational efficiencies,
And more.
Construction Resource Management vs Construction Workforce Management
If you are exploring tips and tools for construction resource management, another term that you've likely come across is construction workforce management. In some instances, these terms might even be used interchangeably, however, they are somewhat different.
Here is a breakdown of construction resource management and construction workforce management:
| | | |
| --- | --- | --- |
| | Construction Resource Management | Construction Workforce Management |
| Scope | Pertains to various components of the construction process, including materials, labor, equipment, technology, and more. | Pertains specifically to the labor component of the construction resource management process. |
| Focus | Focuses on holistic process improvement and the implementation of lean construction principles to drive overall growth in operational efficiency. | Focuses on the implementation of new tools and technologies to improve labor efficiency. |
Learn more: Construction Workforce Management: Software and Solutions
A Model for Effective Resource Management in Construction
Efficient construction resource management is the gateway to more productive construction projects. Whether your goal is to reduce costs, stay on schedule, unlock more workforce data, increase productivity, or all the above—you've come to the right place.
Here are eight steps to help your teams to improve their construction resource management.
1. Develop a Project Plan
Before you can craft a construction resource management plan, you first need to deeply understand the project scope, stakeholders, budgets, timelines, and required resources to see the project through to completion. As you begin to understand all these elements of the project, you can begin to craft your project plan.
Key elements of your project plan will be:
Definition of all task work (and subtasks)
Determine the work sequence and duration
Provide a comprehensive resource breakdown
Outline performance controls and change order management procedures
Developing a project plan is essential to resource management as it is the first step in mapping out the flow of resources through your project. This will help your project teams to effectively allocate labor, materials, and much more.
2. Develop Construction Resource Management Procedures
General contractors would be wise to take learnings from the lean construction principles and apply them to their resource management procedures. According to lean methodology, under most circumstances, materials should be procured just-in-time, which means receiving materials as close to production as possible.
With just-in-time inventory management, general contractors can reduce inventory costs and prevent crowding of workable space on construction sites.
To achieve this, general contractors should:
Build long-term supplier relationships
Be transparent and communicate resource management procedures to all project stakeholders
Precisely manage supply chain with tools or technologies
3. Perform a Construction Risk Assessment
Construction projects are rich in risk. That is why a strong resource management strategy needs to account for project-related risks. The best way to do that? Through a construction risk assessment.
Here's how to conduct a construction risk assessment:
Understand your duties as an employer (under OSHA or other prevailing regulation)
Identify risks on site (see infographic below)
Evaluate each risk and prioritize them in terms of impact
Implement control aimed at addressing leading risks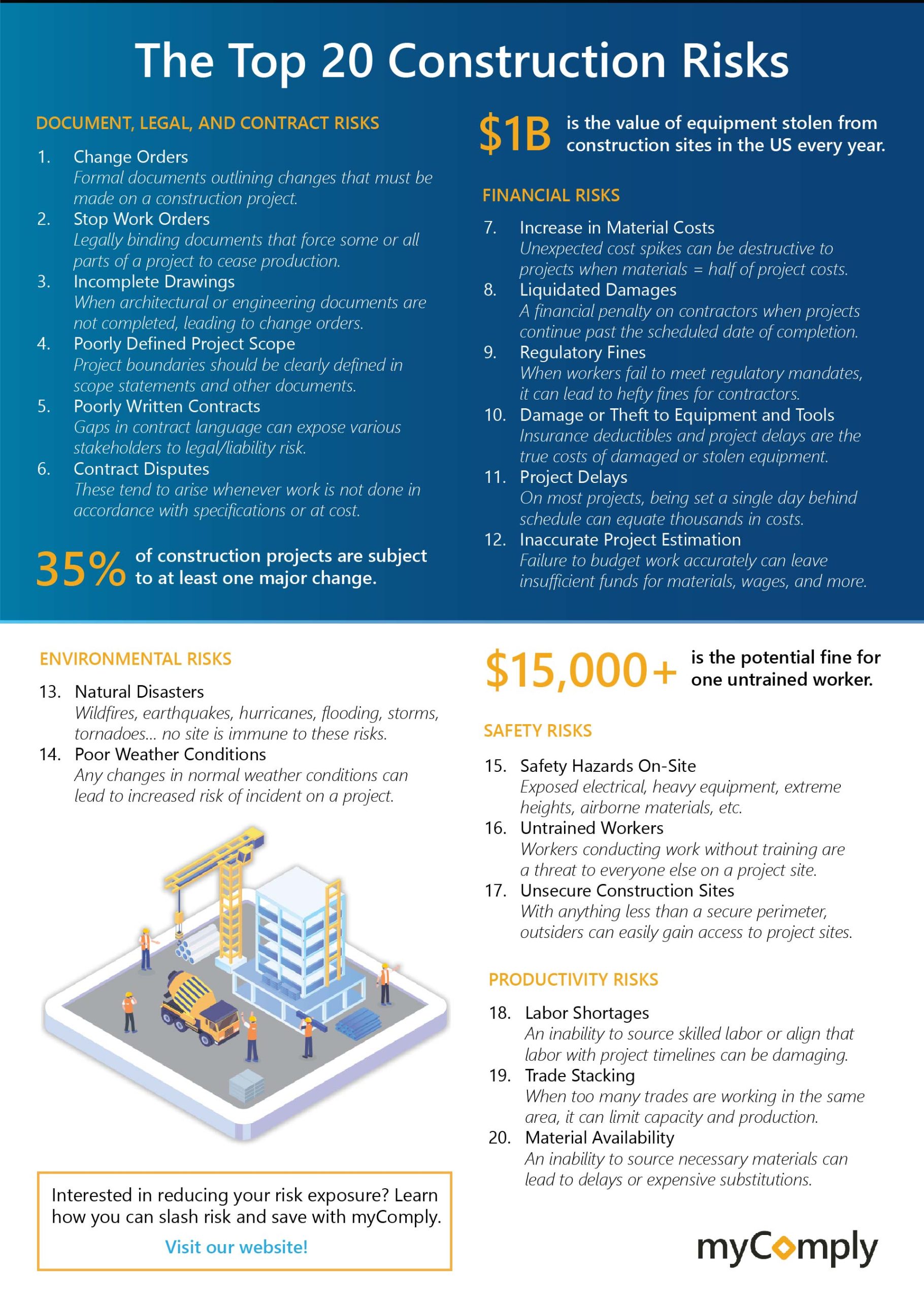 Learn more: How to Conduct an Effective Construction Risk Assessment
4. Implement Software to Help with Resource Management
Construction projects are each unique and have a host of moving parts. That's why technology can be invaluable in applying repeatable frameworks to help manage and allocate resources productively.
Here are some of the top tools for resource management in construction:
Procore. Procore is the essential project management tool for construction firms, helping with design management, budget formulation, monitoring of project timelines, as well as intelligent cost management and financial health assessments.
Bridgit. Bridgit enables general contractors to create resource allocation plans and create smart filters/fields to map each resource to project timelines.
myComply. myComply is the industry-leading construction workforce management platform, enabling general contractors to streamline worker-related processes and monitor worker movements to ensure you are executing against plan. Find out more below.
5. Prevent Trade Stacking and Idle Time
Oftentimes, when general contractors are trying to maximize their on-site efficiencies, they can actually over-allocate labor to their project. The result of an over-allocation of labor can have two costly consequences: trade stacking and idle time.
Trade stacking occurs when too many workers are commissioned to work in a specific area on a project site. The result of this crowding effect is reduced productivity from all affected workers. A study by the University of Wisconsin-Madison determined that a minimum of 200-250 square feet of space are required for a construction to achieve optimal productivity. At every point below this, efficiency is lost.
Learn more: Trade Stacking in Construction: What It Is and How to Avoid It
Another costly risk in over allocating labor, predominantly when resources are not properly timed, is the creation of idle time. Abnormal idle time occurs in workers when workers are not met with the materials necessary to perform their duties. This results in wasted time and budget. In fact, a 2018 Harvard Business School determined that idle time costs employers over $100 billion per year.
Learn more: Idle Time: The Silent (Profitability) Killer
To prevent these phenomenon's, project teams need to closely monitor their allocation of both labor and materials to ensure that they are timing these resources in unison.
6. Revisit Your Resource Management Plan Frequently
Now that you have developed your project plan and your resource management procedures, performed your construction risk assessment, and built your construction technology stack, it is time to start your project.
As your project is underway, it is important that you review your resource allocation and management plan regularly to ensure that it is working, and that production is staying on-track.
One of the most effective ways to audit the effectiveness of your construction resource management program is by holding regular meetings with project teams. This is an opportunity for company leadership to deliver pertinent information from asset owners, and an opportunity for project teams to deliver feedback on the resource allocation strategy.
myComply: Better Resource Management in Construction
myComply is the leading solution for general contractors that are looking to digitize their subcontractor onboarding process, facilitate certification-based access control, and automate the collection of time and attendance data.
If you are a general contractor that is looking to improve your construction resource management, then myComply is must for your tech stack. Here's how it works:
1. Digital Onboarding
myComply streamlines the subcontractor and worker onboarding processes by facilitating digital document transfer. General contractors can set document requirements for subcontractors as well as certification requirements for workers. Subcontractors must then upload digital assets and share them back to the general contractor. This saves administrative time and accelerates the speed to production when onboarding new subtrades on projects.
Then, general contractors can create digital orientation courses using video, image, document, and test modules and by uploading documents in supported formats (PowerPoint, Word, and PDF). Workers can then complete over 90% of the project onboarding process before ever stepping foot on a project.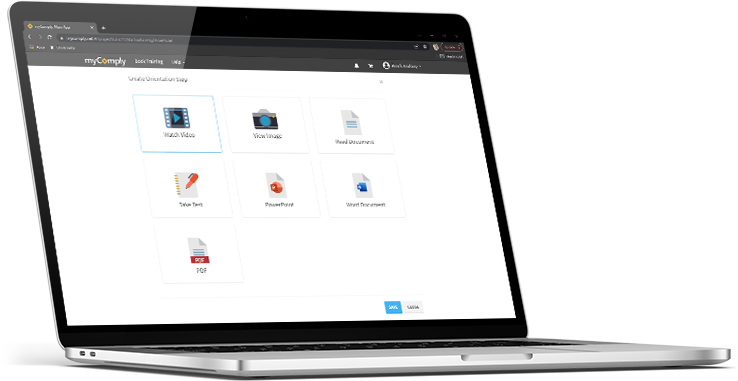 Source: myComply's Orientations
2. Certification Management
Easily manage and access all worker certifications through myComply's Certification Manager. Once workers have uploaded their safety training certifications and other necessary qualifications, they become cloud accessible from any smart device.
That means that workers no longer need to carry all their certifications on their person and it gives general contractors the power to ensure that every worker on-site has valid, up-to-date training.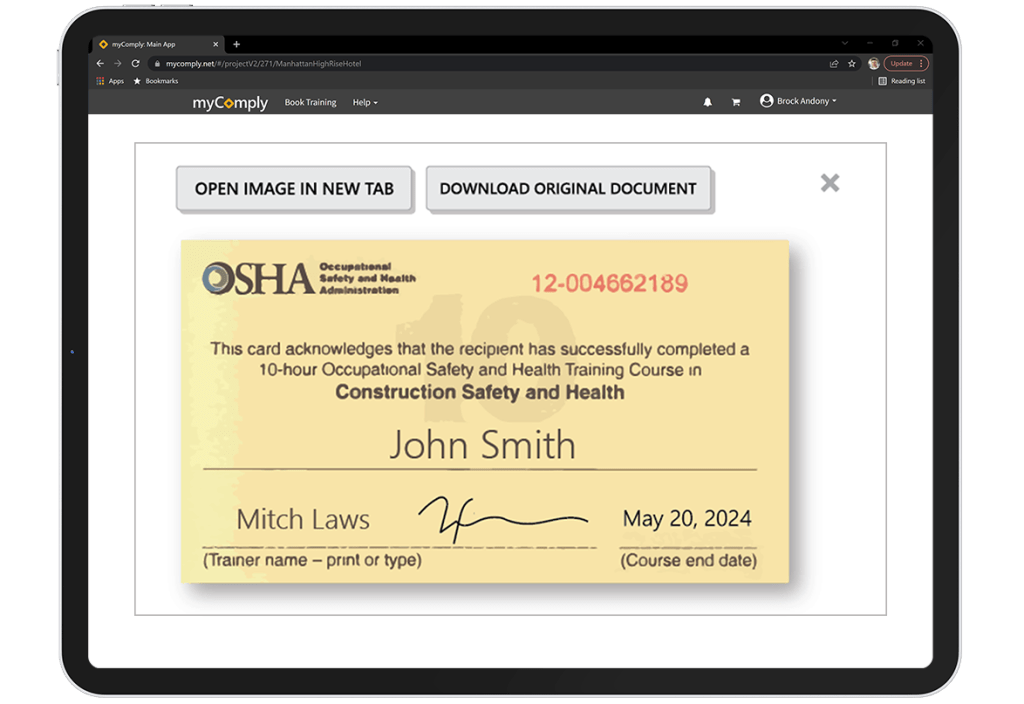 Source: myComply's Certification Manager
3. Integrated Access Control
Do you have project sites in busy urban settings where secure access points need to be maintained? If so, then myComply enables you to turn those access points (turnstiles, door strikes, gates, etc.) into powerful data drivers and certification monitoring mechanisms.
By installing a myComply Smart Brick on access points, gates can be configured to open only when worker certifications have been verified, ensuring that all workers entering a project site are qualified to be there.
4. Automated Time and Attendance
Through either active (access control) or passive (Bluetooth technology) interaction, general contractors can monitor worker movements and generate powerful, accurate data on time and attendance, as well as other manpower details.
Some of the data that is automatically generated on Projects Pro dashboards includes:
Whether deadlines are being met
What subcontractors are on-site
What workers, belonging to each subcontractor, are on-site
Worker demographic and detail reports
Certifications that have been submitted and approved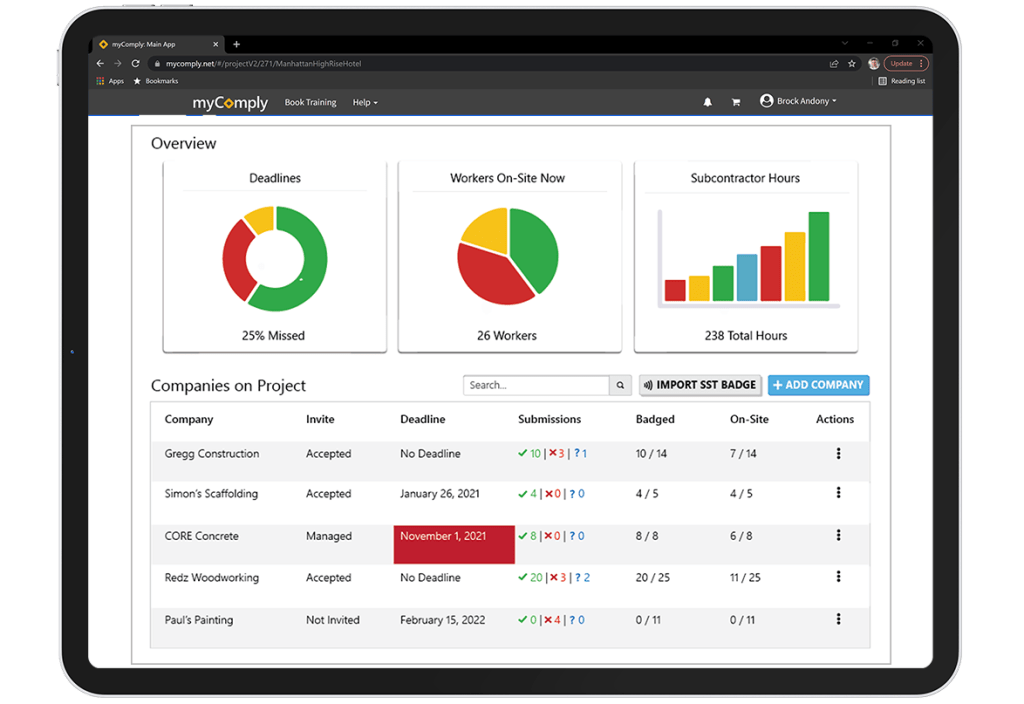 Source: Projects Pro
You're one step away from unlocking unprecedented workforce compliance, visibility, and productivity. Book some time with a product expert today to find out more on how myComply can help you improve operational efficiencies through effective construction resource management.