A new primary school to accommodate major growth in the West Farms Neighborhood.
myComply was chosen as the desired solution for secure construction site access control, LL 196 compliance, and certification tracking on the PS 320X project. Read on to find out more.
PS 320X: An Educational Facility Built to Meet a Growing Community's Needs in the Bronx
The Compass Residences transformed underused, industrial, and inner-city properties into a large and thriving affordable housing community. These residences added nearly 1.5 million square feet and 1,374 units of affordable housing to this underserved community. But, after these builds, there was a need for supporting infrastructure.
The development team in charge of the Compass Residences (Monadnock Development) donated a piece of land along Boone Avenue (South of East 173rd Street) to the New York City School Construction Authority for the construction of a new public elementary school. This school is known as PS 320X and it is now nearing completion, only a couple years after the close-out of the Compass Residences. Many of the families who are living in the area will be able to send their kids to school just a few short steps away from their new residences.
In the photo below you will see a 5-story structure adjacent to one of the Compass Residence blocks. This is the new school, designed by di Domenico + Partners.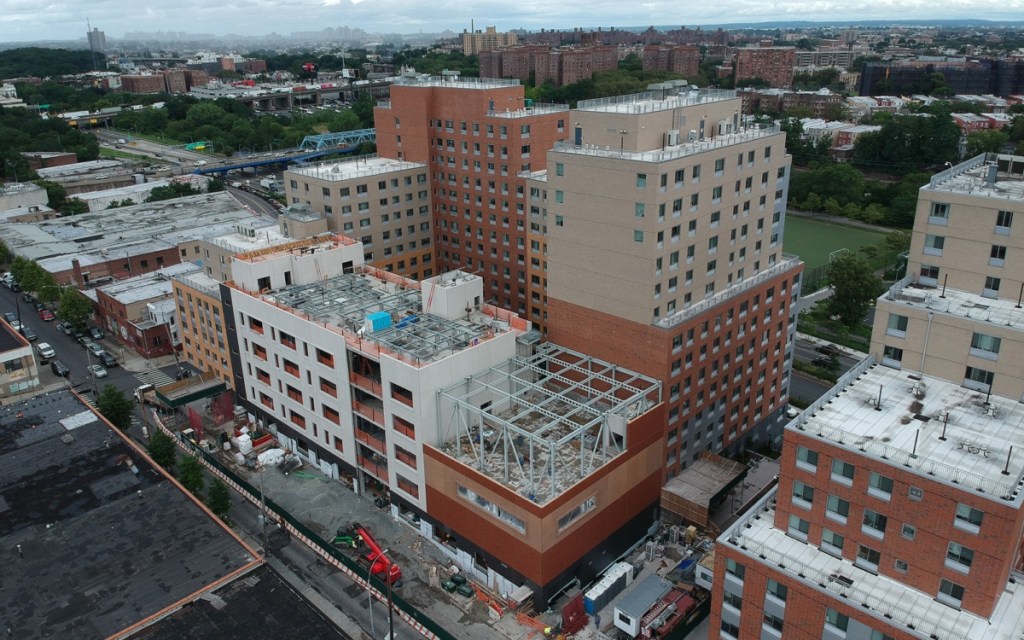 Aerial footage of the build taken just after topping off in Bronx, NY (di Domenico + Partners).
"Building a recovery for all of us means ensuring every New Yorker has fair access to affordable housing. This project will deliver opportunity to a proud neighborhood that has been hit hard by COVID-19, and help West Farms chart a path forward for its recovery. With a new school, space for small businesses, public recreation space, and easy access to health care, the [construction] will transform and revitalize the heart of the Bronx."
Local Law 196 Compliance, Manpower Logs, and Integrated Access Control During Construction at PS 320X
All workers who step foot on-site at PS 320X have been onboarded using myComply's Projects Pro software. Additionally, myComply was chosen to implement certification-based access control on the project to prevent unqualified site access and automate the collection of manpower logs.
myComply's in-field hardware integrates with on-site turnstiles to secure each access point around the perimeter of PS 320X. When workers arrive on-site, they must tap their NFC Smart Badge (or DOB-Mandated SST Card) on a turnstile-integrated Smart Brick. This action references myComply's cloud-based software to determine whether the worker has submitted the necessary certifications required for them conduct approved work on the project. If so, site access is granted, and the gate is opened.
All this data is then aggregated in myComply's Projects Pro dashboard, where users can create on-demand reports, view real-time site data, and more.
Interested in finding out more about myComply? Book some time with a product expert today.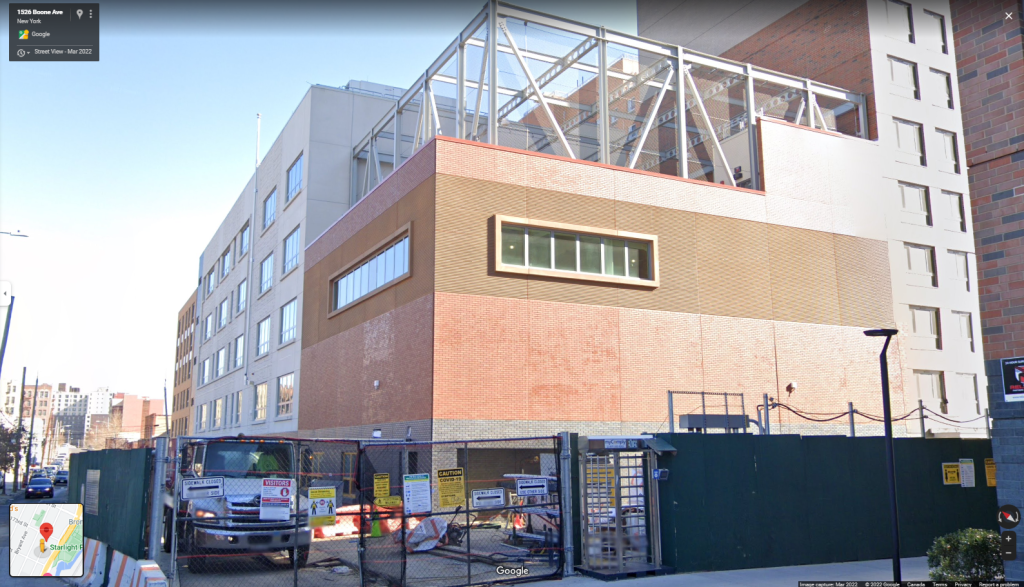 Street view footage of the build taken in March 2022 after the exterior work had been completed. Note the myComply Smart Brick and turnstile gathering accurate manpower on the job. (Google Street View)
LOCATION:
Bronx, NY, United States
myComply is the leading solution for jobsite compliance. Track certifications, monitor time and attendance, and unlock deep workforce data.
See our software in action.