Gerard Avenue Development
This massive 544-unit build in Mott Haven will be home to co-working spaces, a pet spa, and a 10,000-square-foot fresh food market.
myComply was chosen as the desired solution for secure construction site access control, LL 196 compliance, and certification tracking at the Gerard Avenue Development. Read on to find out more.
Gerard Ave Development: Another Modern Build in the South Bronx Neighborhood
The South Bronx, like many other neighborhoods in New York, is introducing a lot of modern architecture amongst a lot of older buildings in the area. The South Bronx is an ideal location for this multi-use build with access to the other boroughs, and near proximity to Manhattan as well as many of the other major transportation routes.
414 and 445 Gerrard Avenue bring a ton of exciting amenities to Mott Haven. Approximately 30 percent of the apartments in Lyra will be affordable to households earning 80 to 130 percent of Area Median Income (Multi Housing News). Most of the units are slated to be one-bedroom builds, ranging from 556 square feet to 816 square feet.
There will also be a plethora of high-end amenities, including two roof decks, two fitness centers, a yoga room, a pet spa, co-working spaces, and "creative production and entertainment facilities" that include a dance studio (NY Curbed). These developments fit the vision that many developers have for the area: a vibrant neighborhood that is an attractive place to house a family.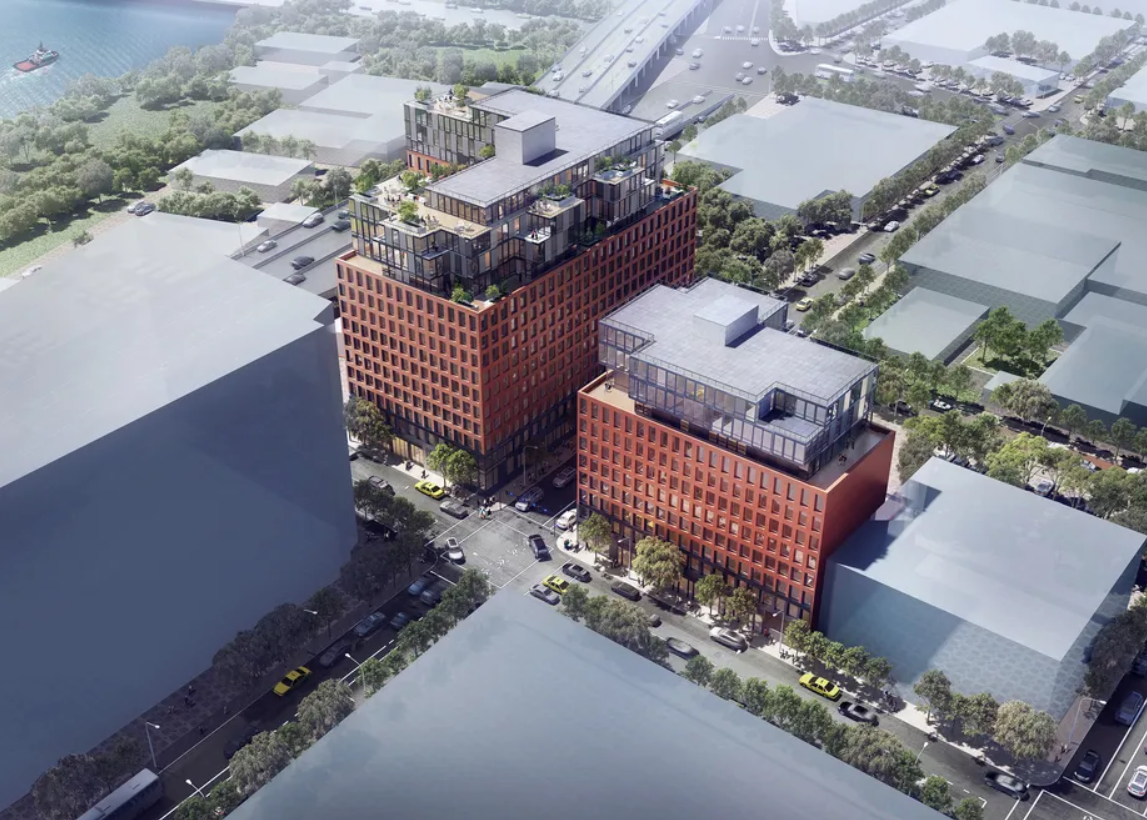 Roof-top terraces, fitness centers filled with natural light, and a fresh food market are some of the highlights of the Gerard Ave development (Image Source : NY Curbed).
"Given Mott Haven's excellent transportation infrastructure, proximity to employers and services and expanding waterfront parks, it's been a desirable place to invest for some time.
The city's nearly $200 million commitment to infrastructure improvements, including parks and playgrounds, has accelerated interest in the area. And recent investments in new charter schools, office space and a major grocery store continue to make the area attractive for multifamily. Projects like Brookfield's Bankside and L&M's Bronx Point, including the new Universal Hip Hop Museum, are adding to that momentum."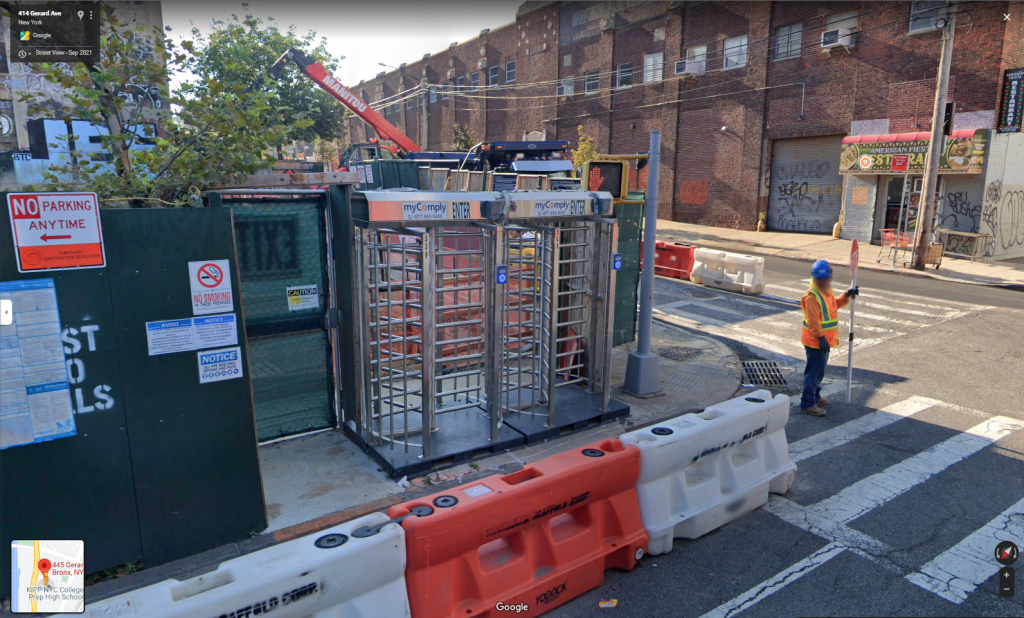 Views from Gerard Ave in September 2021 showcase early progress on this development. Note myComply's access control and Smart Bricks on-site, gathering accurate project manpower (Image Source : Google Street View).
Digital Onboarding of Workers and Integrated Access Control During Construction at 414 & 445 Gerard Avenue
All workers who step foot on-site at the Gerard Avenue developments have been onboarded using myComply's Projects Pro software. Additionally, myComply was chosen to implement certification-based access control on the project and to automate the collection of manpower logs.
myComply's in-field hardware integrates with on-site turnstiles to secure each access point on the perimeter of both sites. When workers arrive on-site, they must tap their NFC Smart Badge on a turnstile-integrated Smart Brick. This action references myComply's cloud-based software to determine whether the worker has submitted the necessary certifications required for them conduct approved work on the project. If so, site access is granted, and the gate is opened.
All this data is then aggregated in myComply's Projects Pro dashboard, where users can create on-demand reports, view real-time site data, and more.
Interested in finding out more about myComply? Book some time with a product expert today.
LOCATION:
Bronx, NY, United States
myComply is the leading solution for jobsite compliance. Track certifications, monitor time and attendance, and unlock deep workforce data.
See our software in action.