A two-tower residential development on New York's Newton Creek waterfront.
myComply was chosen as the desired solution for secure construction site access control, LL 196 compliance, and certification tracking at the 77 Commercial Street project. Read on to find out more.
77 Commercial Street: Waterfront Property with Uninterrupted Views of New York's East River and Midtown Skyline
Newtown Creek is 3.5-mile-long branch of New York's East River and is used primarily for transportation of industrial goods. The river marks the border between Brooklyn and Queens, two of New York City's five boroughs. Beyond that, the Newtown Creek waterfront will now be home to an innovative residential build that promises to bring a ton of exciting amenities to locals.
Previously, 77 Commercial Street housed a 240,000 square foot office space resting in a forlorn state until the abandoned property was sold in 2012 to the developer who cultivated the vision for a new 77 Commercial Street.
Next to the new 77 Commercial Street will lie Box Street Park, a rare greenspace in the neighborhood that will bring playgrounds, sport facilities, fields, and more to the community. The initial finish date for Box Street Park was 2016 but the riverfront development has stalled as they look to find a home for the MTA vehicles that currently live on that site. Despite delays, all signs point towards a new green space accompanying the modern architecture of 77 Commercial.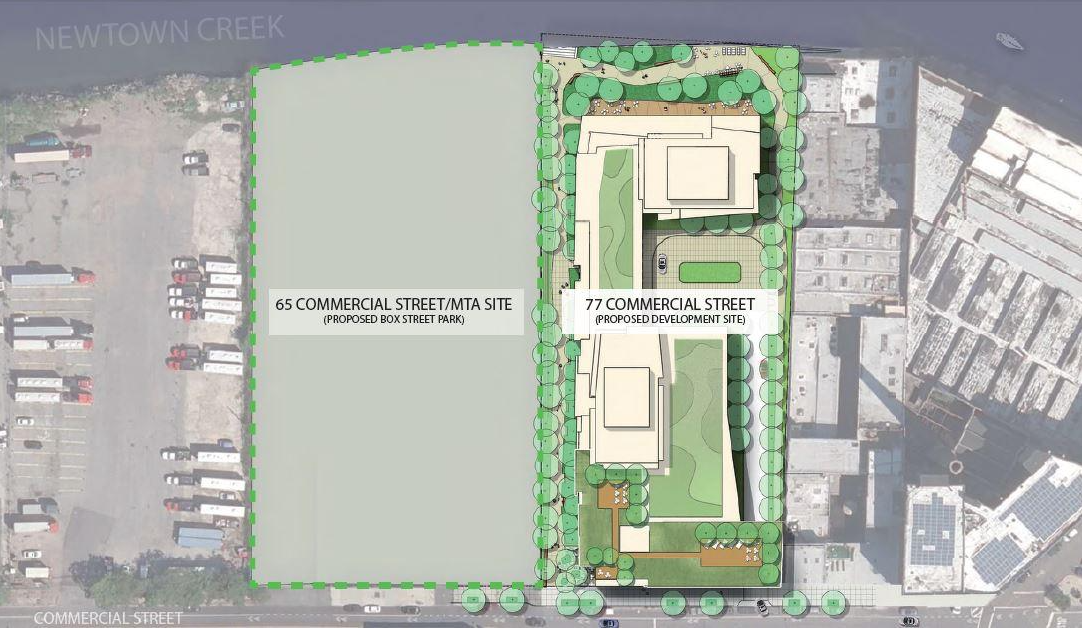 Initial drawings of the locations carved out for the future homes of Box Street Park (LEFT) and 77 Commercial Street (RIGHT).
Today at 77 Commercial Street, construction has begun and both towers are starting to take shape (as of April 2022). The addition of the façade is beginning to bring this project to life and interior work has started on the lower floors. Locals are already starting to notice some level of gentrification as these newer buildings sprout-up from the ground that previously housed abandoned industrial lots.
77 Commercial Street lies in Brooklyn's Greenpoint area, which is said to be the next up-and-coming neighborhood. The goal for the area is to become "affordable luxury," targeted at the millennial generation who are looking to settle into a cost-effective, long-term commitment.
"[Greenpoint] is the next Williamsburg."
Digital Onboarding of Workers and Integrated Access Control During Construction at 77 Commercial Street
Workers who step foot on-site at 77 Commercial Street have been onboarded using myComply's Projects Pro software. Additionally, myComply was chosen as to implement certification-based access control on the project.
myComply's in-field hardware integrates with on-site turnstiles to secure each access point on the perimeter of 77 Commercial Street. When workers arrive on-site, they must tap their NFC Smart Badge on a turnstile-integrated Smart Brick. This action references myComply's cloud-based software to determine whether the worker has submitted the necessary certifications required for them to conduct approved work on the project. Additionally, the action of the card verifies if the worker has completed their onboarding/orientation. If so, site access is granted, and the gate is opened.
All this data is then aggregated in myComply's Projects Pro dashboard, where users can create on-demand reports, view real-time site data, and more.
Interested in finding out more about myComply? Book some time with a product expert today.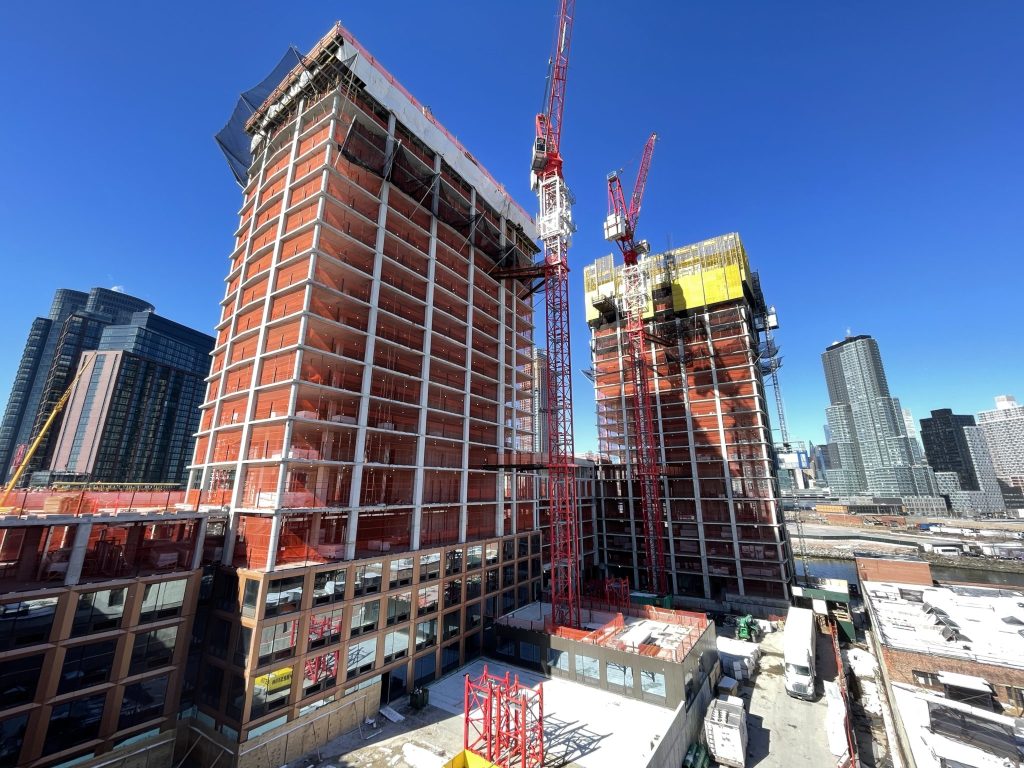 77-87 Commercial Street. Photo by Michael Young (New York YIMBY)
LOCATION:
Brooklyn, NY, United States
myComply is the leading solution for jobsite compliance. Track certifications, monitor time and attendance, and unlock deep workforce data.
See our software in action.