One of the tallest builds in New York City's historic Lower East Side.
myComply was chosen as the desired solution for secure construction site access control, LL 196 compliance, and certification tracking. Read on to find out more.
232 East Broadway: A State-of-the-Art Residential Build Blending In With a Strip of Pre-war Urbanity
This neighborhood isn't known for its innovative builds or towering skyscrapers. In fact, it's quite the opposite; much of the surrounding development showcases pre-war era builds that are cemented in time. Although these historic buildings have character, 232 East Broadway's residential build will replace the footprint of a former nursing home caught in a forlorn state.
Initial renderings of this build were quite different from the final design that construction crews are working on today. The first design featured a very modern exteriors with a lot of exposed glass, something foreign to the Lower East Side. The drawings had residents concerned that the building would look too futuristic sitting amongst many heritage buildings. After numerous iterations, the design team managed to land the perfect balance of modern architecture and historic resemblance.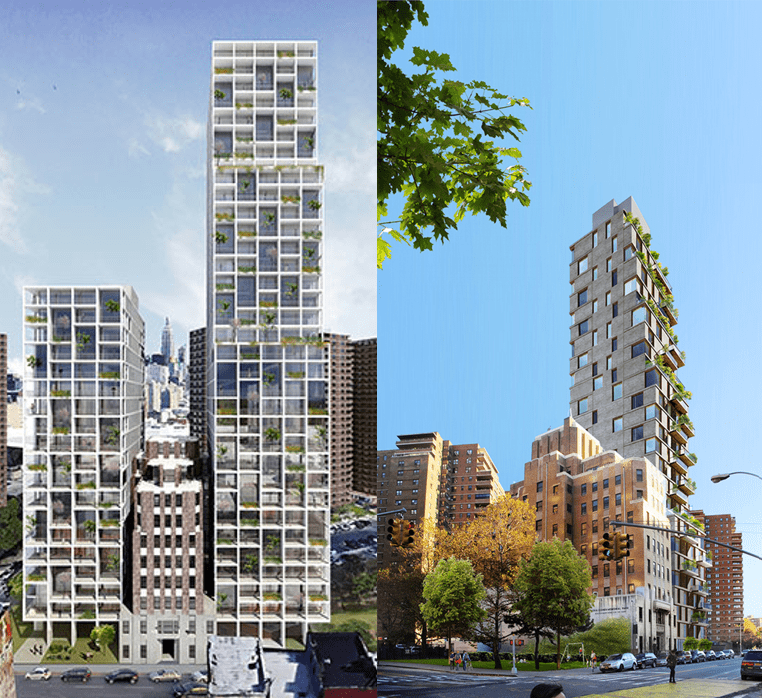 Initial drawings of 232 East Broadway (LEFT) and final design,
currently in construction as of March 2022 (RIGHT).
"Our goal was to design two buildings that would socially and proportionally integrate with the surrounding neighborhood fabric. It was important for us to avoid the monumentality which is often associated with similar developments, and instead provide a sense of belonging and individualization for the future residents."
Although this build might be much taller than other structures in the area, the architects that designed the towers knew it was important to integrate this building with the surrounding environment. The final designs feature a similar façade to other buildings in the neighborhood and the addition of balcony greenery helps 232 East Broadway integrate into its mature surroundings.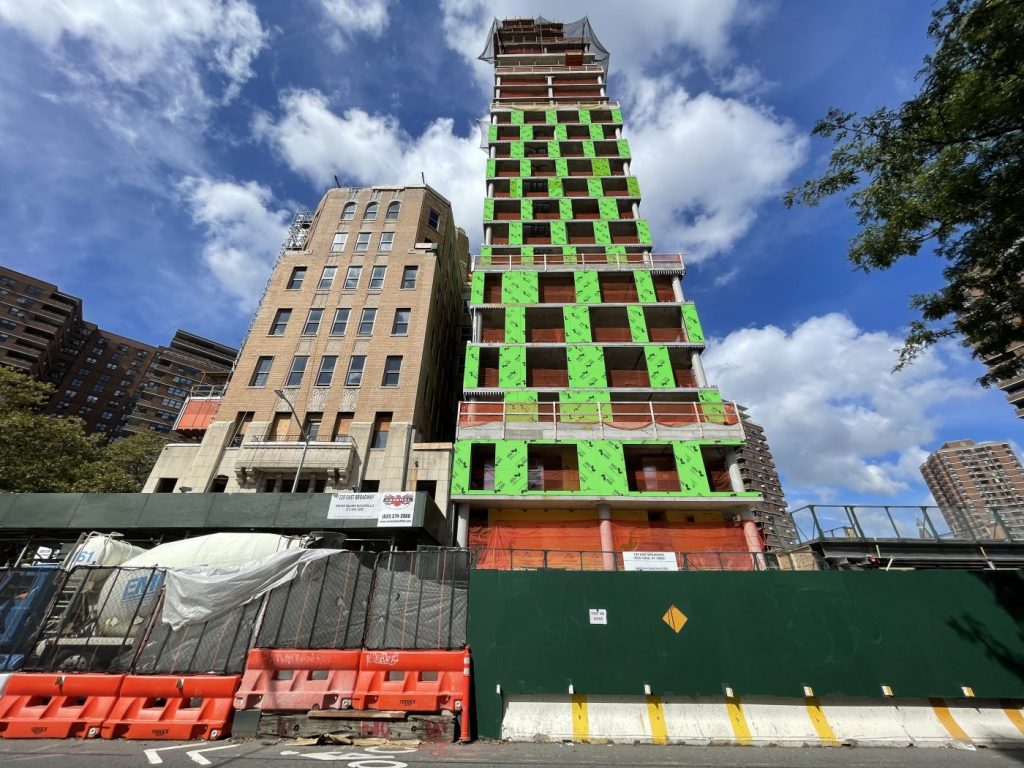 232 East Broadway. Photo by Michael Young
We look forward to seeing this amazing build take shape as it nears completion in November of 2022. The Lower East Side can look forward to a modern tower that features a staggered, irregular pattern of windows, perimeter walls, and landscaped terraces on the setbacks. Residents on the upper levels will certainly have panoramic views of the East River, Brooklyn, and the Lower Manhattan skyline. (NewYork YIMBY).
Digital Onboarding of Workers and Integrated Access Control During Construction at 232 East Broadway
All workers who step foot on-site at 232 East Broadway have been onboarded using myComply's Projects Pro software. Additionally, myComply was chosen as to implement certification-based access control on the project. myComply is used to accelerate onboarding and automate the collection of manpower logs.

myComply's in-field hardware integrates with on-site turnstiles to secure each access point on the perimeter of 232 East Broadway. When workers arrive on-site, they must tap their NFC Smart Badge on a turnstile-integrated Smart Brick. This action references myComply's cloud-based software to determine whether the worker has submitted the necessary certifications required for them conduct approved work on the project. If so, site access is granted, and the turnstile gate is opened.

All this data is then aggregated in myComply's Projects Pro dashboard, where users can create on-demand reports, view real-time site data, and more.

Interested in finding out more about myComply? Book some time with a product expert today.
LOCATION:
New York, NY, United States
myComply is the leading solution for jobsite compliance. Track certifications, monitor time and attendance, and unlock deep workforce data.
See our software in action.