Fact #1: A construction access control system might be the single most overlooked solution on most project sites.
Fact #2: A construction access control system is also one of the greatest contributors to overall project safety in construction.
Access control in construction is not a new notion, but new technologies are revolutionizing the way that general contractors (GCs) and construction managers (CMs) secure their jobsites and promote safe work for all.
Not only can an access control system ensure compliance by preventing unqualified workers from ever stepping foot on a project site, but it can also give your company a competitive edge in the bidding process, help you to secure insurance reductions, and take a proactive approach to preventing incidents on your site.
Read on to find out more on these key benefits to an access control system, as well as some of the key feature to look for as you shop for solutions for your next project.
myComply is the leading construction access control system for contractors that want to improve their project efficiencies and eliminate the risk of non-compliance related fines.

What is Construction Access Control?
Construction access control is a distinct type of physical access control system that enables project owners, GCs, and CMs to secure their construction projects from unwanted foot traffic while also regulating and tracking the flow of subtrades in-and-out of the jobsite.
However, within the umbrella of construction access control, there are a few types of solutions that contractors can deploy on their projects, such as:
On-Site Security. This is the original access control system. Hiring on-site security staff can be helpful to deter criminal behavior and prevent unwanted civilian traffic from accessing sites. However, security teams do little to prevent potentially unqualified workers and subtrades from accessing the site.
Attribute-Based Access Control. This is the next step up from on-site security. Attribute-based access control systems in construction are hardware/software combinations that allow contractors to outfit doors, gates, or turnstiles with smart hardware that communicates directly with software in the background. This is a low-hassle way to not only secure projects sites, but also unlock worker/subtrade data, and prevent workers from entering a site if they do not meet the entrance requirements.
Biometric Access Control. This will likely be the access control system of the future. These systems use bio-identifiers such as retinal scans, facial IDs, or fingerprints to qualify site access. These solutions also pair hardware with software and generate on-site data, but they can be expensive and difficult to successfully implement.
Learn More: The 3 Types of Physical Access Control in Construction
Key Features of an Access Control System for Construction
Not all access control systems were created equal, but there are some key features that you should shop for when considering a system for your next project.
1. Flexible Hardware Integrations
Construction access control systems should allow you to integrate with whatever gateway you plan to use on your project site. Three of the most frequented types of access point security in construction include: a basic check-in/entry point, a turnstile, or a magnetic door strike.

2. Workforce Management
In construction, labor accounts for 40% of total project costs. A good access control system should not only admit or deny site access, it should also provide real-time labor data, such as time and attendance.
Here's why workforce management is such an important function in an access control system:
Data collection and analysis. Collecting workforce data allows GCs and CMs to verify billing records from workers/subtrades, analyze performance trends, and make improvements top enhance future productivity.
Forecasting. In construction, timelines are always subject to change. Having an access control system that accurately reports labor data can be helpful in adjusting forecasts and planning for completion in accordance with project timelines.
Human resource management. If all workers are checking in and out of an access point, then this data should alleviate a lot of payroll strain for your HR team. Look for access control systems that integrate with payroll solutions, such as QuickBooks and FreshBooks.
Learn more: Construction Workforce Management: Software and Solutions
3. Administrative Controls
As a GC or CM, you should have administrative power over the access control solution on your sites. A strong solution will allow you to set minimum entrance requirements depending on trade necessities. For example, a standard laborer might just need their OSHA 30, orientation, and fall arrest to get onsite. However, a concrete worker might also need an ACI certification and additional fall training.
4. Real-Time Software Connectivity
On construction projects, access control system downtime is something that GCs and CMs simply cannot afford. When shopping solutions, always inquire about the software uptime guarantees so that you can rest assured, knowing that you will not run the risk of software/hardware outages when you need to be getting on-site.
Additionally, instant software connectivity is very important in the construction space. For example, in the case of a site audit, it is critical that on-site staff can bring up real-time records to reflect site activity. Your access control system should be able to do this for you and do so without delay.
4 Benefits of a Construction Access Control System
Access control systems in construction should not be viewed as a project cost, but rather, a means of improving bidding competitiveness, securing insurance reductions, and promoting a safer, more compliant jobsite.
1. More Competitive Bidding
The average general contractor only wins one-in-six bids and the average subcontractor will only earn one-in-seven. Additionally, construction profit margins have been eroding over recent years, with most modern mega projects realizing margins as narrow as 1.5-2%. Add the slowed growth of new construction projects dealt at the hand of Covid-19 and it is evident that construction firms need to take every action at their disposal to increase their bidding competitiveness.
Including construction access control systems in a project estimation is an often-overlooked tactic for increasing bid appeal. Here's why access control solutions can enhance your odds of winning a bid:
It demonstrates a safety priority. Unlike other competitors that might seek to roll out safety and security solutions after winning a bid, including an access control system in your bid shows project owners that your company truly makes safety a priority.
More accurate cost estimation. When your estimator is completing bid documentation, it is important that they can forecast total project cost as accurately as possible. If you are considering implementing an access control system, including in it your bid is just one more way to help you stay true to your budget for the scope of project work.
Risk reduction. Project owners have reputations to uphold. Not only do they want to employ a GC or CM that they believe will be able to complete the project in a timely and effective manner, but they also want to employ the contractor that will be able to do it as safely, and with as little risk of incident as possible.
Technology improves productivity. In construction, it is not always the best price that wins the contract, particularly on mega construction projects. Projected quality is a major determiner in bid appeal. A great predictor of project quality is potential productivity, and access control systems are a great way to improve productivity on projects. They give project managers (PMs) the ability to monitor worker and subtrade flows in real-time without having to physically see workers enter/exit the site. This can help them to easily monitor, predict, and revise project timelines.
Interested in improving your bid appeal? Read Construction Bids: How to Win More as a General Contractor to find out more.
2. Insurance Reductions
The construction sector ranks comfortably among the most dangerous and risky in the world. But "high risk = high reward," right? When it comes to insurance, it is more like "high risk = higher volume of incidents, higher volume of disputes, and higher insurance premiums." In fact, insurance premiums on construction projects generally fall somewhere between 1-4% of the total project cost (depending on provider and insurance program).
Additionally, the average value of a construction dispute in North America rose from $18.8 million in 2019 to $37.9 million in 2020. The leading cause of these disputes was owners, contractors, or subcontractors failing to understand and/or comply with their contractual obligations. Together, these numbers paint an alarming picture of the nature of insurance expenditure in the construction industry.
But it's not all gloom and doom for GCs and CMs that are looking to save money on their insurance and add to their bottom line. Just like home security systems serve to reduce home insurance premiums, technology and solutions that reduce the risk of loss or incident on construction sites can positively impact the way that underwriters prepare your insurance arrangements. Access control systems are one of those key solutions that construction underwriters look for as they are a proactive lever that can prevent incidents.
Here's why insurance providers love to see "access control system" in your documentation:
Subcontractor default. One of the greatest insurance variables on a construction project, particularly under a wrap-up policy, is the risk introduced by having multiple different companies working on the same project. Subcontractor default occurs when GCs or CMs are held responsible for loss of time or materials which should be attributed to subtrade error. Access control systems help to prevent this because they track every worker and subtrade as they enter/exit the site, allowing project managers to better monitor completion schedules and ensure that delays are mitigated.
Claims avoidance. Misinformation is a frequent tenet in the construction industry, and oftentimes, workers may submit unsubstantiated claims to a GC or CM. With an access control system, information such as dates/times can quickly be verified and determine whether a claim has merit.
Property loss or damages. Insurance providers help contractors to protect themselves from any equipment damage or loss resulting from vandalism or theft. However, construction access control systems enhance site security by limiting access points, and tightly securing them with turnstiles or other gates. This serves as a great deterrent for negligent behavior and leads to less project loss, therefore, reduced insurance need.
Compliance. Failure to comply with state and federal safety and training mandates can often result in fines for GCs and CMs. However, those fines also show insurance underwriters that a contractor might not be upholding the highest standard of safety on their projects. This can have negative repercussions on insurance rates. However, access control systems allow contractors to permit or deny site access based on necessary qualifications, so that they can eliminate the risk of non-compliance onsite. We will cover this topic much more extensively in section 4, below.
Learn More: Construction Site Access Control & Its Impact on Insurance Costs
AXA XL is one of the leading construction insurance companies in North America. Discover why they've partnered with select technology companies, such as myComply, to build their Construction Ecosystem!
3. Improved Site Safety
Construction site safety is as important of a topic as it has ever been. Despite constant advancement in construction tools, technology, and machinery, a study by BLS found that exposure to harmful environments in construction increased by 22% from 2016 to 2019.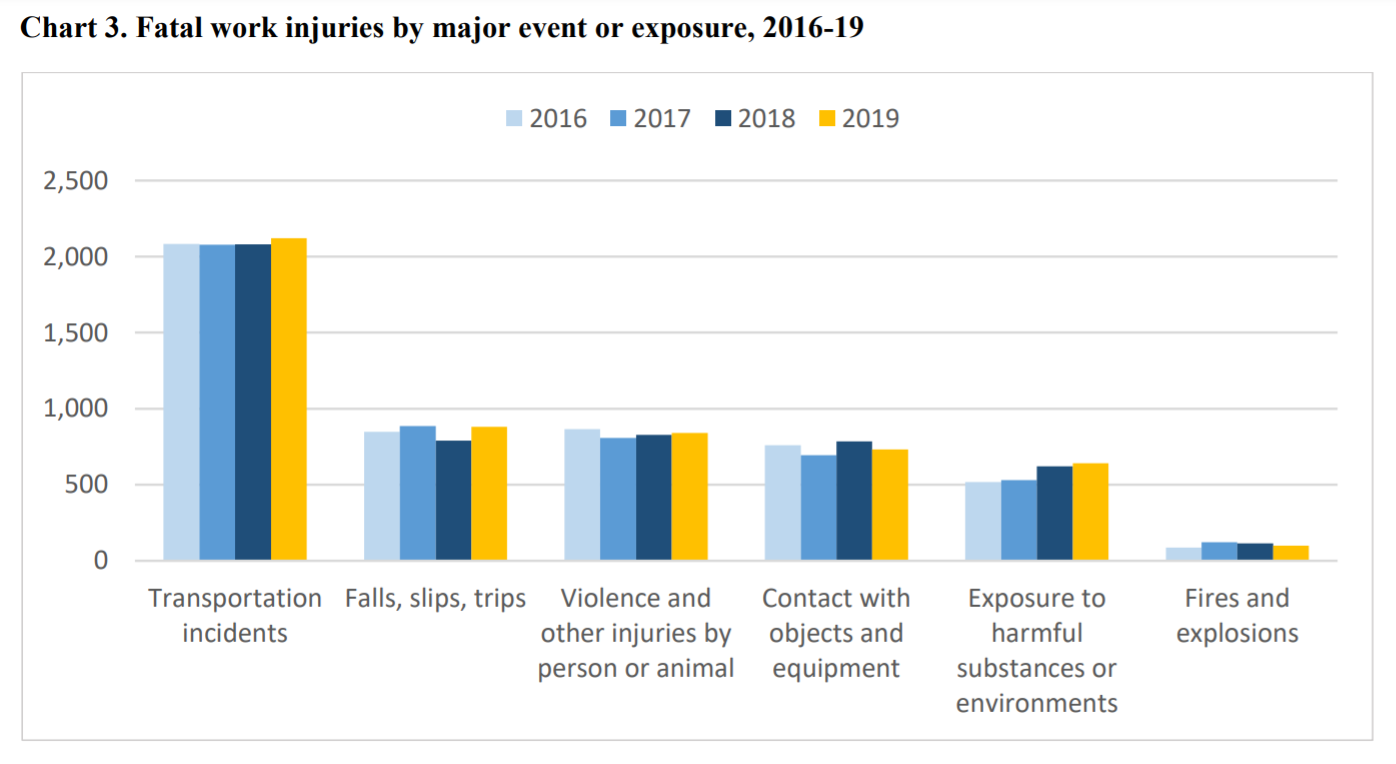 With that in mind, contractors need to be taking every step at their avail to promote safer working environments. Construction access control systems are one of the easiest solutions to implement that take a proactive approach to site safety, by preventing untrained or unqualified workers from conducting work on a project.
Here are some of the additional safety benefits to an access control system:
Mitigating legal consequences. Under the OSHA Act, adequate safety equipment is required in any workspace that is subject to environmental, chemical, or radiological hazards, as well as mechanical irritants. Any workspace that boasts any of these threats must be controlled because workers or other individuals entering without the proper safety equipment can result in costly litigation. Construction access control systems can reduce this risk by making it impossible for unauthorized personnel to enter site, and some systems also screen for basic personal protective equipment, such as hardhats.
Reduction in the "fatal four." The fatal four are the most common causes of death in construction, as tracked and monitored by OSHA. Those are falls, struck by object incidents, electrocutions, and caught-in-between deaths. These notorious hazards accounted for a collective 63.7% of worker deaths, resulting in 631 deaths over the last fiscal year. Access control systems can drastically reduce these incidents by providing a preventing site access from untrained or high-risk individuals. For example, someone who does not have fall arrest training or has an expired fall arrest certificate is going to be far more likely to experience a fall than someone who has up-to-date training. Here is the full breakdown:

384 falls (38.7%)
93 struck by object (9.4%)
82 electrocution (8.3%)
72 caught-in-between (7.3%)
4. Regulatory Compliance
Construction sites are highly regulated and strictly enforced across the whole of the United States. All sites are held to the safety standards outlined by OSHA, while also falling subject to state, municipal, and job specific regulations.
For example, in New York State, all construction workers are now held to the requirements outlined under Local Law 196. What that means is that every worker must acquire a Site Safety Training Card (SST Card), issued after the completion of at least 40 hours of safety training under OSHA protocol. Supervisors must then obtain a Supervisor SST card following the completion of 62 hours of training. Additionally, all permit holders (GCs, CMs, and project owners) must keep a daily record of worker attendance a well as verification of necessary training completion.
Beyond this, workers are then required to site-specific orientations as well as job-specific training, such as fall arrest, transfer of dangerous goods, etc.
Are you a contractor in New York? Have you made the proper preparations for the Site Safety Training (SST) program rollout, under Local Law 196? Find out more here.
If properly deployed, a construction access control system should be able to ensure 100% regulatory compliance. Here is how:
The site perimeter is completely secured via fencing and gating.
Access points are outfitted with integrated access control hardware.
Workers are required to scan a badge or other NFC-enabled product against a smart reader which will permit or deny site access based on the entrance requirements that have been outlined by a site administrator.
Only qualified workers are allowed onsite. All others must address deficiencies before access will be permitted.
Contractors can rest assured knowing that they are always protected in the event of a certification audit.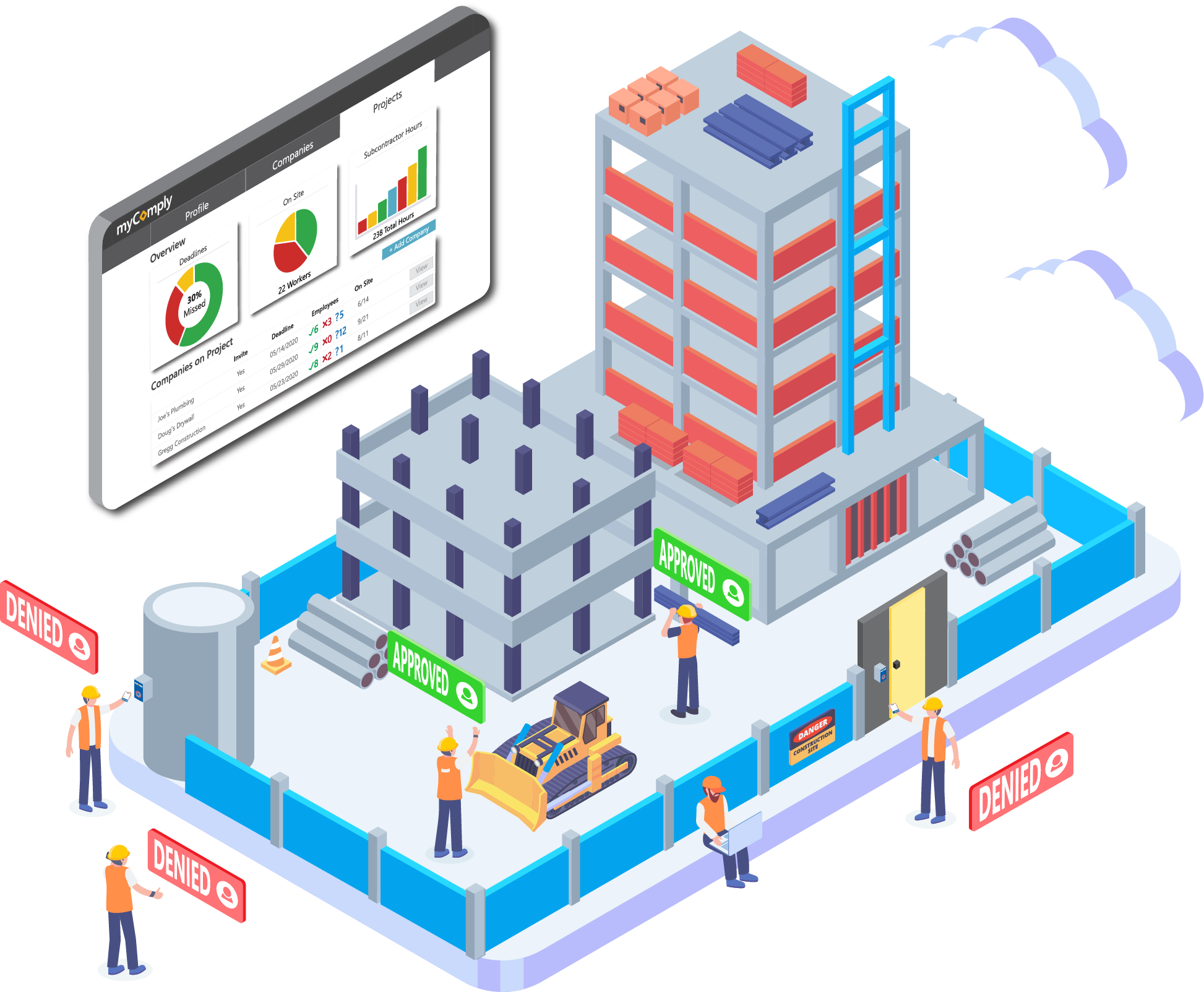 Ryder Construction, a New York based general contractor, has been able to eliminate incidents and fines from the equation on two of their projects by using myComply's integrated access control system.
"On this particular job, we have over 50 contractors, so on any given day we have 40-80 people on the site. Tracking every certification at orientation is easy… but tracking when they expire can be a very…daunting task, at times. With myComply, both systems are just automated. When someone's certificate or license expires, they're just not allowed onto the site."
myComply: The Leading Construction Access Control Solution
When it comes to winning more bids, reducing your insurance expenditure, improving your site safety, and ensuring 100% regulatory compliance, myComply is the best-in-class solution for GCs and CMs.
Here are the key features of myComply's access control system:
The Smart Brick. This is the hardware that integrates with your on-site access points (turnstile, door strike, etc.). These bricks read worker badges, verify worker qualifications, and grant access by communicating via cellular LTE with myComply's cloud-based platform.
The Smart Badge. This hardware stores a worker profile and communicates with the Smart Brick via near field communication (NFC) technology to determine qualification.
Certification Manager. This is a software tool for subcontractors and subtrades which allows them to upload, manage, and get expiry alerts for their team's certifications.
Projects Pro. This is the software backbone of myComply's platform. This dashboard is fueled by real-time, on-site data, formulating a complete site overview for project administrators. Attendance, certifications, time on-site, and more, is all tracked in Projects Pro, with automated alerts and on-demand reports available in the click of a button.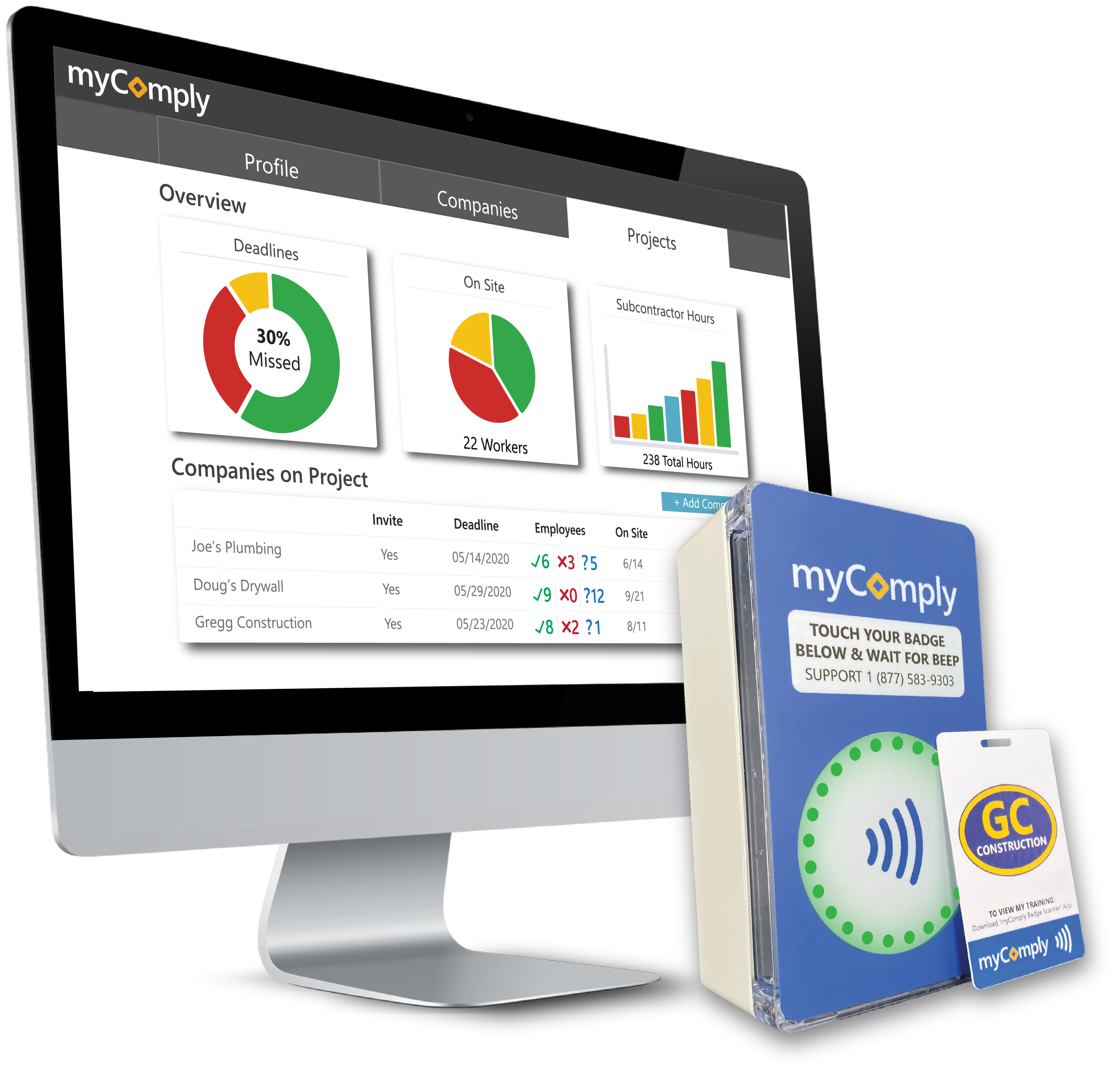 If you are ready to take the next step towards ensuring a 100% compliant workforce with myComply's world-class construction access control system, then book a demo with a product expert today!