For major contractors and construction companies, the stakes have never been higher. With new era construction technology redefining the way that business is conducted in the construction sector, companies have two choices: adopt or die.
In the wake of the COVID-19 pandemic, the construction sector is projected to rebound. In fact, Fitch Solutions is estimating a 4.1% year-over-year growth (the fastest rate of gain in the past 20 years), with the global industry valuation projected to eclipse $10.5 trillion by 2023.
The market is ripe with opportunity, but the winners of the next decade will be the innovators that are able to strategically deploy and leverage construction technology to improve bottom-line and enhance operational efficiencies on their projects.
This article explores the boom in construction technology, the risk in delayed adoption, some of the best-in-class solutions, as well as predictions on what the future may hold.
myComply is the leading solution for contractors that are looking to slash their insurance costs while also ensuring a completely secure and compliant workforce. Click here to find out more!

What is Construction Technology?
Construction technology, often referred to as "con-tech," can be defined as any innovative tools, software, or equipment that increase operational efficiencies during the planning, designing, and execution phases of a construction project.
Here are some examples of construction technology:
GPS equipment and technology
3D printing
Drone surveillance/surveying
Virtual reality (VR) simulators
Site management software
Autonomous equipment/vehicles
Wearable safety solutions
Labor management technologies
We will explore some of these construction technology solutions in greater detail below, as well as how they help to drive different outcomes for project owners, general contractors, subcontractors, and front-line employees.
The Construction Technology Boom
Unlike other industries (agriculture, transportation, and manufacturing) which have witnessed relatively steady technological advancement over the past two decades, the construction sector has been much slower to adopt new tech.
However, there has been a fundamental shift in the sector. Industry leading contractors and construction companies have now recognized the opportunity in technology. A recent study by Software Connect found that 81% of respondents plan to increase their investment in construction technology over the coming years.
In response to this surge in interest and expenditure, investors have also displayed an increased willingness to invest in construction technology companies. In fact, investment in the development of construction technology has doubled over the past decade. According to a study conducted by McKinsey, con-tech developers received $9 billion in investment between 2008 and 2012, but that number grew to $18 billion between 2013 and 2018.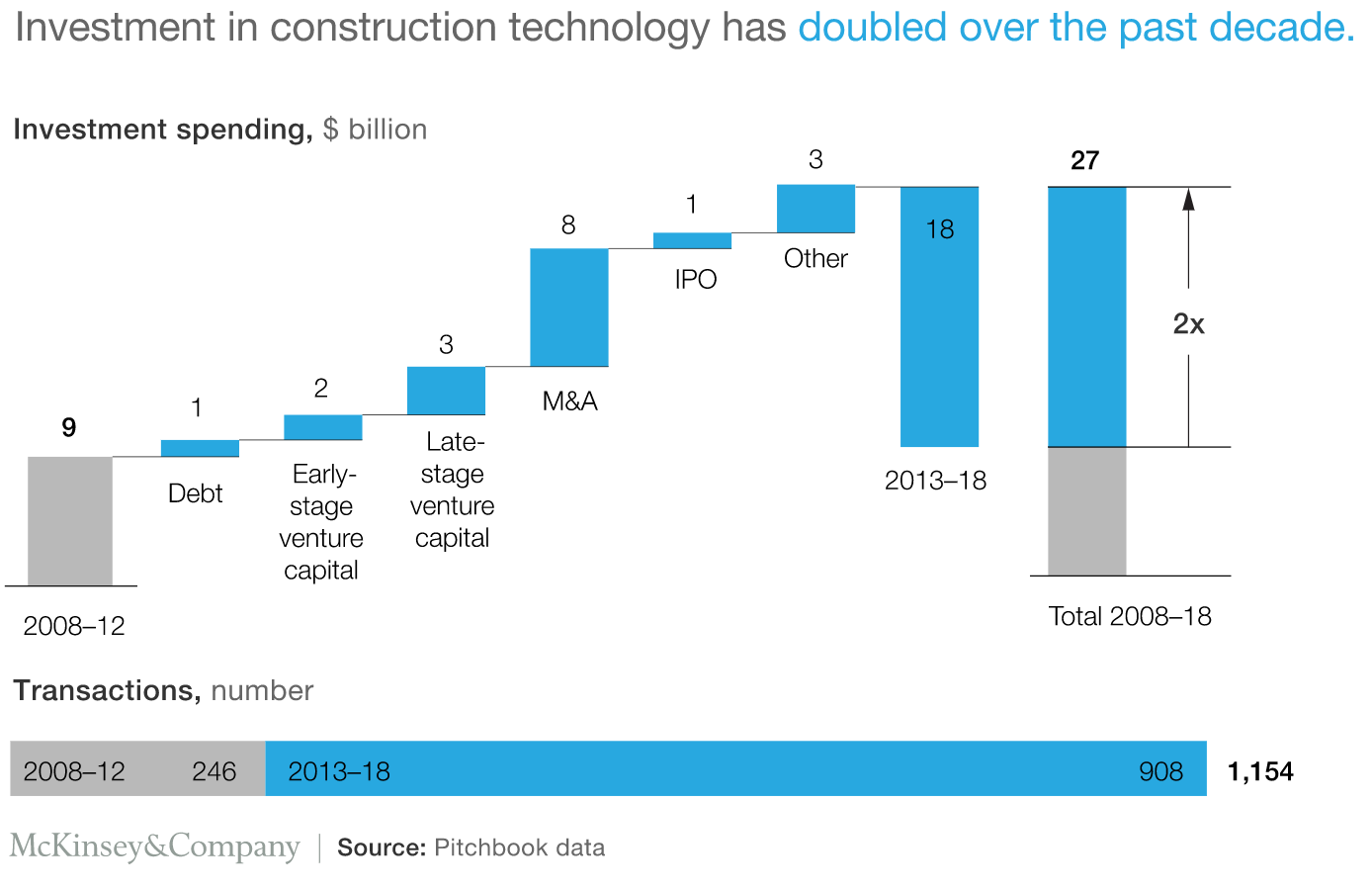 This investment trend bodes well for the contractors that these developers service as it means that there will continue to be growth and development in con-tech solutions that enable operational efficiencies and drive bottom-line.
Delayed Technological Adoption: The Cost to General Contractors and Project Owners
Despite the trend towards increased expenditure on construction technology and the increased investment in the development of these technologies, many industry leaders have yet to deploy integrated technology strategies—the cost of which can be severe.
In a 2017 survey, conducted by KPMG, nearly 75% of engineering and construction executives stated that technological innovation is part of their corporate vision. However, less than half of those executives had an actual technological integration strategy in-place. Most of these respondents also self-reported themselves as followers (rather than leaders) with respect to technological innovation.
Furthermore, the construction sector continues to rank amongst the lowest with respect to technological adoption, spending 1.51% of annual sales revenue on technology. This lags all other major sectors, which collectively average a tech investment of 3.28% of annual sales revenue.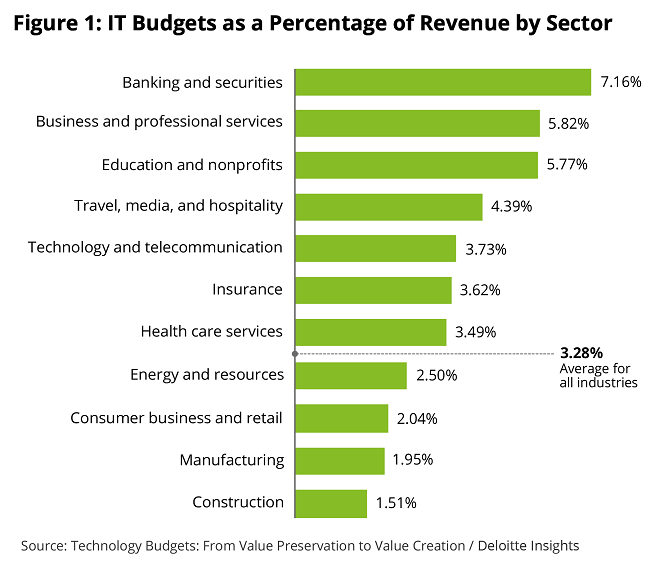 The risk in taking a delayed approach to technological adoption is simple: general contractors and project owners will be out-bid and outperformed on projects that utilize technology advancements, leaving them in the wake of their competitors.
Types of Construction Technology
There are some important designations to be made with respect to different available construction technologies. We have explored some of the leading technologies and organized them based on four key categories.
1. Preconstruction
The preconstruction category of the con-tech stack pertains to everything a contractor needs to prepare a project for launch. Some of the most relevant activities include bid management, assessing prequalification's, clarifying design issues with engineers/architects, feasibility analyses, and all project owner communications. Most of these contractor-based needs can be lumped into one technological category: tender management.
Tender Management
Tender management software serves to help automate contractor proposals by sending bidding invitations, assessing prequalification's, sharing project-related documents, while also comparing proposals to determine the most qualified and cost-effective subcontractors for the job. Leading bid management solutions include Procore's preconstruction platform, Co-construct, SmartBid, and HeavyBid.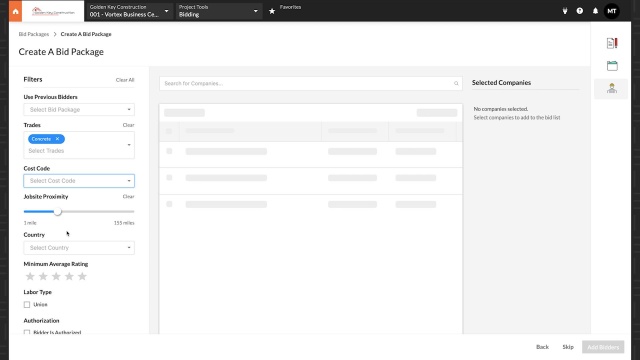 Source: Procore Bid Management
2. Project Management
Project management software for construction is undeniably the largest bucket. Construction project management tools help contractors to plan, schedule, build, manage, and report on everything that happens on a project site. Some of the primary technology buckets within project management include site management, quality and safety, design coordination, and building information modeling (BIM).
Quality and Safety
Taking all necessary precautions to ensure site safety is an essential step in the construction process. New era construction technology solutions enable contractors to do just that through automated quality-assurance and predictive analytics. Companies like myComply offer subcontractor management solutions for general contractors, allowing them to set qualification and certification requirements for every worker that will enter a jobsite. Jobsites are then gated with myComply "Smart Bricks" which restrict access to any unqualified or uncertified workers.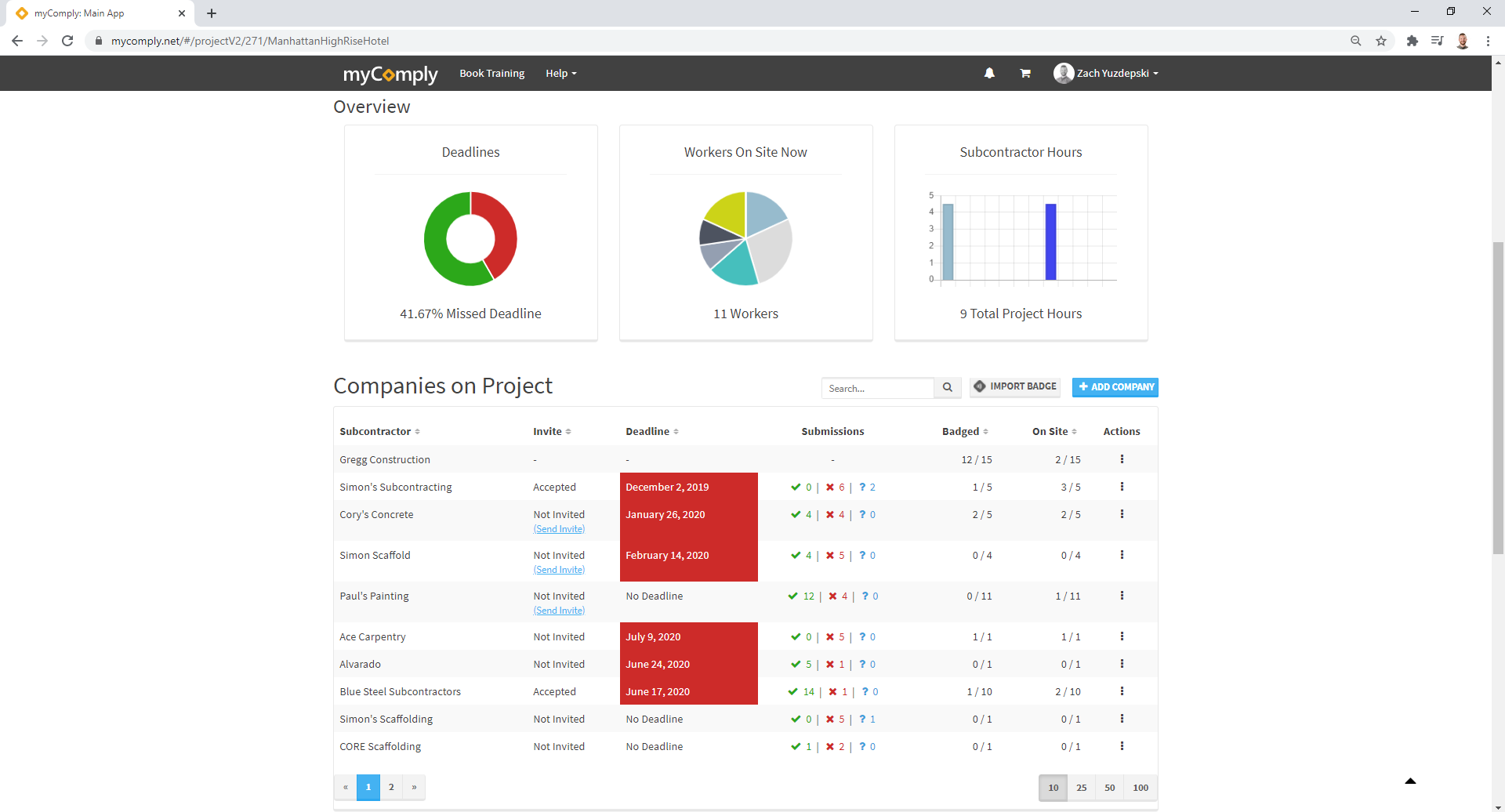 Source: myComply Projects Pro
Design Coordination
Design coordination includes everything involved in facilitating the sharing of documentation (particularly blueprints and other design-related assets) on a construction site. This sharing is facilitated through cloud-based apps and connected smart devices. Some of the leading design coordination software options for contractors include: Vectorworks, SketchUp, AutoCAD, DataCad, and Revit.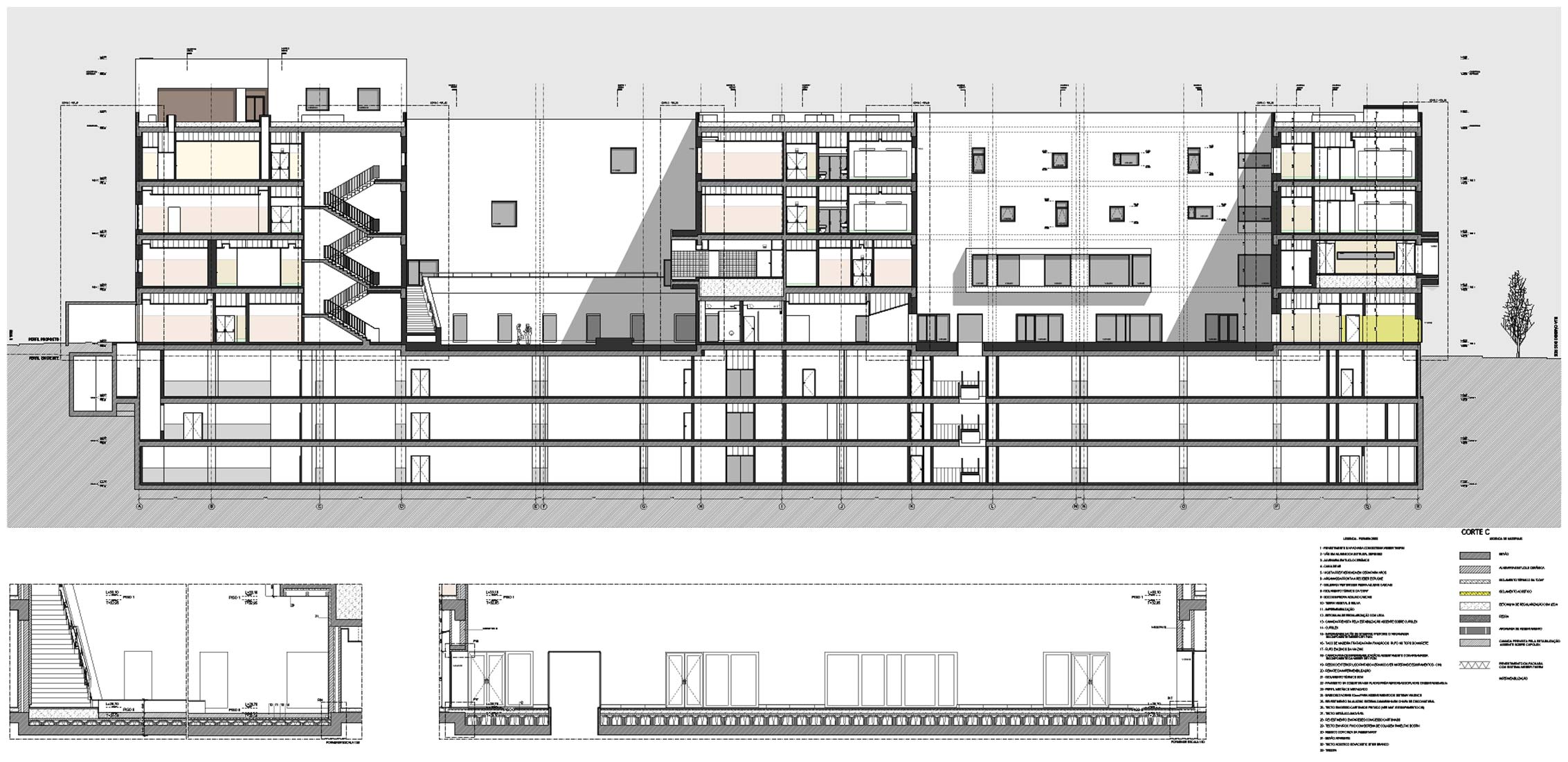 Source: Vectorworks
BIM
Building information modeling is a technologically enabled process of generating and managing digital representations of construction projects so that contractors can easily view and manage asset geometry and lifecycle information. The leading BIM solutions for construction are Autodesk's BIM 360 and Procore's BIM.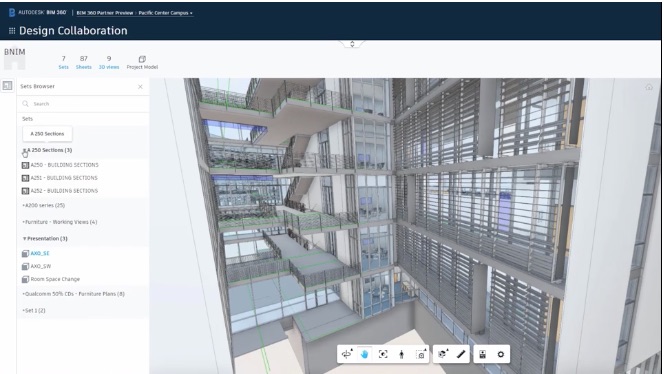 Source: Autodesk BIM 360
3. Resource Management
Construction resource management involves everything that pertains to managing both physical assets and personnel on a construction site. The two primary categories here are productivity and access control.
Productivity
Productivity tools in the construction space include worker wearables, resource tracking, and automated documentation technologies. Collectively, these solutions enable contractors to secure timely payments, closely monitor margins, keep track of workers on-site, and ensure that resource deployment stays on schedule. Some of the leaders in the productivity technology space include: Autodesk, and Procore.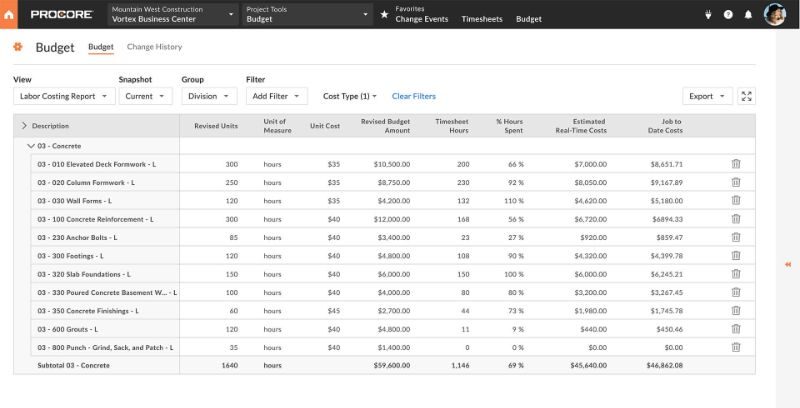 Source: Procore Field Productivity
Access Control
Managing who's onsite is critical for many construction projects, especially those in busy urban settings. Access Control solutions help contractors secure worksites and limit site access to workers who meet the necessary qualifications to be onsite. Solutions like myComply offer hardware and software bundles that can be paired with various site gateways (such as turnstiles and secured doorways) as a means of denying access to untrained workers.
Source: myComply Access Control and Attendence
4. Financial Management
Financial management is the division of construction technology that pertains to invoicing, accounting, capital planning, and portfolio management.
Accounting Software
Accounting software is a necessity for contractors managing construction projects. These types of software make it easy for contractors to manage invoicing, process payments, and easily report on project costs. Some of the leading software options for contractors and construction companies include QuickBooks, FreshBooks, and RedTeam. Many of these solutions also offer integrations with major project management platforms like Procore and Autodesk.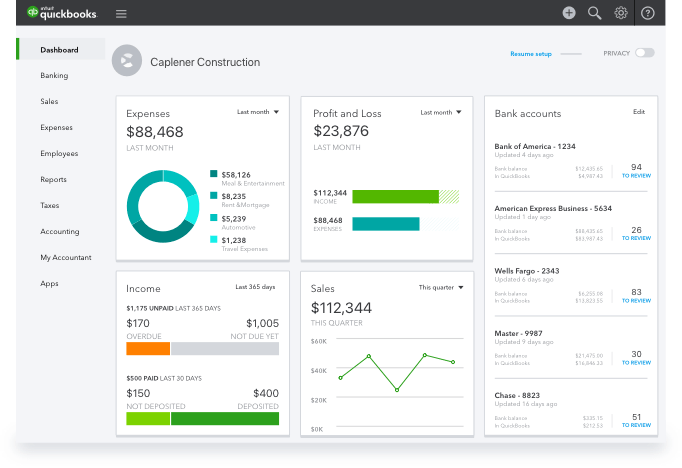 Source: QuickBooks for Construction
Capital Planning
Capital planning solutions help contractors to budget long-term, capital intensive projects from end-to-end. That means capital planning, forecasting, and tracking to ensure that all projects remain on-track and are completed within project scope. Some of the leading capital planning solutions for contractors, project owners, and construction managers include: BuilderTREND, Autodesk Construction Cloud, and Raken.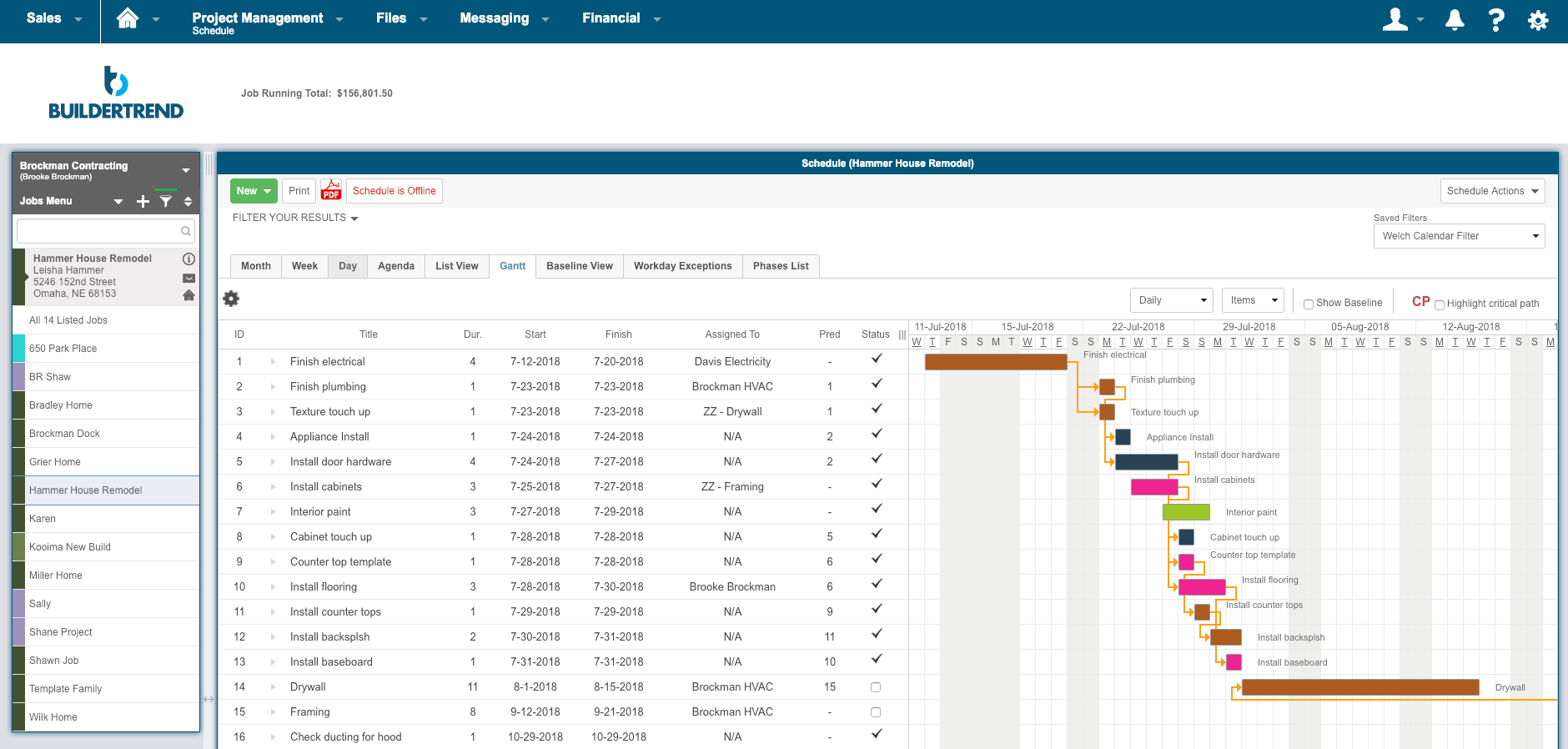 Source: BuilderTREND
The Future of Construction Technology
Terms like artificial intelligence (AI) and machine learning are often thrown around with respect to the construction industry, but the reality is simple: the industry isn't quite ready for many of these advancements. The next five years will undoubtedly be a period of rapid technological advancement and adoption, but it won't be the era of AI just yet.
Here's what we (at myComply) believe the future of construction technology will hold.
1. Integration and Consolidation
Over the past five years, it's been a (literal) fire-sale with technological adoption. The result? A lot of companies with severely fragmented solutions, all meeting different needs without communicating effectively with each other.
Industry leaders, like Procore and Autodesk, have recognized the need to bring solutions under a single roof—and that's why they've developed app marketplaces. These marketplaces allow contractors and construction companies to shop hundreds of solutions simultaneously and build custom solution sets that share data and are all accessible through a single sign-in.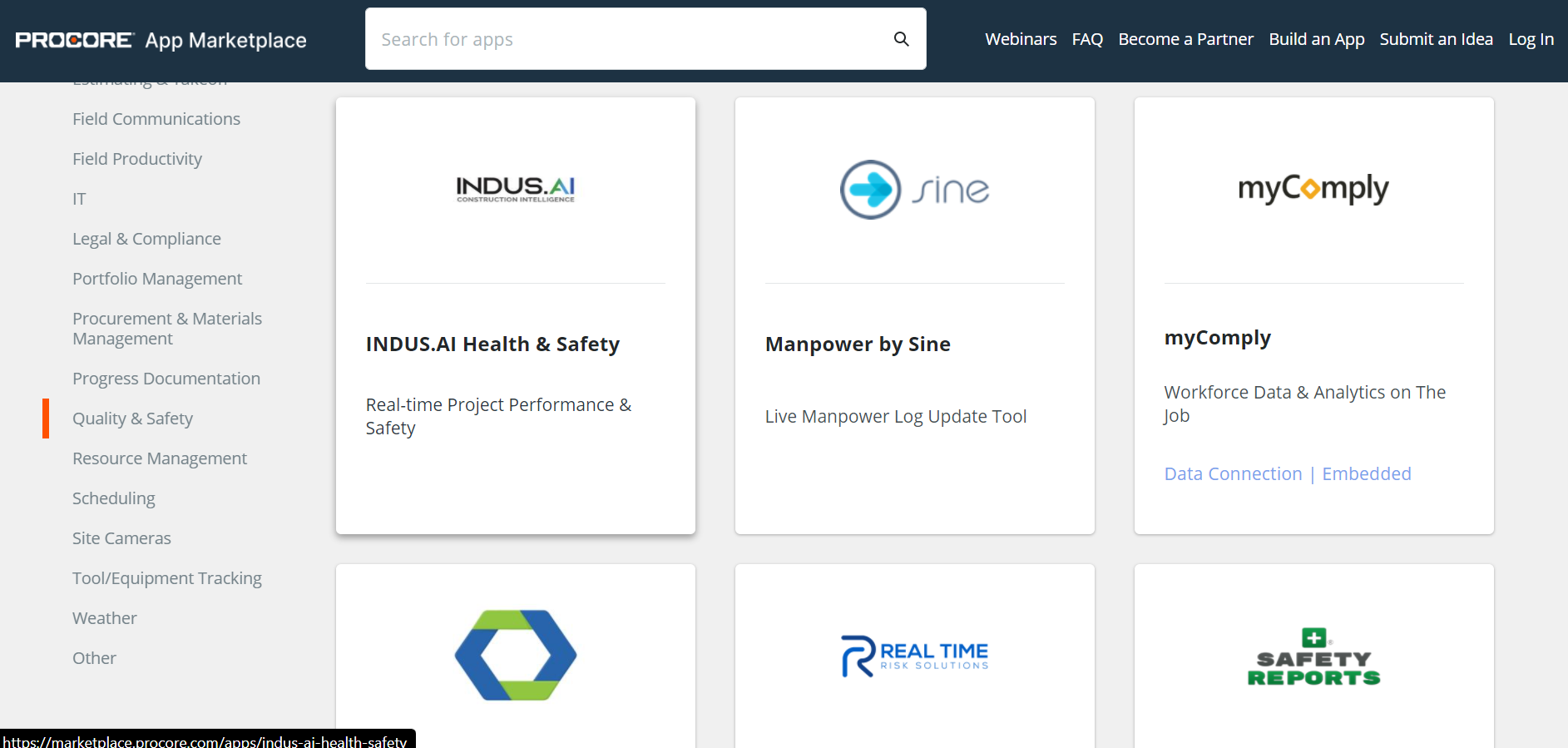 Source: Procore App Marketplace
This marketplace framework is beneficial to contractors and project managers for a few reasons:
Reduced administrative toil. Single sign-on saves time and makes it easy to access all the information needed for a project—all in one place.
Greater security. Fewer gateways correspond with a decreased risk of data breach and loss.
Data sharing. Marketplace products that are enabled with data connections actively share data with other areas of the Autodesk and Procore platforms, creating greater visibility for contractors.
Reduced costs. One of the greatest benefits to the marketplace framework is that contractors and construction managers generally save money by bundling different solutions together.
2. Augmented Reality (AR)
It's a step beyond virtual reality, but a step behind artificial intelligence. Augmented reality technologies have the potential to elevate the construction wearables industry significantly. Today, many con-tech companies offer wearable technology to enable site-access and to track worker movements (through GPS). However, AR technologies like Google Glass could offer the same functionality, while also flagging potential safety threats, communicating work-related updates, assisting in task work, and monitoring employee health factors—like fatigue and changes in bodily temperature.
Additional technologies that are on the verge of becoming fully augmented include StructionSite and OpenSpace, which enable virtualized site walkthroughs. Keep an eye on these solutions over the coming years.
3. Fully Connected Jobsites
This prediction should be no surprise as been on the horizon for some time. Where construction sites were once defined by manual inspections, paper documentation, and verbal communication; they are now becoming very digitally enabled.
Here's what a fully connected jobsite looks like:
Zero paper onsite. That means no physical blueprints, no manual timesheets, no one running change orders from the site office to the 30th Instead, all this information is relayed in digital formats through digital devices.
Reduced administrative costs. Construction technology allows construction sites to reduce their administrative burden by automating mundane work and digitizing documentation.
Reduced managerial strain. With greater project visibility through real-time reporting and labour analytics, there is less need for intensive managerial presences on job sites.
Increased reporting accuracy. Project management and capital planning solutions allow for instant updates on project status, ensuring that timelines can be maintained, and jobs are completed in alignment with projections.
Increased operational efficiencies. All these advancements contribute to more efficient, and therefore, more profitable projects.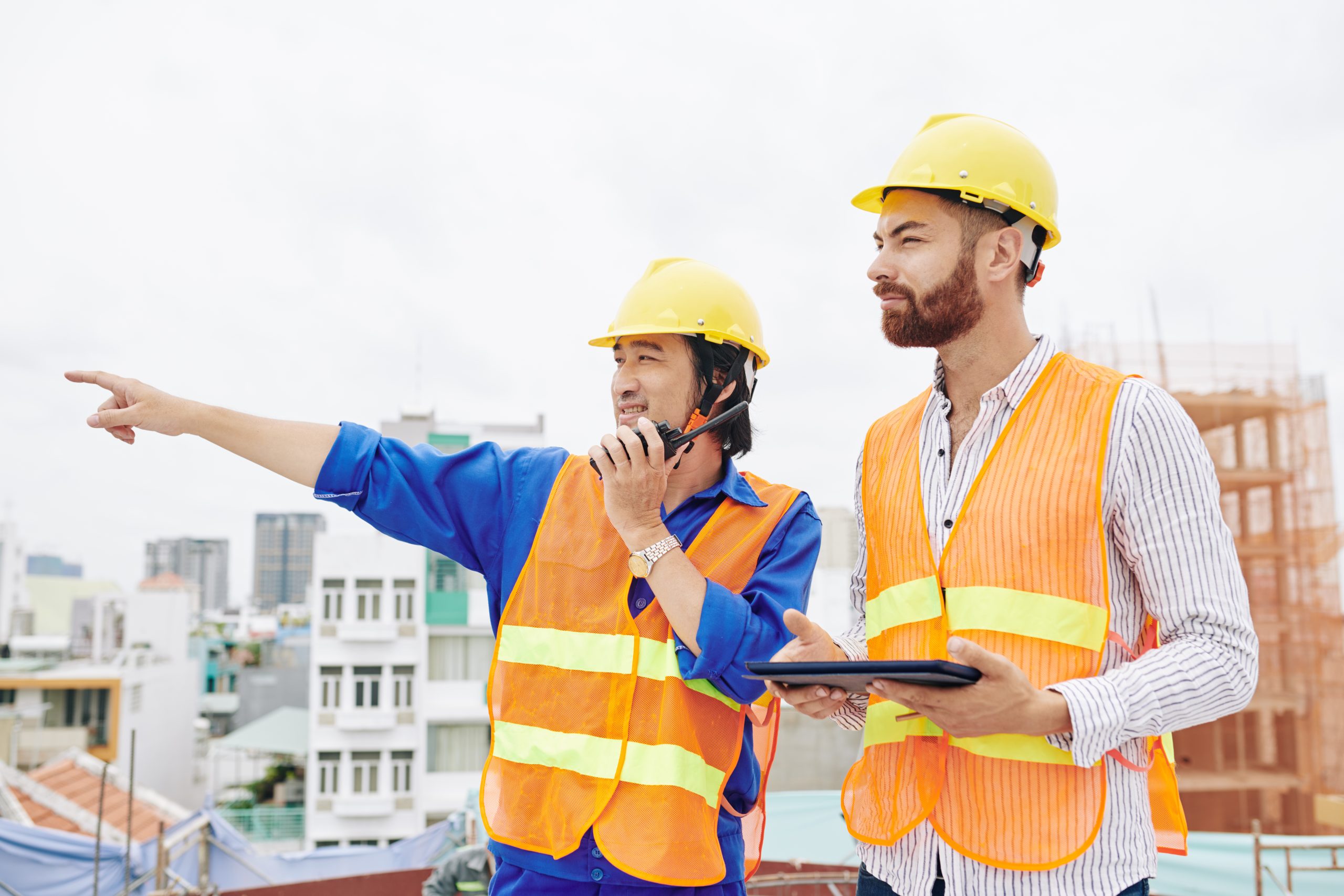 Conclusion
The construction sector has long been a laggard with respect to technological adoption, but that reputation is quickly changing. Industry leaders are actively investing in construction technology, and the deployment and integration of these technologies will continue to improve operational efficiencies and create deep competitive advantages for those leaders. The time to invest in construction technology is now.
Click here to book a call with a myComply representative and learn how we help contractors slash insurance costs, manage their workforce in real time, while also ensuring complete jobsite security and compliance.