A Bluetooth ID badge is not just an effective way to identify individuals in the field, it also has the added functionality/benefits to help understand worker activity on-site.
First, let's explore Bluetooth and, more specifically, low-energy Bluetooth applications. Bluetooth low energy (BLE) is special type of wireless Bluetooth technology designed for short-range communication. However, unlike many of BLE's relatives, this technology was developed for more industrial applications. Think lower data capacity, longer battery life, less capability, greater durability. BLE tech is tough, it lasts long, and is perfect for various industry applications.
Now, combine innovative Bluetooth low energy technology with the standard identification (ID) badge, something that has been used in various field for years. These Bluetooth ID badges are transforming the data collection process, the accuracy of information collected, and the amounts of critical workforce data we can collect in the field.
A Bluetooth badge makes sense for industries where simple credential verification is not enough. This article explores the benefits of Bluetooth ID badges and how they are changing the way we think about the standard identification badge.

What is a Bluetooth ID Badge?
A Bluetooth ID badge is a form of identification that emits a short-range signal to transfer information from the badge to another system or technology.
Bluetooth ID badges are capable of many things, including location tracking, panic signals, alerts, and sharing various bits of personal information to external systems. A Bluetooth badge does not require any Wi-Fi connection and in most cases the ID badges do not require charging like a smartphone or other wireless devices.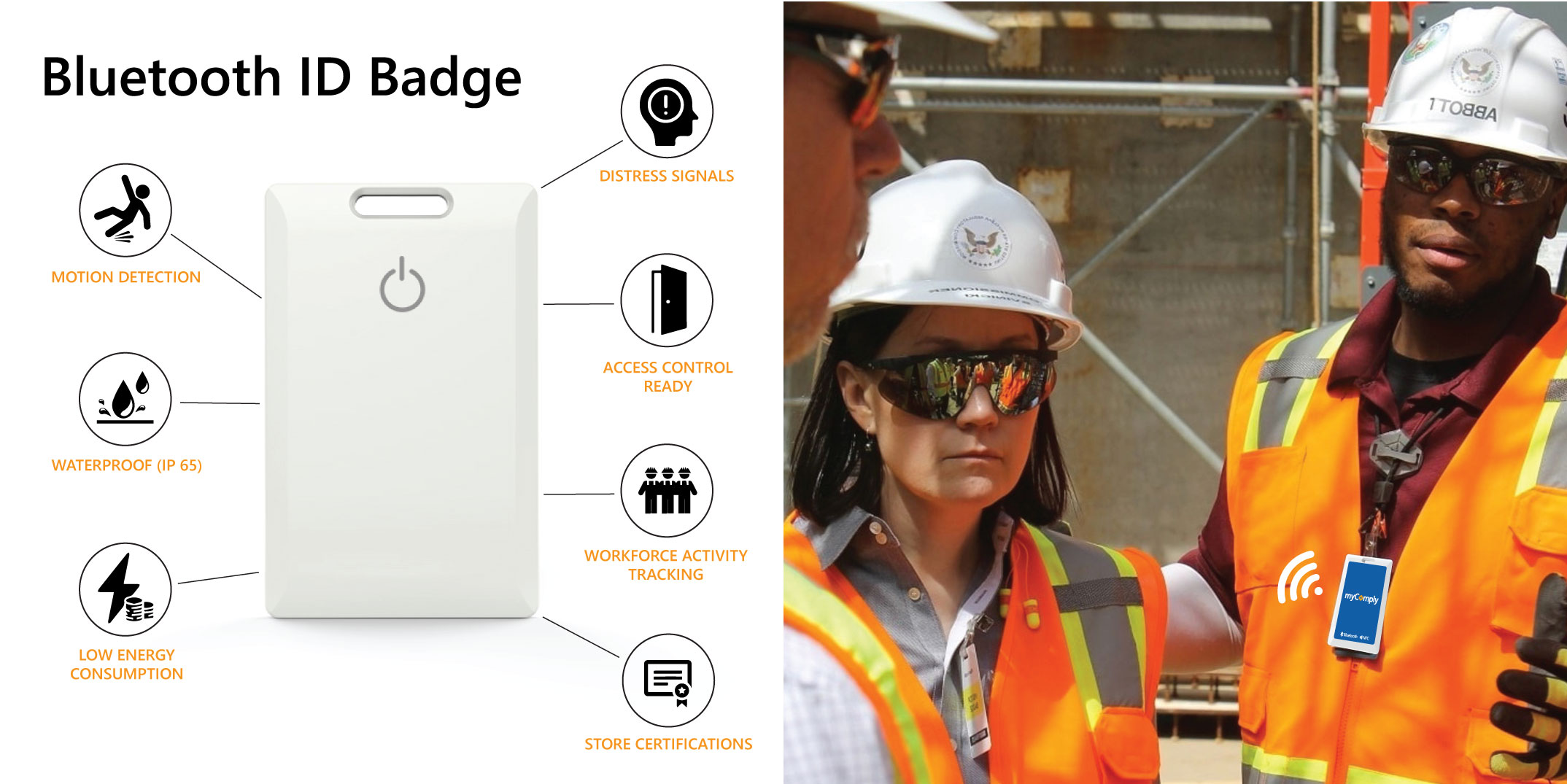 For most Bluetooth badge applications, the badge will be issued to a worker/employee and used for a period of years before it needs to be replaced. The typical lifespan of a basic Bluetooth ID badge would be around 36 months (3 years) allowing a worker to use the product rigorously for long periods of time.
Bluetooth ID badges come in two forms: Bluetooth Classic and Bluetooth Low Energy.
While both Bluetooth applications work similarly, we highlight and recommend Bluetooth Low Energy for an ID badge solution as the technology is newer and uses less power to maintain a signal connection. Here's a quick overview of both solutions:
Bluetooth Classic
Bluetooth Low Energy
Energy Consumption

1 W, for reference

High energy usage requires much greater battery capacity. Most standard Bluetooth-enabled devices need to be recharged weekly, or even daily.

0.01 – 0.50 W, for reference

Very low energy usage (after all, it's in the name). BLE devices can generally last years on small batteries before being recharged or replaced.

Data Capacity

1-3 mbit/s

High volume data capacity. Able to transfer very complex information in a very quick fashion.

125 kbit/s – 1 mbit/s

Limited data capacity. Ideal for applications that transfer very basic information.

Time to Send Data

~ 100ms

~ 3ms

Use Cases

Primarily used for enabling wireless audio streaming for speakers, headphones, in-car audio, and more. Also used for personal wearable technologies and other applications that require continuous data streaming.

Bluetooth low energy technology is primarily used for novel applications, such as access control and door entry, blood pressure monitors, smart watches and wearables, public transportation apps, etc.

Voice Capable

Yes

No

Range

Up to 100m

Less than 100m

Security

56/128-bit and application layer user defined.

128-bit AES in CCM mode and application layer user defined.
What is the Difference Between a Bluetooth ID Badge and an NFC ID Badge?
Both Bluetooth ID badges and near-field communication (NFC) ID badges are used across very industries, and both have unique value propositions. The key difference between a Bluetooth ID and an NFC ID is the distance for wireless communication. A Bluetooth badge can connect to devices within a greater range (10-50m radius) whereas an NFC badge is limited to communications within proximity (0-10cm).
NFC technology is widely used for securely sending information from a card or device to another piece of technology. When you think about NFC, picture tapping a credit or debit card to make a payment. That's near-field communication technology at work.
Bluetooth is most widely recognized for connecting mobile phones to wireless speakers. When you are blasting your favorite tunes out of a small wireless speaker, that is Bluetooth technology at work.
So, we understand how each technology works/performs, but how do they work in relation to ID badges in the field? Let's explore NFC vs. Bluetooth when it comes to identification badges:
Bluetooth ID Badge
NFC ID Badge
Range of Interaction

Requires the badge to be within a 10 – 50m radius of a receiver

Requires the badge to be within a 0 – 10cm radius of a receiver

Time & Attendance

Long range = passive interaction

Data collection does not require a worker/employee to "tap" or interact with a receiver to log attendance info

Short range = active interaction

Data collection requires a worker/employee to "tap" or interact with a receiver to log attendance info

Worker Location Tracking

Tracks workers as they enter different zones or within range of a receiver (10-50m)

Is limited to tracking workers in zones where they have actively interacted with a receiver
Here's the kicker… Bluetooth badges are often embedded with NFC in addition to their Bluetooth capabilities. So, a Bluetooth ID Badge functions at a 2-for-1, but it's more expensive.
Bluetooth ID Badge
NFC ID Badge
Price

$$$ More Expensive

(~ $10-30 / ID badge)

$ Less Expensive

(~ $5-10 / ID badge)
If you're wanting full functionality on a jobsite, and the ability to gather data without an active interaction (tapping an ID badge to a receiver) then you want a Bluetooth ID badge, not an NFC ID badge.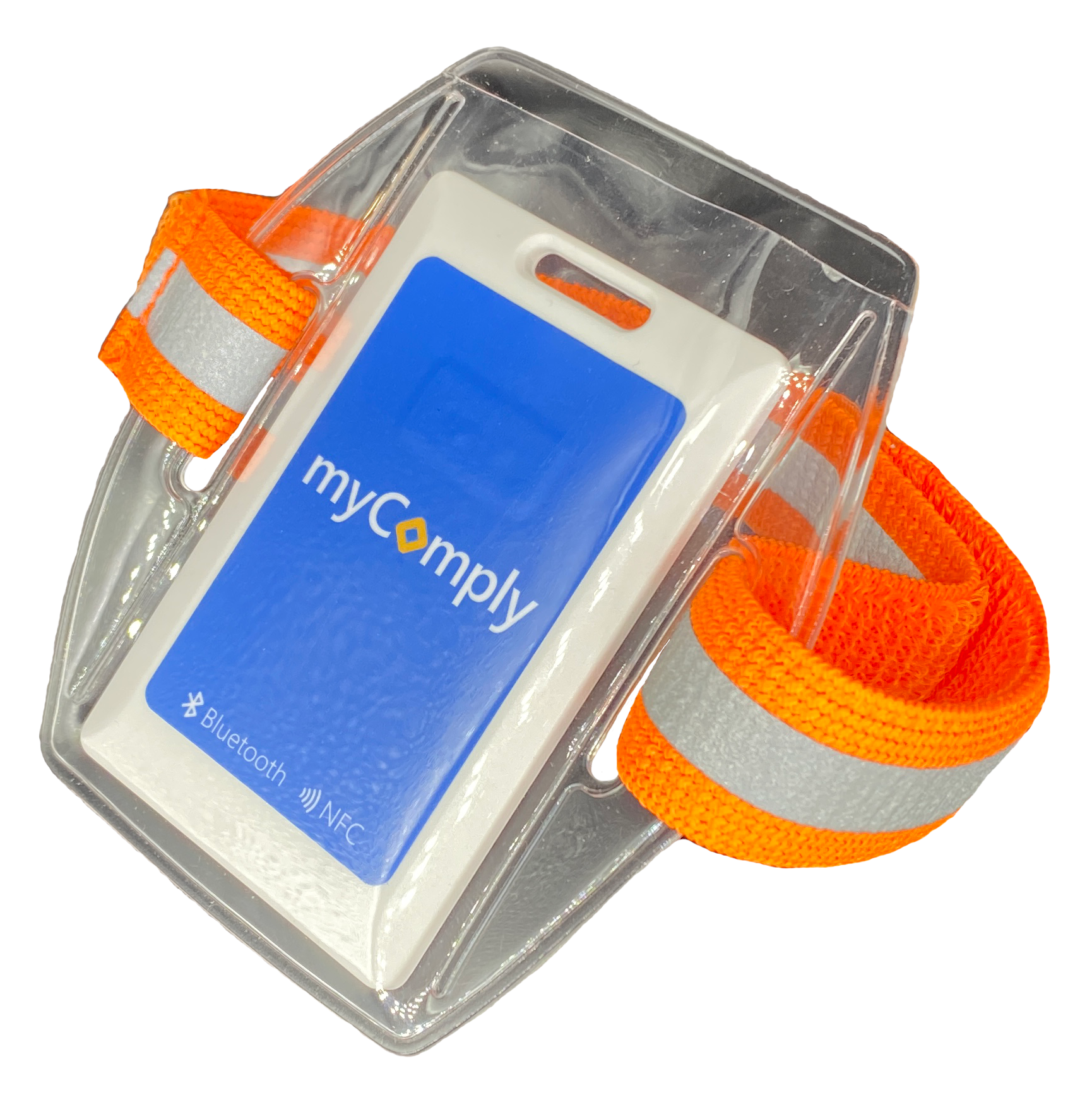 The Benefits of a Bluetooth ID Badge

As mentioned above, the capabilities of a Bluetooth ID badge are substantial. From time and attendance, to fall detection, to storing employee/worker certifications or licenses; there are so many ways to use a Bluetooth ID Badge.
| | |
| --- | --- |
| Benefits | Bluetooth ID Badge |
| Fall & Motion Detection | The embedded accelerometer allows Bluetooth ID badges to detect motion (such as falls) in the field. |
| Water & Weatherproof | The badges are designed for all weather situations including heavy rain and outdoor wear/tear. |
| Low Power Consumption | Bluetooth ID badges do not need to be charged (in most cases) and standard ID badges will last 2-3 years without replacement. |
| Distress Signals | The badge can be developed to send panic or distress signals to external parties. |
| Connect to Doors/Access Control | The badge can connect with external technology such as doors (door strikes) and turnstiles to ensure access is controlled to specific areas. |
| Detailed Workforce Activity Tracking | The badge can log time and attendance (activity logs) passively, meaning the information is tracked and stored without the worker actively interacting with the technology. |
| Store Worker Details/Certifications | Store licenses, certifications, and other important information on the ID badge. |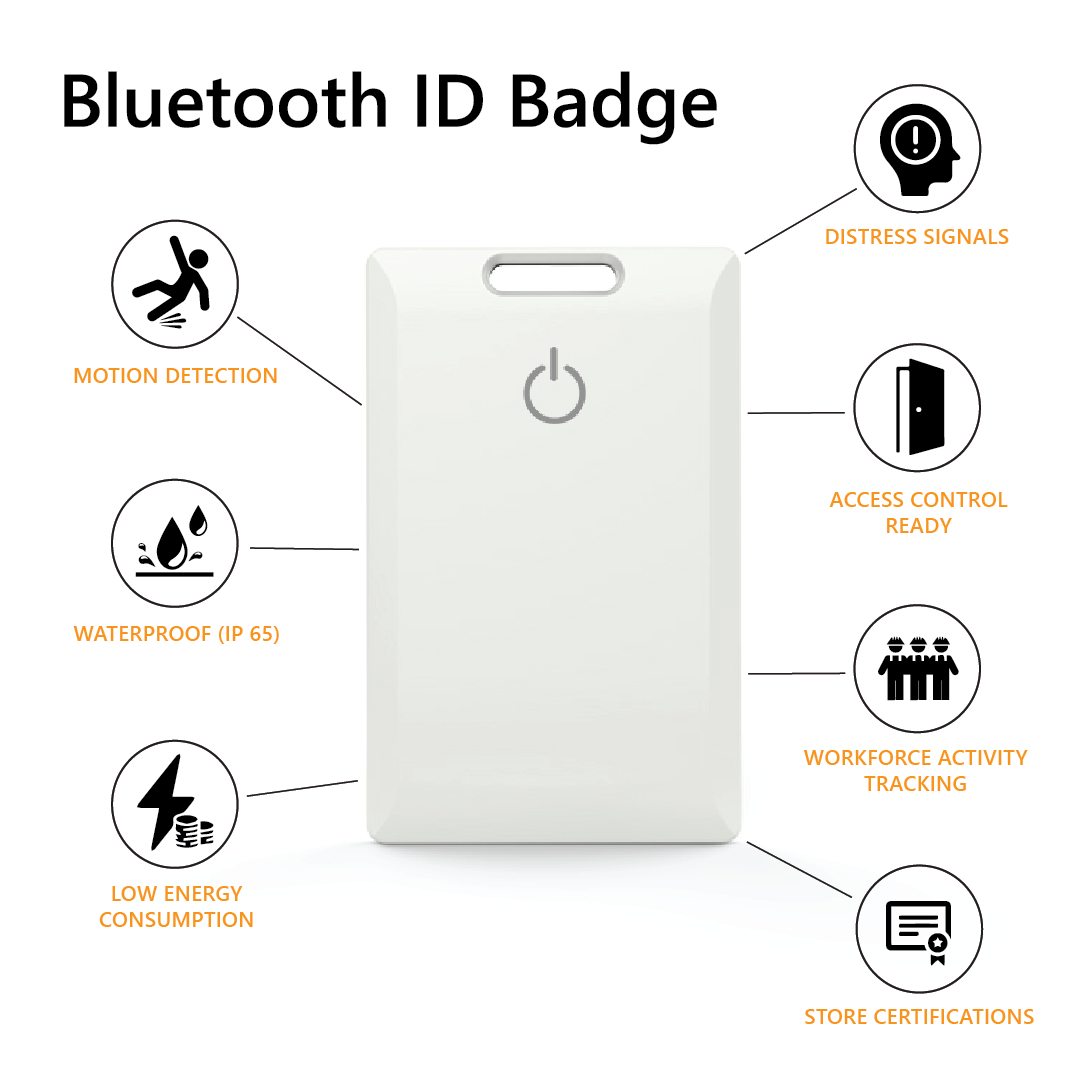 myComply's Bluetooth Capable Smart ID Badge
Bluetooth low energy technology is emerging as a powerful tool in capturing and leveraging previously inaccessible data from construction sites. By implementing BLE beacons, BLE badges, BLE sensors, and more, General Contractors can improve their site safety, ensure that projects move according to schedule/plan, and make more informed decisions.
myComply is the leading solution for construction firms that are looking to implement a passive workforce activity tracking solution, like Bluetooth ID badges. myComply customers can enhance site safety, prevent the risk of regulatory fines, secure insurance reductions, and automate the collection of deep workforce data.
Want to see how it all works? The video below shows how Bluetooth ID badges work on a construction site.
If you would like to explore the implementation of a Bluetooth low energy enabled access control solution for your next project, then book some time with a myComply product expert today!